What is IDO?
IDO is short for Initial DEX Offering. It's an advanced cryptocurrency crowdfunding method using a decentralized exchange.
How exactly does it even work? Benefits of IDO
IDO is similar to an ICO (Initial Coin Offering) concept. Someone comes up with an idea for a project, builds a token with a team, advertises it to potential investors, and then sells it. The main difference is the execution of crowdfunding. While ICO runs through centralized platforms, IDO does everything through a decentralized exchange. That eliminates terrifying fees and the need for permission from a centralized platform.
After a successful IDO, the percent of the collected funds ends up in the liquidity pool. Upon project launch, the liquidity pool becomes tradable. Anyone can start trading on decentralized exchanges immediately.

No personal information is required to join or launch an IDO because it uses the decentralized exchange. Only a crypto wallet with enough funds in there. Yet, this comes with a disadvantage. As no verification is required, anyone can start a project without revealing themselves and run away with a percentage of collected funds that were intended to be used for project development. That is called a rug pull*. Make sure to DYOR* before investing in any new projects.
How to create an IDO in 2023?
Creating an IDO is easy as 1-2-3. With Tokonomo, you can launch your IDO in 5 mins. Visit Tokonomo IDO launchpad, connect your wallet, fill out all required information, confirm the transaction and you are ready to go!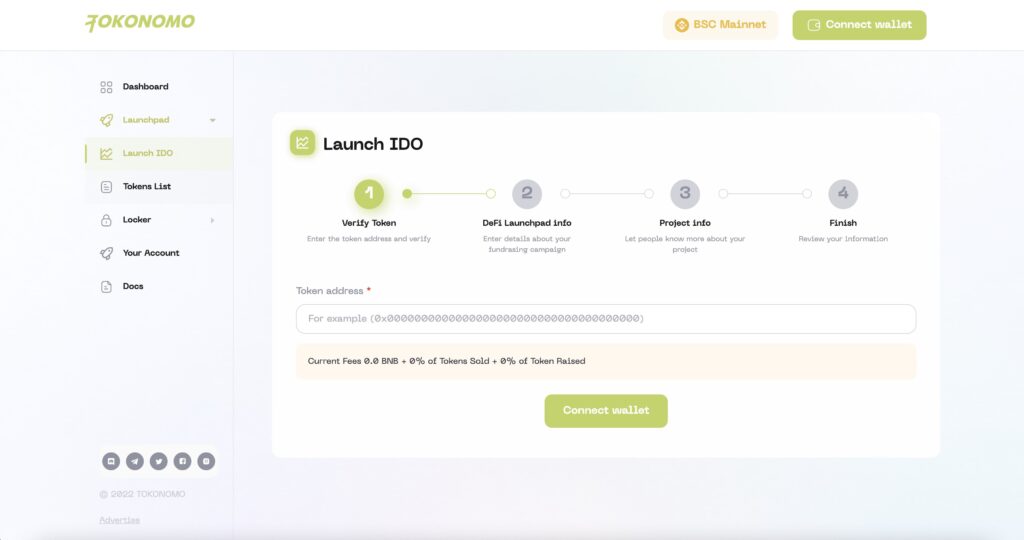 For investors, Tokonomo offers a lot of different functions to ensure a safe and smooth experience. Check it out yourself!
Also, Tokonomo Consulting can help you run a successful IDO from idea to DEX listing.
Conclusion
IDO (Initial DEX Offering) has succeeded in resolving the majority of ICO concept's issues. With the rapid rise of DeFi industry, IDOs become more popular and on the way to be the main go-to method for kickstarting a project and gaining investor attention.
---
*Rug pull – in the crypto world, this term refers to the moment when a development team abruptly abandons a project and sells or removes all of its liquidity. The name is derived from the idiom "take the rug out from under (someone)," which refers to abruptly ceasing support.
*DYOR – DYOR stands for Do Your Own Research. It's a common phrase in the crypto industry that encourages investors to research a project before investing in it.