According to Voyager Digital, Binance.US has sent a letter to terminate the $1B asset purchase agreement
Voyager Digital, a bankrupt cryptocurrency lender, has announced that Binance.US sent a letter terminating their $1 billion asset purchase agreement.
Binance.US cited the hostile and uncertain regulatory climate in the United States as the reason for the termination.
The US government had allowed a substantial part of the deal to proceed despite concerns about the fine print of the contract, which could pardon breaches of tax or securities law.
The deal had been approved by most of Voyager's creditors and bankruptcy judge Michael Wiles.
However, the SEC and other government lawyers had tried to block the deal, arguing that some of the assets involved, including VGX, could be unregistered securities. VGX's value dropped by approximately 11% to about $0.3144 on Tuesday.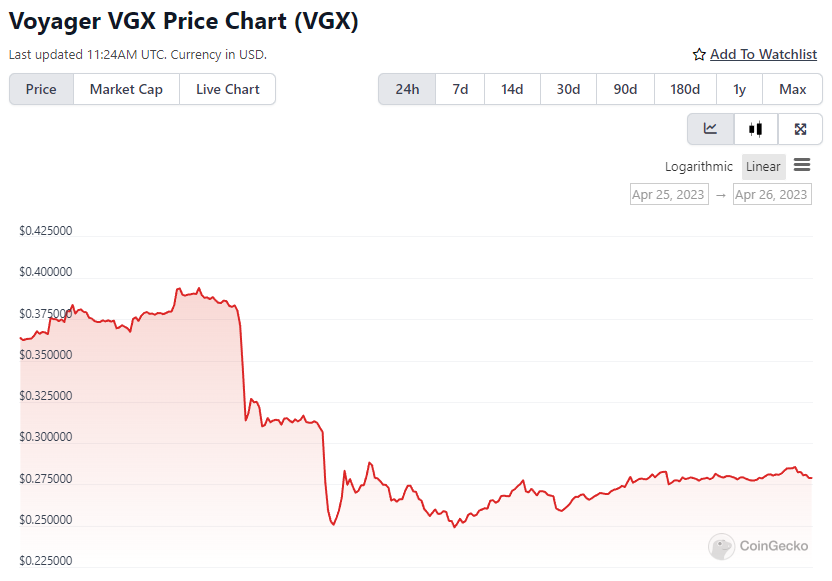 Binance.US could back out of the deal if it was not completed within four months.
Voyager's attorneys had warned that the deal falling apart could cost the estate and its creditors an additional $100 million.
There was speculation on Twitter that the deal's abandonment was connected to Binance's upcoming settlement with the Commodity Futures Trading Commission, which had sued Binance over selling unregistered crypto derivative products.
Binance CEO Changpeng Zhao responded to the speculation with a shrugging emoji.
The committee representing Voyager's creditors in bankruptcy proceedings tweeted that it was investigating potential claims against Binance.US and was "incredibly disappointed" with the news.
Google Cloud will assist in expediting the startup process for Web3 developers
Google Cloud is expanding its early-stage support program to assist Web3 builders in accelerating their projects, as stated in a press release on Tuesday.
The "Google for Startups Cloud Program" initiative, which provides assistance to startups and emerging ventures, will now be extended to the Web3 industry to enable them to scale their projects more efficiently and securely.
The program is open to eligible projects from pre-seed to Series A and includes up to $200,000 in Google Cloud credits over two years, along with other technical support.
The press release also stated that eligible projects will have early access to Google Cloud's Web3 products and training on the latest cloud-based technologies.
Additionally, the program offers various benefits, such as access to capital from multiple partners, including up to $3 million in investments from the Polygon Ventures Ecosystem Fund.
The press release also mentioned that eligible projects may receive a $1 million grant from each of Google Cloud's foundation partners: Aptos, Celo, Flow, HBAR Foundation, and the Near and Solana foundations.
DFlow, a DeFi protocol, has secured $5.5 million in funding to introduce Payment for Order Flow to the cryptocurrency market
On Tuesday, DFlow, a DeFi protocol, announced that it has secured $5.5 million in funding, with Framework Ventures, a crypto venture capital firm, leading the financing round.
Other investors included Coinbase Ventures, Circle Ventures, Cumberland, Wintermute Ventures, Spartan Group, and ZeePrime.
DFlow had previously raised $2 million in a seed funding round in early 2022.
The DeFi protocol enables market makers to purchase order flow directly from wallet applications while ensuring that they execute at the best price.
DFlow defines the best price as the best public price aggregated across both centralized and decentralized exchanges.
According to DFlow, current crypto trading is expensive for retail customers and lacks the execution quality found in traditional equities markets.
The Co-founder of Terra, Daniel Shin, has been charged in South Korea
South Korean prosecutors have charged Daniel Shin, one of the co-founders of Terraform Labs, which was responsible for the failed Terra cryptocurrency project, for violating capital-markets laws and other offenses.
Bloomberg reported that Shin and nine others were indicted, and prosecutors seized assets worth 246.8 billion won ($184.7 million) from those charged.
Shin's lawyer stated that he had no involvement in the project's collapse since he had left the company two years before it happened.
Meanwhile, Terra's other co-founder, Do Kwon, was recently indicted in Montenegro on forgery charges after being arrested in March.
Terra's collapse caused a stir in the crypto markets, leading to a series of bankruptcies among firms such as Three Arrows Capital, Voyager Digital, and Celsius Network, after its algorithmic stablecoin, terraUSD, lost its 1:1 peg with the U.S. dollar.