Curve Token Experiences an Ascent Following Binance Labs' Pledge of a $5 Million Investment
Binance Labs, the venture capital division of the world's largest cryptocurrency exchange based on trading volume, has formally committed to an investment of $5 million in the Curve DAO Token (CRV).
This token serves as the backbone of the Curve decentralized exchange (DEX) functioning on the Ethereum blockchain.
As a facet of this partnership, Curve is actively exploring the possibility of establishing a presence on Binance's BNB Chain, as outlined in a recent blog post.
Curve, recognized for its role as a stableswap platform and DEX, presently holds approximately $2.4 billion in total value locked (TVL) according to DefiLlama's data. However, some of the gleam of the decentralized finance (DeFi) sector dimmed last month when Curve encountered a security breach resulting in a loss exceeding $70 million.
Yi He, co-founder of Binance and head of Binance Labs, expressed, "Curve stands as the foremost stableswap protocol, playing a pivotal role in the expansion of the DeFi landscape in 2023. Despite the recent setbacks faced by the protocol, Binance Labs is extending unwavering support to Curve through both investment and strategic collaboration. We consider this partnership as merely a starting point, eagerly anticipating the opportunity to collaborate further and propel the growth of the DeFi ecosystem."
The Curve DAO Token operates as the utility token underpinning the Curve DeFi protocol, utilized for purposes such as stablecoin and token exchanges, staking, and governance activities.
In response to the announcement of Binance's investment, the value of CRV surged by 4.8%, reaching 64 cents, before subsequently settling at 61 cents.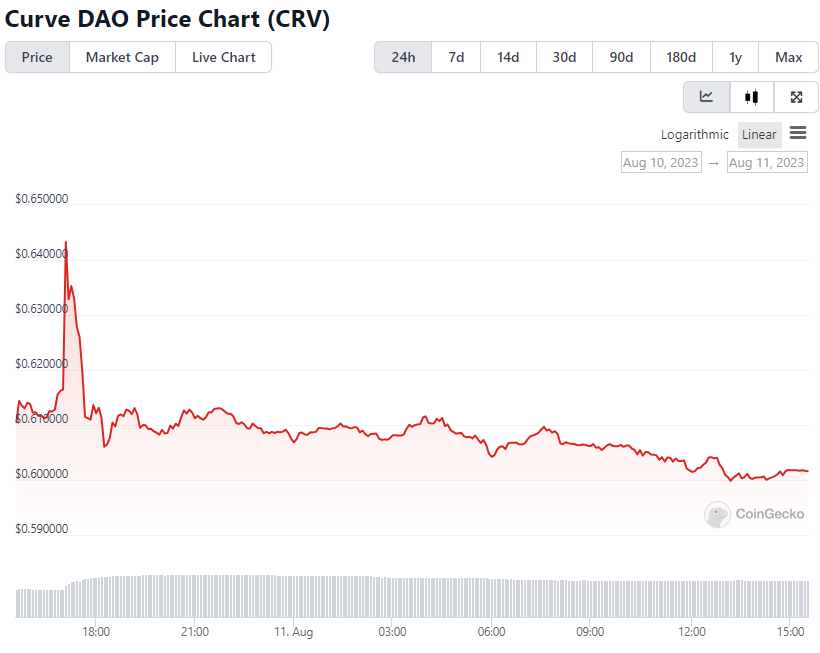 July Consumer Price Index (CPI) in The U.S. Aligns With Predictions, Showing a Monthly Growth of 0.2%
The July Consumer Price Index (CPI) showed a 0.2% increase compared to June, in line with economists' predictions and mirroring the growth seen in June. Year-over-year, the CPI rose by 3.2%, slightly lower than the anticipated 3.3% and the 3.0% recorded in June.
The Core CPI, which excludes volatile food and energy costs, also exhibited a 0.2% rise in July, matching both forecasts and the previous month's uptick. On a yearly basis, Core CPI in July rose by 4.7%, slightly below the predicted 4.8% and consistent with the figure from June.
Following the release of the Bureau of Labor Statistics' report, the price of bitcoin (BTC) remained relatively stable at $29,550.
These statistics might influence the likelihood of the Federal Reserve's decision regarding interest rate adjustments at the upcoming September meeting. Prior to the report, the CME FedWatch tool indicated a mere 15.5% probability of a rate hike in the next month. Post-report, this probability decreased to 10%.
The Federal Reserve has been progressively tightening its monetary policy since early last year to counteract increasing inflation, raising its benchmark fed-funds rate target by over 500 basis points in the last 17 months, leading to the present range of 5.25% to 5.50%.
The surge in interest rates played a role in Bitcoin's decline from over $69,000 in late 2021 to slightly above $16,000 by the close of 2022. Ongoing concerns about rates this year have likely contributed to limiting the rebound of Bitcoin's value. If the latest CPI report reinforces the expectation that the Fed might ease off on rate hikes, this could potentially provide a positive influence on Bitcoin's prospects.
In terms of inflation, as measured by the CPI, the annual rate peaked at 9.1% in June 2022 and has generally declined since then. Similarly, Core CPI reached its apex at 6.5% in March 2022 and has receded, although not as drastically as the headline number. Despite the Federal Reserve's inflation target of 2%, its members have indicated that they may decide to conclude the cycle of monetary tightening before reaching this figure.
PancakeSwap's Expansion Initiative Continues as it Implements Arbitrum, an Ethereum Scaling Solution
In a strategic move to broaden its user base and enhance revenue streams, the decentralized exchange (DEX) PancakeSwap has successfully integrated with the Ethereum scaling network, Arbitrum.
Similar to other decentralized exchanges, PancakeSwap operates on the principles of smart contracts, eliminating intermediaries and enabling seamless trading, lending, and lottery services for its users.
The platform was previously accessible on various blockchains including BNB Chain, Ethereum, Polygon zkEVM, zkSync, and Aptos.
Recent data from DefiLlama indicates that the DEX managed assets exceeding $1.54 billion as of Wednesday.
The integration with Arbitrum ushers in multiple benefits for PancakeSwap users, primarily in the form of reduced fees and expedited transaction times.
The current fee structure allows users to engage in trades for as low as 0.01%, which stands as one of the most competitive rates among decentralized exchanges.
Notably, Arbitrum boasts a significant lock-up value of tokens, positioning it as a prominent layer 2 network within the crypto space.
Chef Cocoa remarked on the decision to launch on Arbitrum One, emphasizing PancakeSwap's dedication to promoting widespread DeFi adoption.
By leveraging Arbitrum's scalability and cost-efficiency, PancakeSwap aims to attract a broader spectrum of users to its platform, thereby fostering increased participation in the DeFi ecosystem.
As for PancakeSwap's native token, CAKE, it has exhibited marginal fluctuations over the past 24 hours and is currently trading at $1.50 during the European afternoon hours, according to CoinGecko's data.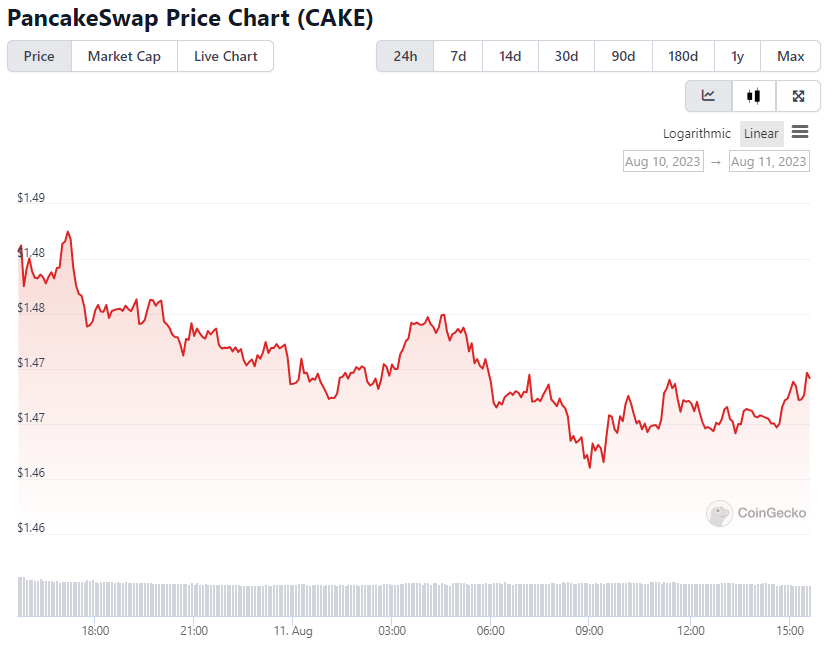 Coinbase's Highly Anticipated New Foundational Blockchain Attracts a Modest $10 Million in Inflows During Its Launch Day
Coinbase's newly launched Base blockchain experienced subdued inflows during its initial day, falling short of the expectations held by certain cryptocurrency traders who anticipated substantial capital influx.
Approximately a little over $10 million was moved to the fresh blockchain within the last 24 hours, as indicated by data presented in a Dune Analytics dashboard.
This influx was accompanied by just over 15,000 new users, along with a 40% reduction in transactions compared to the previous Wednesday.
Among the total amount, around $5.6 million consisted of ether (ETH), approximately $2.3 million was in the form of USD coin (USDC), and the remaining portion comprised various alternative cryptocurrencies.
Analysis of wallets reveals that the majority of Base users transferred an average of $500 to $1,000 worth of ether.
Notably, the most substantial wallet transfer originated from the address "0xcc…1763," which moved $17 million worth of tokens.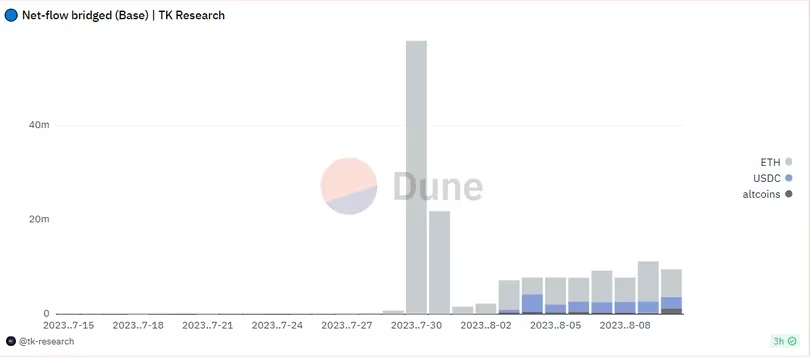 Base was launched at 12 p.m. ET (16:00 UTC) on Wednesday, marking a historic milestone as the first instance of a publicly traded company introducing its own blockchain.
Artwork Evolution Unveiling Drives a Significant Surge in DeGods Sales
Recent statistics from the OpenSea marketplace reveal a remarkable surge in trading activity for DeGods over the last 24 hours.
The trading volume for DeGods has experienced a significant 197% increase, reaching 1,359 ETH (approximately $2.5 million).
During this time frame, traders collectively acquired 158 DeGods NFTs.
This surge in activity has propelled DeGods to claim the top position on the NFT platform's collection leaderboard.
Despite a decrease in its floor price from 8.8 ETH to 7.4 ETH during this period of heightened sales, the purchase of a $13,600 NFT still stands as a substantial investment, especially in the current bearish market.
This trend in DeGods sales could potentially signify positive developments in the broader NFT market.
Notably, DeGods unveiled its plans for "Season III" of the collection early on Thursday. This new season will introduce an impressive collection of 20,000 fresh artworks.
In an exciting move, DeGods is introducing female profile picture (PFP) NFTs that can be swapped for the existing male PFPs.
Additionally, DeGods aims to enhance the collection by removing undesirable traits from NFTs and replacing them with new ones that are more appealing to holders.
DeGods emphasized that these new traits were meticulously selected to align with the collection's design system, prioritizing rarity and innovation.
To ensure that the collection maintains its integrity and uniqueness, DeGods has opted for an approach that avoids dilution.
Instead of introducing new tokens, each individual DeGod NFT will now feature four distinct pieces of generative art.
This strategy addresses concerns common in the NFT space, where the addition of similar tokens can lead to dilution, as evidenced by previous projects.
DeGods communicated that holders interested in updating their tokens would require 333 DUST, the collection's native utility token, for the process.
Currently valued at $2.26 according to CoinGecko, DUST will be fully allocated to the "Points Parlor" prize pool for DeGods Season III holders, providing opportunities to engage in games and win prizes.
For holders who may find the initial cost of updating their tokens prohibitive, DeGods plans to gradually decrease the price over time, encouraging more holders to participate. DeGods initially originated as a Solana-based NFT project but migrated to the Ethereum network following challenges faced by the Solana network due to the FTX collapse.
The project also relocated its Solana-based sister collection, Y00ts, to the Polygon sidechain after receiving a $3 million grant from Polygon Labs.
However, a recent announcement stated that Y00ts will be migrating to Ethereum to unify the collection with DeGods, resulting in the return of the grant.