Curve Extends a 10% Reward to Hackers in Exchange For The Recovery of The Cryptocurrency
Curve Finance, along with other targets of the recent crypto lending breach, has proposed a 10% reward to the hackers as an incentive to return the remaining tokens.
In an on-chain message directed to the Ethereum address of the hacker, which included Curve, Metronome, and Alchemix, they assured that there would be no further pursuit or legal consequences.
They have set a deadline of August 6, 08:00 UTC for the hacker to comply, beyond which the bounty will transition into a reward for anyone who provides information leading to the apprehension and conviction of the hacker.
The message conveyed a stern warning that if the hacker does not cooperate, legal actions will be taken exhaustively.
The attack on Sunday resulted in Curve, Metronome, and Alchemix losing nearly $62 million due to an unidentified hacker exploiting a software flaw to drain their trading pools.
Despite managing to regain some tokens from other opportunistic traders who inadvertently outpaced the hackers, a significant portion of the assets remains unrecovered.
This outreach approach mirrors the strategy taken by Euler, another DeFi protocol that also fell victim to significant losses from a hack in 2023.
Euler successfully negotiated for the return of their assets in a similar fashion.
Coinbase Surpasses Q2 Analyst Expectations, Yet Experiences a Decline in Transaction Revenue
Coinbase (COIN) has exceeded analyst projections for the second quarter, announcing revenues of $708 million and adjusted losses per share of $0.42, outperforming the anticipated revenues of $628 million and losses per share of $0.76.
However, transaction revenue registered at $327 million, a decrease from $375 million in the previous quarter, and total trading volume dropped to $92 billion from $145 billion in Q1.
The company attributed the decrease in transaction revenue to a prolonged period of low cryptocurrency volatility.
Interest income also decreased from $241 million in Q1 to $201 million in Q2, with $151 million originating from USDC holdings.
Looking forward to Q3, Coinbase revealed it generated approximately $110 million in transaction revenue for July and anticipated Q3 subscription and services revenue (which amounted to $335 million in Q2) to be at least $300 million.
Following the announcement, Coinbase's stock initially surged by 9% but subsequently experienced a 1.4% decline to reach $89.48.
The company's shares have gained about 160% over the year, while Bitcoin's price has risen by more than 75% during the same period.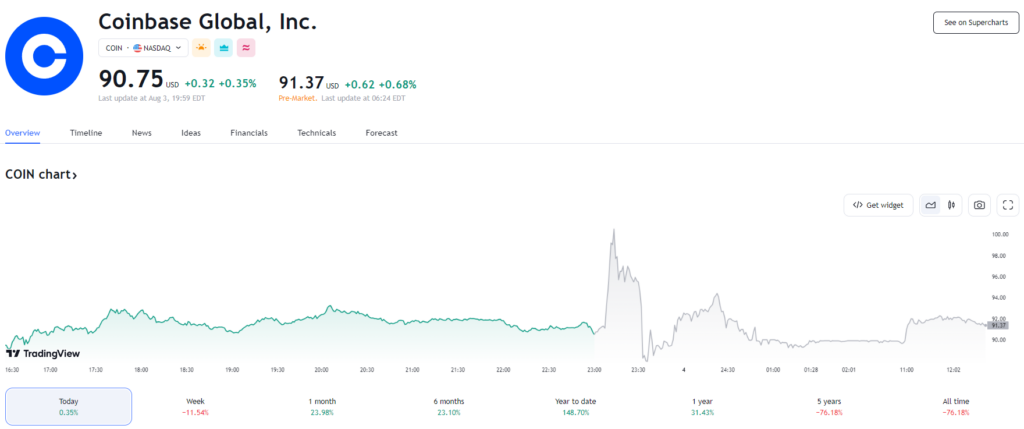 CEO Brian Armstrong expressed his satisfaction with Q2's performance, noting the company's strong execution and resilience in a challenging environment.
He emphasized their cost-cutting measures, operational efficiency, and readiness to contribute to the crypto economy's future while advocating for regulatory clarity.
Founder of Curve Secures $42.4M Funding to Settle $80M On-Chain Debt
Curve Finance Founder Michael Egorov is making significant progress in repaying his $80 million debt through a fresh series of off-market sales of the Curve (CRV) token.
EmberCN, a Twitter user who compiles data, has revealed that Wintermute Trading recently acquired 25 million CRV tokens for $10 million in two separate transactions.
Wintermute secured these tokens at an approximate rate of 40 cents each in an over-the-counter (OTC) agreement, whereas the prevailing market price stands at 58 cents, based on CoinDesk's market data.
Additional prominent purchasers of CRV tokens through OTC transactions include Gnosis Chain and Reserve Protocol.
This infusion of funds has assisted Egorov in partially reducing his liabilities to entities such as Aave, Abracadabra, FraxLend, and Inverse Finance.
Data from blockchain analytics firm DeBank underscores this progress.
However, Egorov and his peers remain concerned about potential repercussions if the CRV price dips to $0.368.
DeFi risk management company Gauntlet, in forum discussions, cautioned that Aave might need to liquidate Egorov's CRV collateral in a market with limited liquidity, a move regarded as risky.
"While some argue that the Curve OTC transactions enhance token decentralization, it's important to note that many of the traders are high-volume investors or institutional entities," remarked Nick Ruck, COO of Defi Protocol ContentFi Labs, in conversation with CoinDesk. Ruck added, "This dynamic isn't inherently detrimental to the DeFi space, but it does create a scenario where protocol founders might anticipate the industry to intervene and prevent contagion resulting from irresponsible loans."
The CRV price has maintained relative stability at approximately 58 cents over the past 24 hours, rebounding after a decline of over 20% subsequent to a recent exploit, according to CoinGecko data.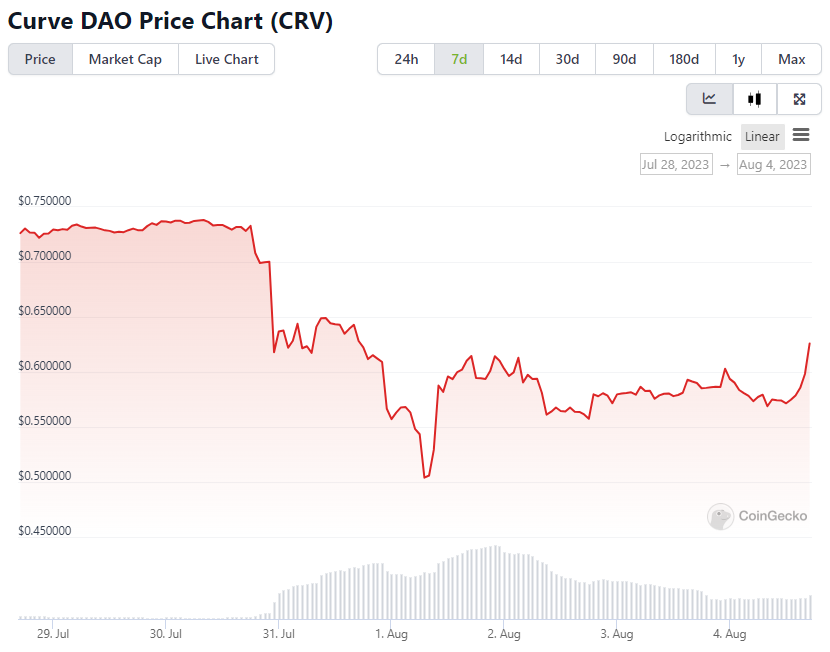 X, Led by Elon Musk, is in Search of a Data Partner to Collaborate on The Development of a Trading Service
Elon Musk's upcoming comprehensive app, formerly known as Twitter and now named X, is actively seeking a major financial-data partner to collaborate on the integration of a trading hub within the app, as reported by Semafor, a news outlet citing both documents and individuals familiar with the situation.
The provided documents indicate that X has recently reached out to potential financial-data providers, inviting proposals related to financial content and real-time stock data, among other aspects.
However, it remains uncertain whether any firms have submitted proposals by the deadline last week.
In its communications with these data firms, X has emphasized its potential to connect with "hundreds of millions of highly qualified users."
Interestingly, X is not offering compensation to these potential partners. Instead, the firms were requested to specify their potential investment amount for the project, according to Semafor's report.
Notably, Elon Musk mentioned on X that, to his knowledge, there is currently no active work being conducted on this project.
While not a direct denial, this statement could imply that the development of such a trading service might be in the conceptual stages and not immediately forthcoming.
This isn't the first instance where the possibility of incorporating a trading hub within the X platform has been discussed.
Earlier this year, eToro, a social investing platform, revealed its plans to provide trading services for cryptocurrencies and other assets directly to users of the then-named Twitter, through a partnership arrangement.
If X proceeds with plans to establish an in-app trading hub, it could potentially allow trading not only in traditional assets but also in cryptocurrencies such as bitcoin (BTC) and meme coin dogecoin (DOGE), given Musk's strong interest in the digital asset space.
Coinbase CEO Brian Armstrong recently disclosed that the U.S. Securities and Exchange Commission (SEC) instructed him to restrict cryptocurrency trading to only bitcoin.
This suggests that regulators might view Bitcoin as a more acceptable cryptocurrency from a regulatory standpoint.
Elon Musk had previously announced intentions to enable payments on the X platform, initially focusing on fiat currencies and possibly considering the incorporation of cryptocurrencies at a later stage.
In July, Musk rebranded Twitter as X as part of a larger strategy to create an all-encompassing app similar to China's WeChat, aiming to offer a diverse range of services, including payments and gaming.
This move was positively received by cryptocurrency experts, who speculated that the rebranding could significantly impact the cryptocurrency ecosystem.
Coinbase Scheduled to Publicly Launch 'Base' Layer 2 Blockchain in the Coming Week
Coinbase (COIN), the largest publicly traded cryptocurrency exchange in the United States, has revealed its plan to make its layer-2 blockchain called "Base," developed using Optimism's OP Stack technology, accessible to the public from August 9 onward.
The Base had previously been made available to developers in July, enabling them to test various applications on this new blockchain network.
Starting Thursday, users will have the capability to link their ether (ETH) to Base, as detailed in a recent blog post by Coinbase.
This announcement coincides with Coinbase's impending release of its second-quarter earnings report and the initiation of "Onchain Summer."
This event series offers creators and developers the opportunity to engage in artistic endeavors or construct applications using the Base platform.
Notable companies such as Coca-Cola (KO), gaming giant Atari, and the non-fungible token platform OpenSea are among the participants.
The Coinbase Wallet's X (formerly Twitter) account highlighted that it is already feasible to deposit ether into Base, even before the official public launch of the network.

According to blockchain data from Dune, over $68 million worth of ether was successfully transferred to the network during the past weekend.
Similar to Coinbase, the prominent venture capital firm Andreessen Horowitz, often referred to as a16z, has also taken advantage of the OP Stack technology.
The firm is set to introduce its own layer 2 rollup named "Magi." Jesse Pollak, the creator of Base and the head of protocols at Coinbase, stated in a press release sent to CoinDesk, "Since we introduced Base, our goal has remained unwavering: to onboard the next billion users and empower the next million creators on the blockchain. Today, we are excited to reveal the next phase of our journey."
Entitled 'Wreck League,' a Game Supported by Animoca Brands, Incorporates Bored Apes Into Its Storyline
NWay, a game developer and subsidiary of Animoca Brands, is gearing up to launch an upcoming mechanized combat game named 'Wreck League.'
The game will integrate non-fungible token (NFT) projects from Yuga Labs into its storyline.
Expected to debut within the next few weeks, the game will enable players to construct massive robotic avatars, or mechs, by utilizing collectible NFT components, offering a staggering array of over 1.5 quadrillion potential combinations.
Players will initiate their journey by minting a mech NFT, consisting of 10 distinct mech parts obtainable from crates accessible to those on the Wreck League's pre-approved list.
Although the Web3 edition of the game mandates a mech NFT and a wallet compatible with Ethereum, facilitating competitive events and tournaments, the developers have assured the availability of a non-blockchain, free-to-play version across various platforms, including iOS.
In the Web2 variant, players can also purchase non-NFT renditions of the blockchain-generated mechs, with a proportion of the earnings channeling back to the original mech owners, the exact share of which remains undisclosed.
In the inaugural season, nWay and Animoca Brands have entered into a licensing agreement with Yuga Labs, integrating four of their collections into the game's narrative: Bored Ape Yacht Club, Mutant Ape Yacht Club, Bored Ape Kennel Club, and Otherside Kodas.
Notably, players won't be able to pit Bored Apes against each other, but characters from Yuga Lab's canonical universe—like Curtis, Jimmy, Gary, and Blue—will be interwoven into the storyline of the game.
This innovative approach is referred to as the 'non-canonical extended Yugaverse,' maintaining a clear distinction between Wreck League's universe and Yuga Lab's canonical realm.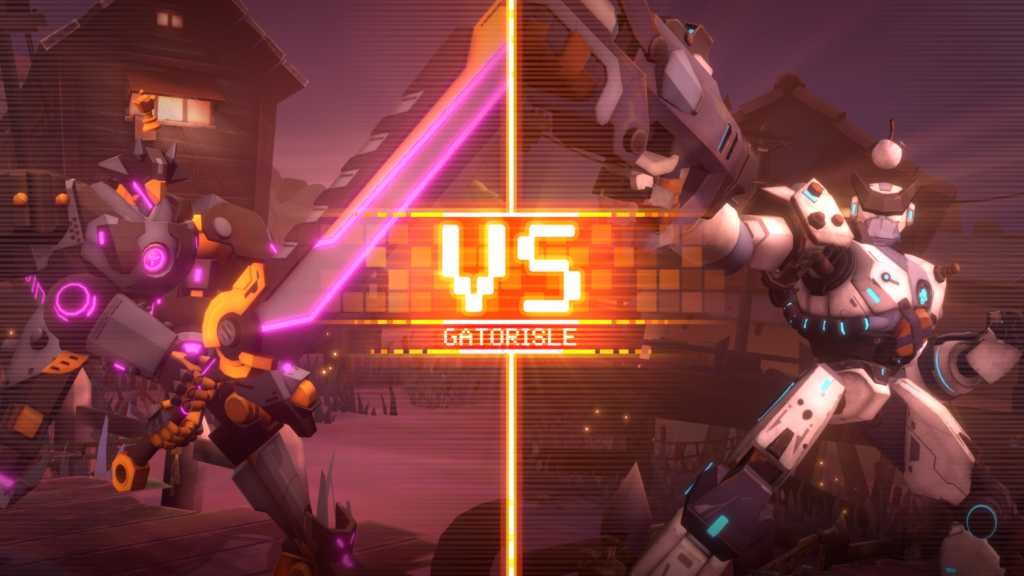 Engaged Wreck League participants stand a chance to compete for on-chain rewards, spanning mech components and booster crates, each with varying levels of rarity.
Animoca Brands, a prominent player in the Web3 investment arena, boasts connections with several popular blockchain games through its subsidiary ventures, including the well-known metaverse platform, The Sandbox.
Yuga Labs has also extended its presence into the gaming sphere, recently appointing Chief Gaming Officer Spencer Tucker to aid in developing its Otherside metaverse and rolling out a series of mini-games to enrich its ecosystem.
As part of its Otherside-focused strategy, Yuga Labs has announced intentions to acquire Roar Studios, a gaming company with a metaverse emphasis.