Huobi's Stablecoin Reserves Have Experienced a 30% Decline Following Reports of Executive Arrests
Huobi's spokesperson is refuting reports of several executives being arrested in China as an increase in outflow from the exchange is observed.
Financial media in Hong Kong had previously reported that Chinese police had taken away several Huobi executives.
Data from Nansen.ai indicates that Huobi's stablecoin exchange balances have decreased by 33% in the past week, with traders withdrawing $49 million in stablecoins.
Colin Wu of Wu Blockchain mentioned that "a large number of senior executives of offshore cryptocurrency exchanges… have been detained and investigated by the Chinese police," but without providing specific details.
According to DeFiLlama's data, Huobi's current balance stands at around $2.5 billion, down from $3.1 billion at the beginning of the year.
On-chain data reveals that a significant portion of the exchange's holdings are linked to tokens associated with the Justin Sun universe of companies and protocols.
Specifically, 26.5% of the holdings are in TRX (TRON's token), and 20.32% are in HT (Huobi's exchange token).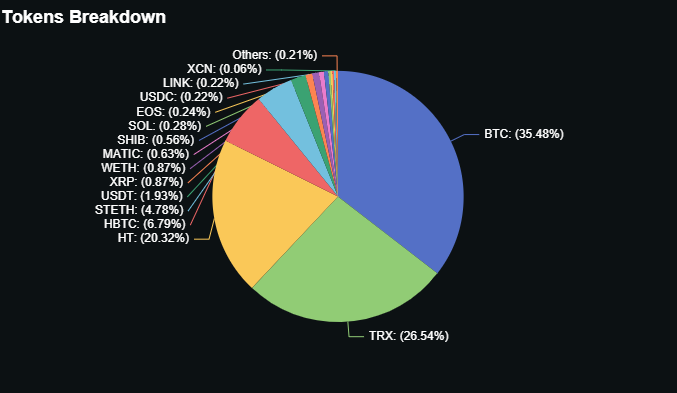 Huobi reportedly holds approximately $1 billion in highly liquid assets, including $886.92 million in bitcoin, $48.27 million in USDT, and $5.41 million in USDC, based on DeFi Llama data.
While it lacks any ether holdings, it does possess $119.4 million in stETH and $21.8 million in wETH.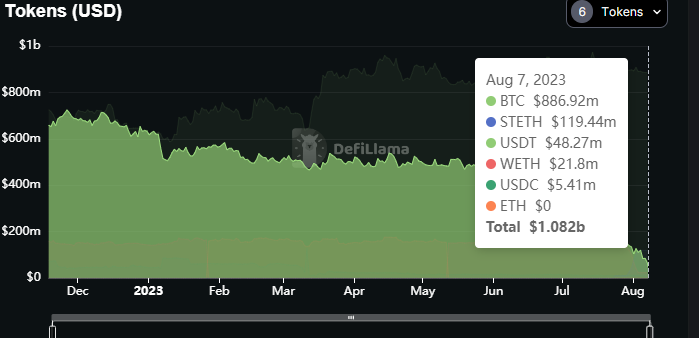 Last year, analytics firm CryptoQuant had raised concerns about the quality of Huobi's reserves.
Despite the news of the reported arrests, Huobi's HT token remains unchanged, trading at $2.66.
PayPal Plans to Release a Stablecoin Backed by The U.S. Dollar, Utilizing The Ethereum Blockchain
PayPal, the global payments giant, made an announcement on Monday regarding its entry into the cryptocurrency market by introducing its own stablecoin, named PayPal USD (PYUSD), which is pegged to the U.S. dollar.
The stablecoin, built on the Ethereum blockchain, will soon be accessible to PayPal users in the United States.
This marks a significant milestone as it is the first time a major financial company has launched its own stablecoin.
PYUSD will enable users to transfer funds between PayPal and supported external digital wallets.
It can be utilized for making payments for goods and services, as well as for converting other cryptocurrencies available on PayPal's network, such as bitcoin, bitcoin cash, ether, and litecoin, to and from PYUSD.
To ensure stability and credibility, New York-based crypto financial-services firm Paxos Trust will issue PYUSD, fully backed by U.S. dollar deposits, short-term Treasuries, and similar cash equivalents.
The stablecoin can be redeemed for dollars and exchanged for other cryptocurrencies within PayPal's ecosystem.
Previously, PayPal had temporarily halted work on its stablecoin project due to regulatory scrutiny, as reported by Bloomberg.
However, the company has expressed its commitment to responsible innovation and compliance, emphasizing the importance of a stable instrument that connects digital currencies with fiat currencies like the U.S. dollar.
PYUSD will initially be available on PayPal and subsequently on its popular Venmo app.
This announcement has been well-received, indicating that stablecoins, if issued under a clear regulatory framework, could become an integral part of the modern payment system.
To address concerns about unbacked tokens, PayPal has pledged to provide attested reports of the funds backing PYUSD.
Starting from September 2023, Paxos will publish a monthly public Reserve Report for PayPal USD, detailing the composition of the reserves.
Additionally, an independent third-party accounting firm will issue a public attestation of the value of PayPal USD reserve assets, following the standards established by the American Institute of Certified Public Accountants.
In July, The Lido Protocol Managed to Draw in 10,000 Ether Stakers
During July, Lido, a well-known liquid-staking platform, attracted a significant influx of participants, with 10,000 unique ether (ETH) depositors joining the protocol.
This contributed to the total value locked (TVL) reaching an impressive milestone of $15 billion worth of tokens, a level not seen since May 2022.
According to Lido's monthly report, the number of unique ether depositors grew to over 166,000, representing a notable 6.66% increase during the past month.
On July 14, Lido's TVL surpassed $15 billion, although due to the recent decline in the price of ether, it currently stands at $14.81 billion.
The rise in both the number of depositors and TVL occurred as the amount of staked ETH (stETH) in decentralized finance (DeFi) liquidity pools decreased by more than 53% to around 161,000.
DeFi traders pay close attention to liquidity as it reflects how easily investors can access stETH.
The decrease in liquidity in DeFi pools can be attributed to the uncertainty surrounding the Curve Finance exploit, leading many liquidity providers to withdraw until the situation becomes clearer.
Curve Finance, a decentralized stablecoin exchange, suffered a hack resulting in a loss of over $73 million, causing ripple effects across the crypto ecosystem, including Lido. However, Curve has managed to recover about 73% of the stolen funds.
Despite the drop in stETH in DeFi liquidity pools, there is still strong demand for stETH in lending protocols and layer 2 rollups.
Market participants not only use stETH as collateral for their loans but also seek to bridge their stETH to layer 2 rollups.
For instance, Aave holds over 736,000 stETH, as per Nansen's data, and "Arbitrum and Optimism bridges experienced increases of 16.58% and 10.23% in wstETH deposits, respectively," according to the report.