Fake PayPal USD Tokens Emerge Across Multiple Blockchain Networks
Fraudsters are attempting to deceive unsuspecting users by taking advantage of PayPal's recent introduction of the dollar-pegged stablecoin called PayPal USD (PYUSD).
They are doing this by creating counterfeit tokens across various blockchain networks.
According to data from DEXTools, over 66 fraudulent tokens have emerged on platforms like Ethereum, BNB Chain, and Base, primarily appearing during Asian noon hours on Tuesday.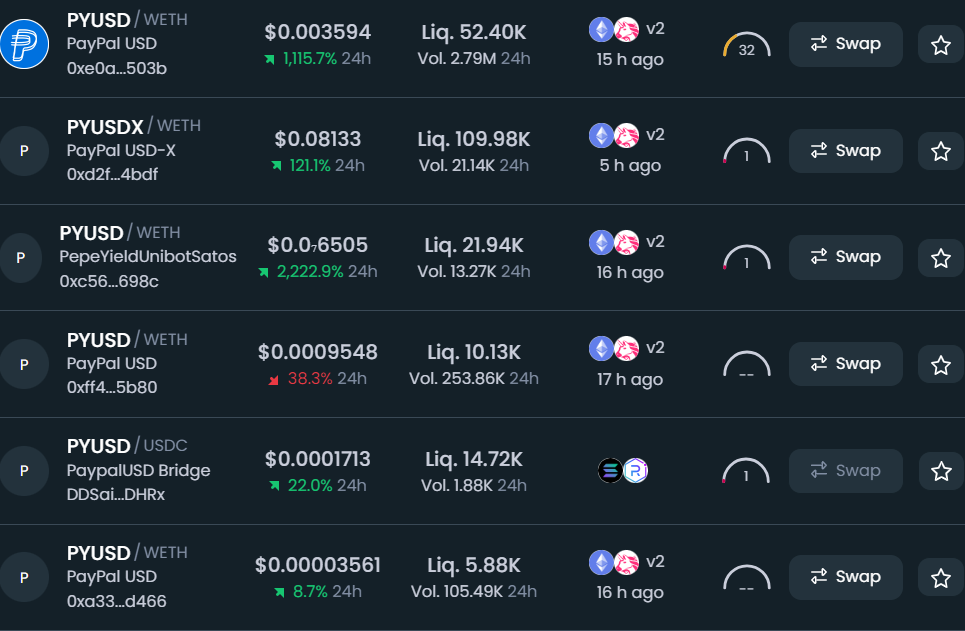 PayPal, a major financial company based in New York, announced on Monday that it plans to release its own stablecoin called PayPal USD (PYUSD).
This move marks a significant step as it's the first time a prominent financial institution is issuing its own stablecoin.
The PYUSD stablecoin will allow users to transfer funds between PayPal and supported external digital wallets.
Additionally, users can utilize these tokens for payments or convert them to and from other cryptocurrencies supported by PayPal.
Although the official release of these tokens is pending, scammers have already started attempting to ensnare unsuspecting individuals.
Their approach involves creating a token, naming it "PYUSD," adding liquidity using ether or another token, and then presenting it to users on a decentralized exchange.
This exploitation is possible due to the accessibility of calling smart contracts and generating tokens on Ethereum (and other blockchains) for minimal costs.
Furthermore, the existence of decentralized exchanges enables the swift creation, liquidity injection, and immediate trading of such tokens.
The creators of these fake tokens likely buy a significant portion of the token supply following issuance, creating the illusion of a popular token while actually setting a trap.
This scheme can yield several thousand dollars for these developers within just a few hours, although it's an entirely unethical endeavor.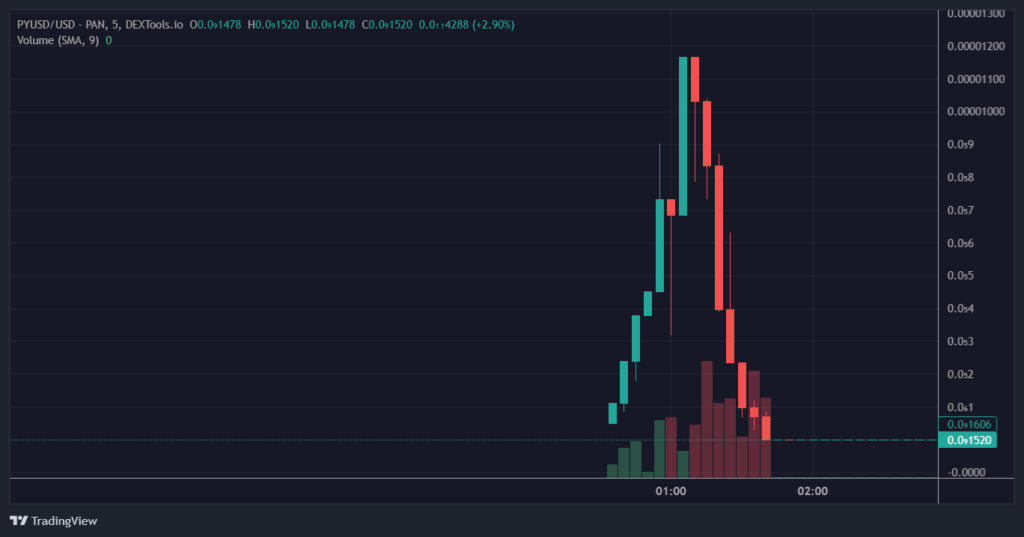 In some instances, developers might even remove all liquidity from these counterfeit tokens shortly after their creation.
This action causes the token prices to plummet by 100%, leaving speculators with worthless assets.
Huobi Obtains $200 Million Worth of USDT And $9 Million Worth of Ether From a Large Cryptocurrency Holder
According to data recorded on the blockchain, a significant cryptocurrency holder executed two substantial deposits into Huobi, resulting in a notable increase in the exchange's reserves of both USDT and Ether.
The initial transfer involved $200 million worth of USDT and occurred during the morning hours in Asia on Tuesday.
This was followed by a subsequent transaction involving 5,000 units of Ether (ETH), valued at $9.15 million.
Despite speculation, a representative from Huobi has refuted any connection between the involved address and Justin Sun.
It's worth noting that this address is identified as one of the top 10 holders of TRX tokens.
As a result of these deposits, Huobi's USDT holdings have surged to $273 million, as indicated by data from DeFi Llama.
Additionally, Huobi maintains a balance of $400 million in stUSDT, a project endorsed by Sun, which is described as the "first real-world asset protocol on the Tron Network," although it hasn't gained widespread adoption yet.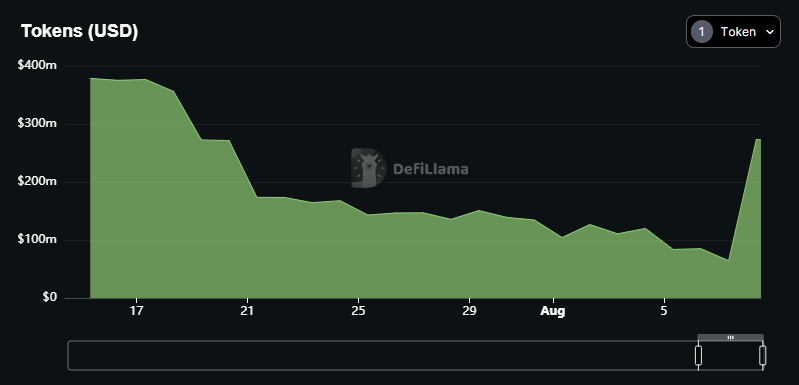 Concurrently, there has been an ongoing trend of capital outflow from Huobi.
Statistics from Nansen.ai illustrate that over the past week, approximately $92.2 million worth of Ethereum-based tokens have been withdrawn from the exchange.
In total, roughly $101 million across various blockchains has been moved during the same timeframe.
This development can be attributed in part to unverified rumors suggesting the detainment of Huobi executives in China, although such claims have been officially denied by a spokesperson.
In the context of market performance, Huobi's HT token has experienced a 2% decline, currently trading at a value of $2.62.
Cypher Protocol, Built on Solana, Encounters Security Breach and Halts Smart Contract Functionality
On Monday, the decentralized exchange Cypher, which operates on the Solana blockchain, suffered a crypto loss of nearly $1 million due to a security breach or exploit.
As a result of this incident, the protocol's contracts have been immobilized while contributors work to establish communication with the hackers, aiming to negotiate the return of the funds.
Cypher has gained significant popularity within the Solana ecosystem, in part due to its loyalty program that grants points to depositors and traders, leading many users to anticipate a future airdrop event.
This exploit occurred amidst Cypher's biannual event, the hacker house mtnDAO, which takes place in Salt Lake City.
The event is hosted in collaboration with another Solana trading protocol, marginfi. Interestingly, marginfi reported that it remained unaffected by this hack in its Discord channel.