Rollbit's RLB Token Skyrockets by 60% as Cryptocurrency Casino Places Bets on Daily Token Burn
Rollbit, a cryptocurrency exchange, and casino, has announced a new strategy that involves the daily purchase and burning of its RLB tokens, a move that led to an impressive price surge of more than 63%.
The platform's approach involves utilizing its revenue to buy and permanently eliminate RLB tokens, boosting investor interest.
Rollbit offers a range of features including token trading with leverage up to 1000x, sports betting, arcade games, and a tokenized jackpot system.
Remarkably, data from the platform indicates that over $2.5 billion worth of cryptocurrency futures were traded on Rollbit within just 24 hours.
Co-founder "Lucky" shared on Twitter that they plan to allocate 30% of fees from crypto futures, 20% from sports betting, and 10% from casino games to acquire RLB tokens from the market for burning, rendering them irretrievable by sending them to an address outside any control.
The revenue generated by Rollbit in the past 24 hours from its various services surpassed $2 million, which implies a substantial portion, after deducting costs, will be channeled towards the daily procurement of RLB tokens.
This approach could potentially create a continuous buying pressure on RLB tokens, given ongoing growth in platform usage.
Rollbit has experienced rapid expansion in the cryptocurrency landscape this year, largely attributed to its appealing product that has resonated with both gamblers and traders. Despite the overall bearish sentiment in the market, the inclusion of crypto games and similar offerings has attracted users to the platform.
Lucky expressed, "Rollbit has exhibited remarkable resilience over the years, irrespective of market fluctuations, thanks to the diversity of our offerings. Whether the market is bullish or bearish, our hybrid services have enabled us to maintain a steady stream of revenue."
At the time of writing, RLB tokens were trading at 16 cents.
Microsoft and Aptos Labs Join Forces for Innovative Blockchain AI Tools
Aptos Labs, the company behind a layer 1 blockchain initiated by former Facebook employees with the goal of reviving the abandoned Diem project (formerly known as Libra), is expanding its range of tools and services through the utilization of Microsoft's artificial intelligence technology.
Following the announcement, the Aptos token (APT) experienced a notable 15% surge, reaching $7.70.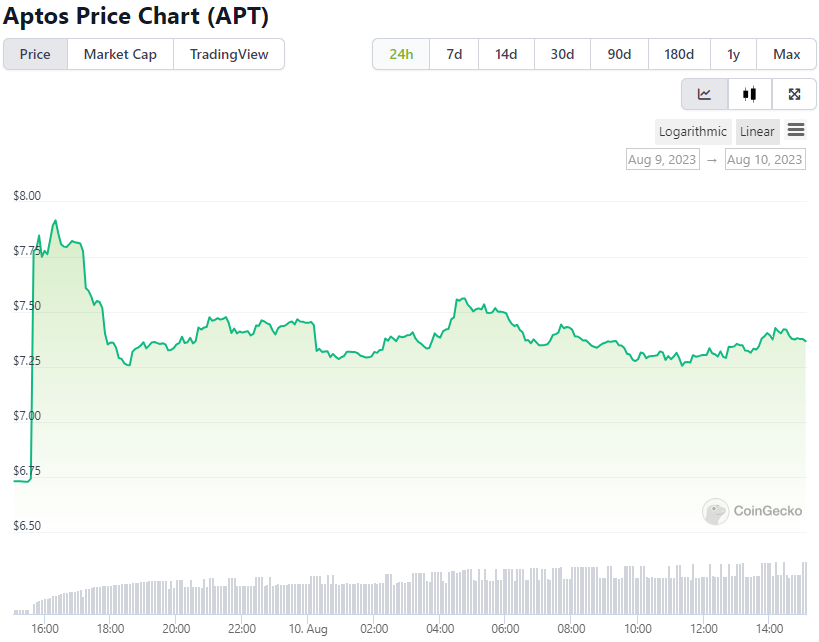 According to a press release issued on Wednesday, Aptos is harnessing the capabilities of Microsoft's infrastructure to introduce fresh offerings that seamlessly merge AI and blockchain technologies.
This includes the introduction of a novel chatbot named Aptos Assistant, designed to address inquiries from users about the Aptos ecosystem, while also providing valuable resources to developers engaged in the creation of smart contracts and decentralized applications.
This chatbot operates using Microsoft's Azure OpenAI Service.
In the words of Aptos Labs CEO Mo Shaikh, "Artificial intelligence and blockchain technologies are rapidly converging for a crucial reason: They represent groundbreaking advancements that profoundly influence the trajectory of the internet's evolution and the shaping of society."
Additionally, Aptos is integrating its native programming language, Move, into GitHub's Copilot service, an AI-powered programming tool, which will facilitate "contract development, unit testing, formatting, and prover specifications."
Rashmi Misra, the General Manager of AI and Emerging Technologies at Microsoft, emphasized, "By combining Aptos Labs' technology with the capabilities of Microsoft Azure Open AI Service, our aim is to democratize the utilization of blockchain, enabling users to seamlessly transition to Web3, while empowering innovators to craft new and captivating decentralized applications using AI."
Both companies have also expressed their intention to explore blockchain-based financial services, encompassing asset tokenization, payment alternatives, and the development of central bank digital currencies.
To enhance network security, Aptos will operate validator nodes on the Microsoft Azure platform.
A representative from Aptos clarified that Microsoft and Aptos Labs are collaborating closely to bring these tools to fruition.
The representative stated, "This collaboration has been in effect since the beginning. Aptos Labs' team, comprising AI experts, Ph.D. holders, and Web3 developers, is working directly alongside Microsoft's AI team to train models, integrate AI technology into Aptos Assistant and GitHub elements that interact with Aptos' blockchain, and determine optimal resources for developers and visitors seeking to enhance their understanding of building on the Aptos platform or seeking insights about the broader Aptos ecosystem."
The intersection of AI and blockchain has gained substantial traction among blockchain developers, particularly following the successful adoption of tools like ChatGPT.
Venture capitalists are also directing more attention towards AI, underscoring the pivotal role of AI integration in fundraising endeavors and the pursuit of technological talent.
Coinbase Achieves a Landmark as a Public Company with the Official Launch of Base Blockchain
Coinbase (COIN), the prominent publicly-traded cryptocurrency exchange based in the United States, has officially launched its newly established Base blockchain.
This marks a significant milestone, ushering in a new era where public companies manage their own distributed networks.
Although Base had been accessible for developer testing earlier, Coinbase officials confirmed that it would be accessible to the general public from 12 p.m. ET on Wednesday, a time that has now passed.
This strategic move by Coinbase, a company closely watched in the crypto market, holds the potential to not only generate fees from operating its own blockchain but also to tap into a potentially more lucrative revenue stream from applications built upon it, according to company executives.
In a "secret master plan" articulated by Coinbase CEO Brian Armstrong back in 2016, he envisioned the company's fourth phase of development centered around "decentralized apps" (dapps) with the goal of reaching a billion people.
In April 2021, Coinbase made its shares available for trading on Nasdaq through a direct listing.
Jesse Pollak, the head of protocols at Coinbase responsible for overseeing Base, revealed in an interview on Tuesday that around 100 dapps were already deployed or prepared for deployment on the newly established network.
"Historically, the scope of what individuals could accomplish with cryptocurrencies remained somewhat limited, mostly revolving around speculation," Pollak commented. "For Coinbase, the crypto industry, and the ongoing initiatives, including our work, to achieve the desired impact, a shift is needed from speculative activities to full integration into people's daily lives."
Concurrent with the Base blockchain launch, Coinbase has introduced plans for an "Onchain Summer" promotional campaign in collaboration with corporate partners, Coca-Cola (KO) among them, aiming to showcase the capabilities of this innovative project.
The Y00ts NFT Collection Has Decided to Transition to The Ethereum Blockchain Following The Approval of a $3 Million Grant From Polygon
The Y00ts NFT Collection, previously a prominent project on Solana's platform, has revealed its decision to shift away from Polygon.

It intends to return the $3 million grant that had been provided by the Ethereum layer 2 earlier this year.
Instead, Y00ts plans to transition to the Ethereum blockchain with the aim of bringing together the communities of both DeGods and y00ts.
DeGods, another creation by Los Angeles-based startup DeLabs, made its Ethereum migration in April.
The precise date of Y00ts' migration will be announced in the near future.
This move aligns with DeGods' announcement of an upcoming Season III collection alongside its migration news.
In December, both projects initially declared their departure from Solana, with Rohun Vora, also known as Frank, the leader of the DeGods project, explaining on Twitter Spaces that their presence on Solana had reached its limit.
Prior to this announcement, the sales of DeGods and y00ts constituted nearly 70% of all NFT sale volume on Solana's NFT marketplace, Magic Eden.
Y00ts had previously transitioned to Polygon earlier in the year and had plans to employ the grant to expand its team and project.
A portion of the refunded grant, approximately $1 million, is slated to be re-allocated by Polygon to support its network of creators and builders.
Frank expressed positivity toward all parties involved, stating on Twitter that there was a sense of camaraderie.
He shared that they had attempted to make their partnership with Polygon Labs work, but the decision to migrate was driven by the desire to unite the communities of y00ts and DeGods.
Polygon co-founder Sandeep Nailwal was understanding of this decision, praising Frank's team for contributing to Polygon's growing NFT ecosystem.
The announcement garnered a mix of reactions on X (formerly Twitter), though most community members expressed support for the transition.
After the announcement, sales of y00ts NFTs experienced an increase, while DeGods NFT sales declined, as indicated by OpenSea data.