Following a Partial Win in The SEC Lawsuit, Ripple's XRP Token Experiences a Remarkable Surge of 96%
After a U.S. judge ruled that the sale of XRP tokens on exchanges does not constitute investment contracts, the price of XRP has surged by an impressive 96% within the past day, outpacing other major cryptocurrencies by market capitalization.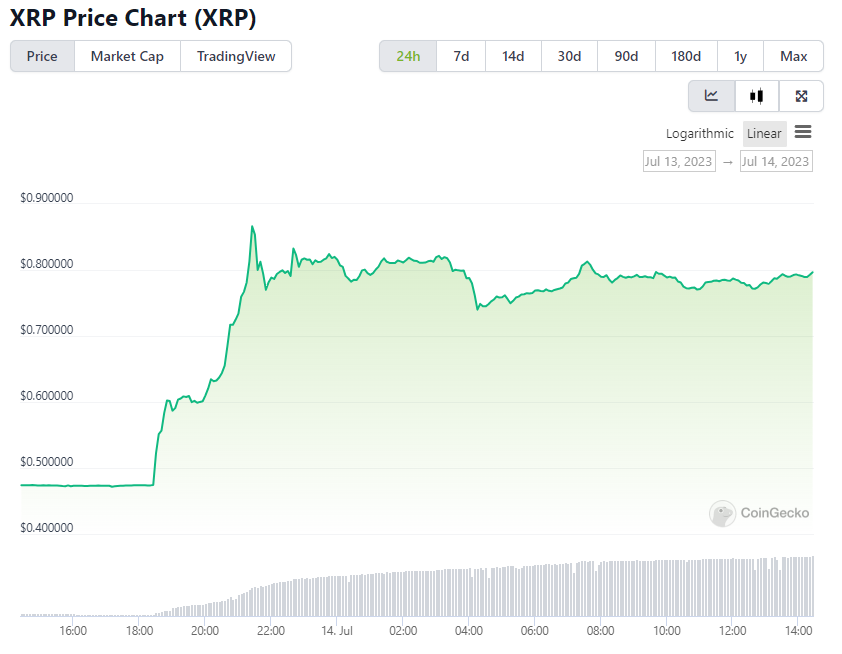 According to data from CoinGecko, XRP reached a peak of 93.8 cents, its highest level since March 2022, before settling at 79 cents at the time of this statement.
This surge in price occurred immediately following the District Court for the Southern District of New York's determination that the "offer and sale of XRP on digital asset exchanges" cannot be considered as offers and sales of investment contracts.
Following the Court Ruling, Coinbase and Other Cryptocurrency Exchanges Adopt XRP
After a U.S. federal court ruling that declared the sale of Ripple's token on exchanges and through algorithms as not constituting investment contracts, cryptocurrency exchanges are enthusiastically adding XRP to their platforms.
Coinbase (COIN) announced its intention to resume XRP trading once there is sufficient liquidity, launching XRP-USD, XRP-USDT, and XRP-EUR trading pairs gradually.
Gemini also expressed interest in listing XRP for both spot and derivatives trading, while Kraken confirmed the availability of XRP trading for U.S. users.
Bitstamp, resuming XRP trading immediately, highlighted its early adoption of XRP and its global liquidity prominence, with Ripple holding a minority stake in the exchange.
Following the court's order in the pivotal SEC case against Ripple, the XRP token experienced a significant surge of nearly 70% on Thursday, its highest since April of the previous year, as per CoinGecko data.
Bitcoin and Cryptocurrency-Related Stocks Such as Coinbase Experience a Significant Surge as Optimism Strengthens Due to the XRP Ruling
Following a federal judge's ruling that the sale of Ripple's XRP tokens did not violate securities laws, cryptocurrencies and crypto-related stocks witnessed a collective surge.
Bitcoin (BTC) surpassed the $31,000 resistance level, reaching $31,700, its highest point in over a year, as reported by CoinGecko data.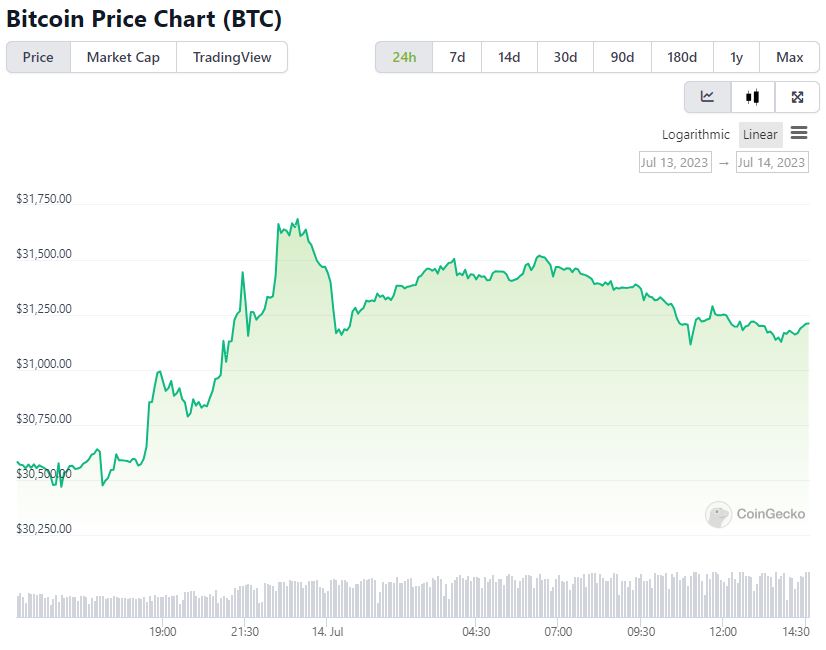 In response to the news, various native tokens associated with blockchain technology, including Solana (SOL), Polygon (MATIC), and Cardano (ADA), which were previously labeled as unregistered securities by the Securities and Exchange Commission (SEC) in past lawsuits, experienced a notable increase of approximately 15%. XRP itself rose by around 70% to $0.80.
Regarding stocks, Coinbase, which is currently facing its own SEC lawsuit alleging the sale of unregistered securities since June, saw a remarkable surge of 24%, reaching its highest level since August 2022.
MicroStrategy (MSTR) also experienced a 12% gain.
Crypto mining companies were not left behind, with Marathon Digital (MARA) and Riot Platforms (RIOT) rising by 14% and Hut 8 Mining (HUT) jumping by 19%.
Charles Storry, head of growth at crypto index platform Phuture, noted that investors had been hesitant due to the SEC's negative stance on cryptocurrencies.
However, the recent ruling in the Ripple case marked a turning point, leading to the influx of capital into the crypto space.
Alex Mashinsky, the CEO of Celsius Network, Has Been Apprehended Following Lawsuits Filed by the SEC, CFTC, and FTC Against the Insolvent Cryptocurrency Lending Institution
Alex Mashinsky, one of the co-founders and former CEO of Celsius, a crypto lending company that is now bankrupt, was arrested in New York on Thursday as a result of an investigation into the collapse of the company.
Mashinsky, along with others, is facing multiple charges, including securities fraud, commodities fraud, wire fraud, and conspiracy to manipulate the price of Celsius' token, CEL, according to an indictment issued by the DOJ.
In addition to the indictment, several separate lawsuits have been filed against Mashinsky and Celsius by regulatory bodies such as the U.S. Securities and Exchange Commission (SEC), Commodity Futures Trading Commission (CFTC), and Federal Trade Commission (FTC).
Celsius, the lending platform, filed for bankruptcy in July 2022.
Recently, a crypto consortium called Fahrenheit successfully acquired its assets through a bidding process.
In January, New York Attorney General Letitia James sued Mashinsky, alleging that he misled investors about the financial health of the company leading up to its bankruptcy filing. Mashinsky denied these allegations, stating that they were baseless and influenced by misinformation spread online.
Celsius Transfers $64 Million Worth of LINK, MATIC, AAVE, and Other Altcoins After Being Granted Court Approval to Sell the Tokens
After obtaining permission from a U.S. bankruptcy court to sell its tokens for bitcoin and ether, Celsius Network has begun transferring its altcoin holdings.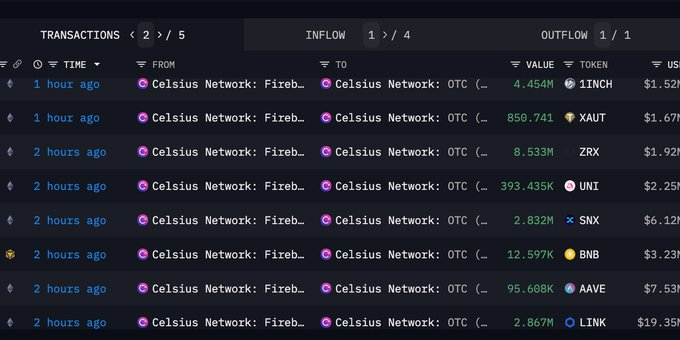 According to blockchain data provided by Arkham Intelligence, the company moved a minimum of $64 million worth of cryptocurrencies from its "Fireblocks Custody" wallet to a wallet labeled as "Celsius Network: OTC" in several transactions on Thursday.
The largest transfers consisted of $19.3 million in Chainlink's LINK token, $14.7 million in Polygon's MATIC, $7.5 million in AAVE, and $6.1 million in SNX.
Notable tokens such as Uniswap's UNI, Binance's BNB, and 1INCH were also included in the transfers.
Celsius received approval from the U.S. judge overseeing its bankruptcy case to sell its altcoin reserves for BTC and ETH, starting from July 1.
The company filed for bankruptcy protection in July 2022 after suspending withdrawals due to a lack of customer funds.
Former CEO Alex Mashinsky was arrested on Thursday by the Department of Justice (DOJ) on various charges, including securities fraud, commodities fraud, and wire fraud.
Based on court documents, the recent court decision allows Celsius to potentially sell around $170 million worth of smaller cryptocurrencies.
This conversion could exert significant pressure on the markets of these smaller tokens, as liquidity for them has decreased over the past year, as noted in a report by crypto analytics firm Kaiko.