After Remaining Dormant For 8 Years, an Ethereum ICO Participant Moves $116M Worth of ETH
According to blockchain data, a wallet that received over 61,000 ether (ETH) in an initial coin offering (ICO) eight years ago recently transferred the entire amount to another wallet.
The recipient wallet is reportedly associated with the crypto exchange Kraken.
Presently, these holdings are valued at over $116 million, considering the current prices. During the ICO, the Ether tokens were purchased for 31 cents each.
The tokens were moved from wallet 0x8b to another wallet and then to the Kraken-tagged wallet, as shown in the data.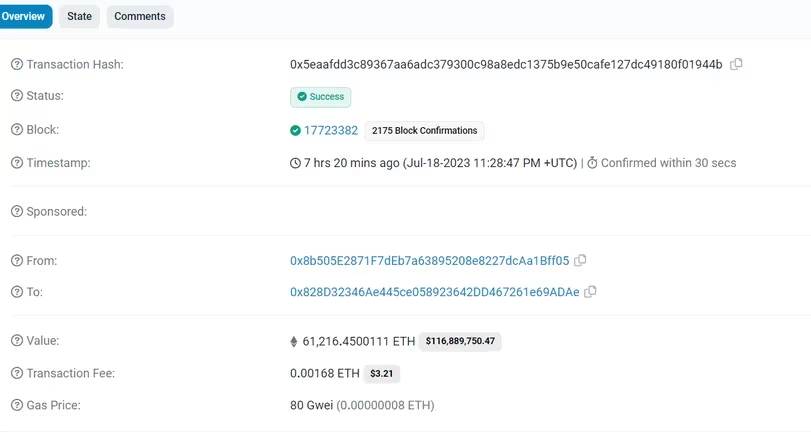 As of Wednesday, the identity of the wallet owner remains unknown.
Notably, the wallet had only received ether from the genesis contract after the launch of Ethereum, and significant movements from early participants are generally infrequent.
The recent transfer could signify that the holder is considering selling tokens, staking them on an exchange, or diversifying their holdings with other tokens.
This movement is part of a trend where old wallets are transferring tokens like Bitcoin (BTC) or Ether (ETH) to exchanges this year.
In a previous instance in April, at least four wallets moved millions worth of bitcoin to exchanges or other wallets.
Such investors are often referred to as "whales" due to the substantial amount of tokens they hold in their digital wallets, potentially impacting the token's price or market sentiment because of their extensive holdings.
BNB Chain Conducts a Burn of BNB Tokens Valued at Almost $500 Million
In a planned action following the "auto-burn" mechanism, the BNB Chain executed its 24th quarterly token burn event, removing over 1.99 million BNB tokens from circulation.
This resulted in approximately $484 million worth of tokens being permanently deleted from the circulating supply, as per transactional data recorded at 10:33 UTC under the transaction code DE23DB2FB61495A902A22E5DE72744AD587A78881FFC4E3136D2BD2C7E824E29.
BNB, the native coin of BNB Smart Chain and other BNB Chain-based networks like Greenfield, was introduced through Binance's initial coin offering in 2017.
To gradually reduce its total supply from the original 200 million BNB to 100 million BNB, BNB employs an auto-burn system.
The amount of BNB burned during each quarter is determined by factors such as BNB's price and the number of blocks generated on the BNB Smart Chain (BSC).
Despite the token burn event, there was no immediate surge in demand for BNB tokens among traders, as prices remained unchanged over the past 24 hours.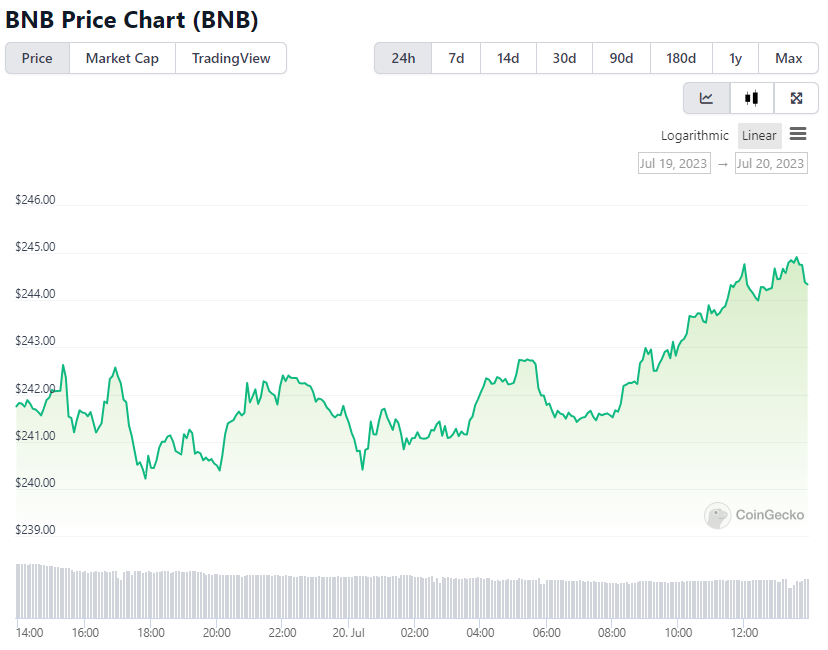 Elon Musk's Tweet Causes Dogecoin to Surge by 4%
The dog-themed cryptocurrency known as Dogecoin (DOGE) experienced a rapid 4% increase in value within just a few minutes after Elon Musk mentioned it in a tweet.
Following Musk's post, DOGE's price surged from $0.069 to as high as $0.072 late Wednesday morning.
However, the token quickly retraced some of its gains and was trading slightly below $0.070 at the time of reporting, still showing a 2% increase over the past 24 hours.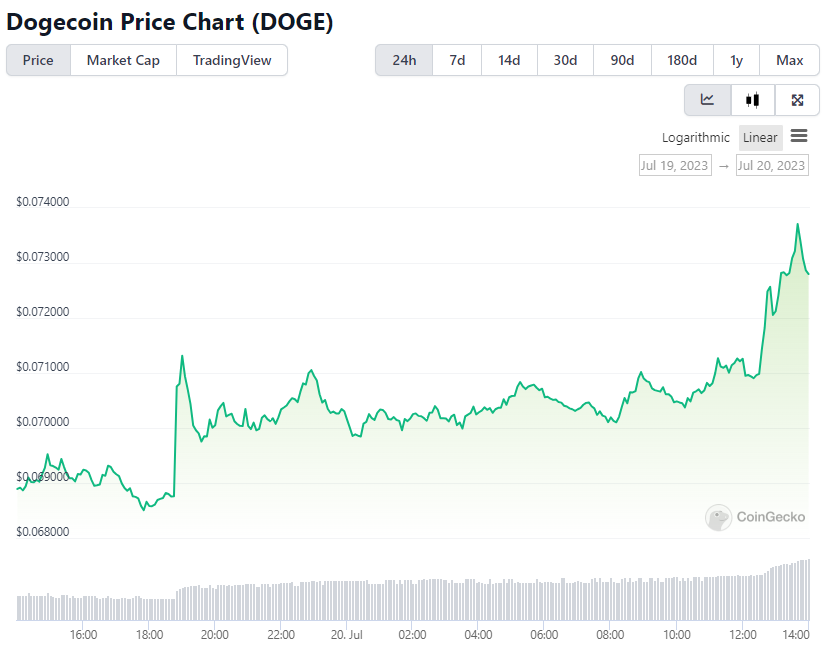 The second-largest dog-themed crypto, Shiba inu coin (SHIB), also saw a price bump but has mostly returned to its previous levels since then.
Elon Musk has a well-established history of publicly commenting on cryptocurrencies, especially dogecoin, and the markets have consistently responded swiftly to his remarks. Just recently, the news of Musk unveiling an AI-focused venture to compete with the popular chatbot ChatGPT caused a surge in the value of artificial intelligence-related tokens.
Within the crypto community, there is speculation that Musk might hold a significant amount of DOGE, given his particular interest in the token.
Notably, he even dedicated a segment to it during his appearance on the "Saturday Night Live" show in May 2021, coinciding with DOGE reaching its all-time high price of 73 cents according to CoinGecko.
Since then, however, the token has experienced a significant decline, losing approximately 90% of its market value.
In Q2, Tesla Refrained From Purchasing or Selling Any Bitcoin For The Fourth Consecutive Quarter
In Q2 2023, Tesla (TSLA) confirmed in its earnings release that it refrained from engaging in any Bitcoin transactions, maintaining a consistent stance for the fourth consecutive quarter.
The company's digital assets' net value remained steady at $184 million, just as it had been for the previous three quarters.
During the second quarter, the price of Bitcoin rose to around $30,400, up from approximately $28,500 at the end of the first quarter.
However, accounting regulations prevent an increase in the valuation of digital assets without a sale, even if prices rise, but they do allow for reductions when prices decline, even before any sale takes place.
Since the second quarter of the previous year, Tesla has not made any Bitcoin purchases or sales.
In that quarter, it sold over 30,000 bitcoins, equivalent to about 75% of its holdings, for $936 million.
Notably, the company had initially purchased $1.5 billion worth of Bitcoin in early 2021. Tesla's CEO, Elon Musk, had previously boosted Bitcoin prices by announcing that the company would accept Bitcoin as payment for its cars, a statement he later retracted.
Regarding financial performance, Tesla reported adjusted earnings per share of $0.91 for the second quarter, surpassing the consensus analyst estimate of $0.80 according to FactSet. The company's revenue of $24.9 billion also exceeded analyst estimates, which projected $24.2 billion.
Following the earnings release, Tesla's shares experienced a 1% increase in after-hours trading, and they have risen by over 136% in value throughout the year.