The Federal Reserve Raises The Fed Funds Rate by 25 Basis Points
The Federal Reserve's two-day policy meeting, held on Wednesday, concluded with a decision to resume rate hikes after a one-meeting pause.
They raised their benchmark fed funds rate by 25 basis points, setting it within a range of 5.25% to 5.50%.
Following the announcement, the price of Bitcoin (BTC) experienced little change, remaining at $29,300.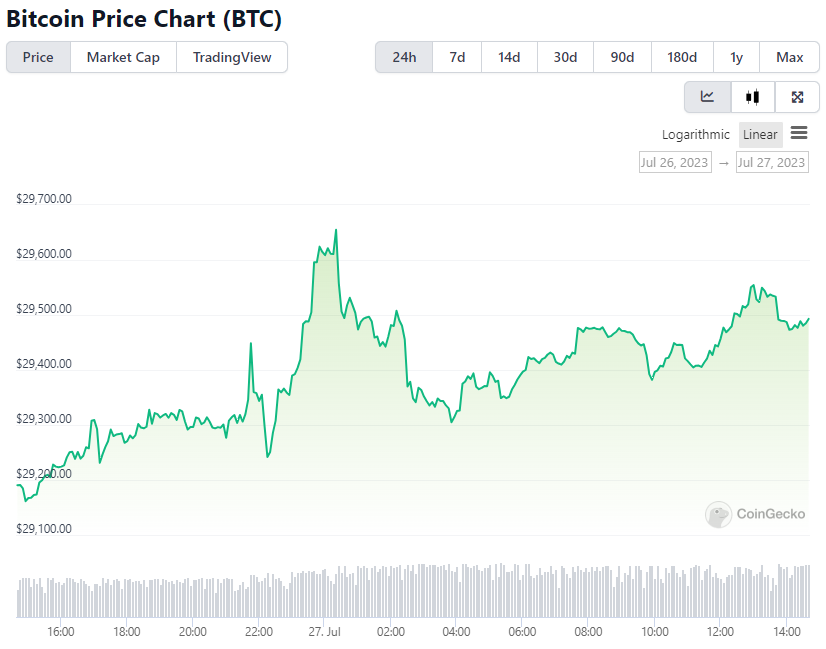 This move marks a continuation of the Fed's tightening monetary policy, which had previously paused a 15-month streak of consecutive rate hikes during the meeting six weeks ago.
Market expectations were fully aligned with this rate hike, as indicated by the CME FedWatch tool, which had shown a near-100% probability of such action in the short-term interest rate markets influenced by the Fed.
The policy statement accompanying the decision mentioned that tighter credit conditions for households and businesses could impact economic activity, hiring, and inflation, but the extent of these effects remains uncertain.
The statement also emphasized the Committee's attentiveness to inflation risks.
During the post-meeting press conference, Fed Chairman Jerome Powell stated that no definitive decisions about future rate hikes or pauses had been made, highlighting the central bank's data-driven approach going forward.
Powell pointed out that the Fed would have additional employment and inflation reports to consider before their next rate-setting meeting in September.
Powell's comments also indicated that the Fed staff no longer expected a recession, contrary to their previous forecast of a mild recession for the past few months.
This news briefly caused a slight dip in Bitcoin's price, but it quickly recovered.
While a Reuters survey of economists suggested that today's rate hike might be the last one in this cycle, the Fed's own projections indicated the possibility of two more rate hikes this year.
The price of BTC had experienced a rapid 20% rally starting in mid-June, partly driven by excitement surrounding BlackRock's filing for a spot Bitcoin ETF.
However, the price stalled in July as the realization of the Fed's plan to raise interest rates again became evident.
After reaching a high of $31,800 earlier in the month, the crypto dipped to a one-month low below $29,000 on Monday.
Binance Has Withdrawn Its Application For a Crypto License in Germany
Binance informed that it has taken the decision to withdraw its application for a license from the German financial regulator, BaFin.
This move comes as part of the company's broader retrenchment strategy, which includes exiting markets such as Austria, Belgium, and the Netherlands.
In addition, Binance's U.S. arm is facing legal action from regulators due to its operation as an unregistered exchange.
A spokesperson from Binance clarified that the withdrawal of the BaFin application was a proactive step, considering the evolving global market and regulatory landscape.
While the company still has intentions to pursue appropriate licensing in Germany, it emphasizes the importance of ensuring that any future submission accurately reflects the current changes.
In June, there were reports indicating that BaFin was likely to deny Binance a license.
At that time, a Binance spokesperson denied the reports and asserted that discussions with officials were ongoing.
As part of its strategic adjustments, Binance has also decided to give up its registration with the securities regulator in Cyprus.
Moreover, the company faced challenges in registering in the Netherlands and was instructed to cease operations in Belgium.
Despite a money laundering investigation in France, Binance's CEO, Changpeng "CZ" Zhao, had previously stated that France remained their primary hub in Europe.
Additionally, the company anticipates that upcoming European Union laws in 2024 will enable crypto service providers to operate throughout the bloc with a single license
The U.S. Justice Department Seeks to Incarcerate Sam Bankman-Fried
The U.S. Department of Justice is seeking to have Sam Bankman-Fried, the founder of FTX, imprisoned until his criminal trial, alleging that he has made repeated attempts to interfere with witnesses.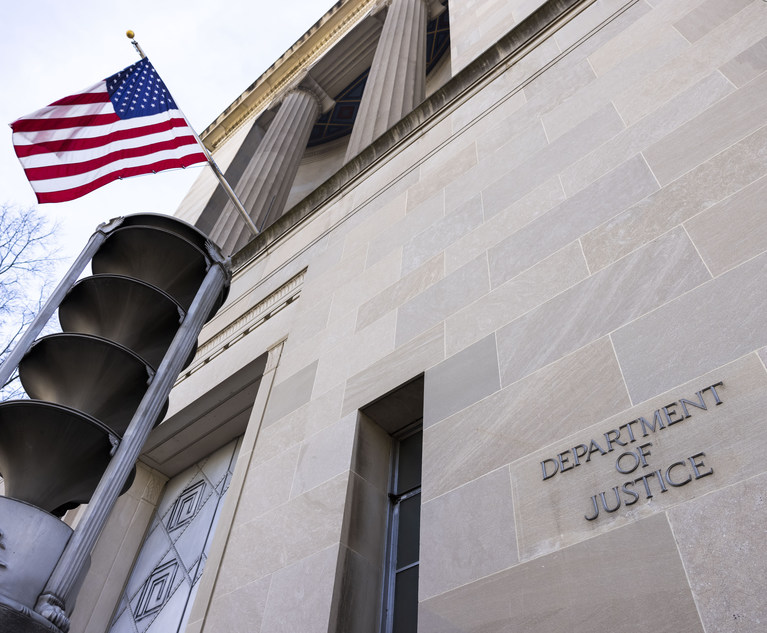 Bankman-Fried appeared in federal court accompanied by two attorneys, where it was claimed that he shared documents with the New York Times in an effort to discredit his former partner, Caroline Ellison, who previously served as CEO of Alameda Research.
During the hearing, Assistant U.S. Attorney Danielle Sassoon asserted that the DOJ is requesting Bankman-Fried's detention, stating that no conditions of release can ensure the safety of the community.
The prosecution argued that Bankman-Fried had communicated extensively with reporters, including providing documents to the New York Times, and raised concerns about his numerous phone calls with author Michael Lewis, who is working on a book about FTX.
Judge Lewis Kaplan of the Southern District of New York, while declining to immediately order Bankman-Fried's imprisonment, set a quick schedule for formal submissions from both the prosecution and the defense on the matter.
The judge expressed doubts about the arguments presented by Bankman-Fried's defense attorney, Mark Cohen, who contended that Bankman-Fried was not attempting to discredit Ellison but acknowledged that he had a strategy to respond to reporters to shape the media narrative about him.
Cohen also argued that holding Bankman-Fried in jail would hinder his ability to organize his defense due to the volume of accessible documents through online tools.
However, Sassoon dismissed this claim, emphasizing that digital tools should not be considered an excuse to avoid detention.
This recent hearing was not the first time the judge expressed concerns about Bankman-Fried's conduct while out on bail.
In a prior hearing, the judge indicated "probable cause" to believe that Bankman-Fried's communications with a former FTX.US general counsel could be seen as witness tampering.
As a result of the new information presented during the hearing, the judge warned Bankman-Fried to take the matter seriously and imposed an interim gag order prohibiting him from communicating with the press or making public statements until Kaplan has reviewed all written submissions related to the potential revocation of his bail.
Bankman-Fried is currently scheduled to face trial in October on charges that include securities and wire fraud allegations.
Another trial on additional charges, including bank fraud and bribery allegations, is planned for the following March.