Goldman Sachs Reports a Decrease in The Availability of Bitcoin And Ether on Exchanges In June
According to a report from Goldman Sachs, the supply of Bitcoin (BTC) and Ether (ETH) on exchanges experienced a decline in June due to increased regulatory measures and concerns about security.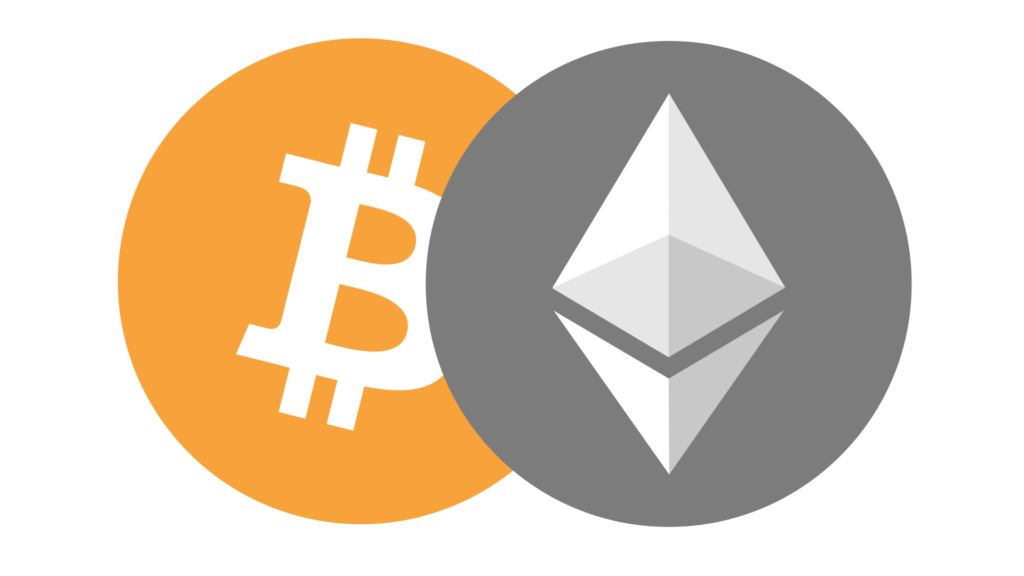 The report cites on-chain data to support this finding.
The supply of Bitcoin, the largest cryptocurrency by market capitalization, decreased by 4%, approaching the levels observed in December 2022, which were the lowest since November 2020, just before the onset of the bull market in 2021.
Likewise, the supply of Ether dropped by 5.8%, reaching levels not seen since May 2018.
Goldman Sachs identifies several factors contributing to this trend.
Firstly, major centralized spot exchanges are facing regulatory challenges, prompting investors to exercise caution.
Additionally, the risk of cyber hacks and thefts remains a concern in the crypto markets, leading asset holders to prefer self custody, aligning with the popular saying "not your keys, not your coins."
Specifically for Ether, the availability of staked Ether withdrawals has led investors to choose staking over passive holdings on exchanges.
The report highlights that June witnessed a surge in inventory sales by Bitcoin miners, taking advantage of the cryptocurrency's strong performance.
The total monthly inflows of BTC from miners to exchanges almost doubled from May, reaching $99 million.
During this period, the Bitcoin price increased by nearly 12%, as indicated by TradingView data.
As network congestion subsided in June, returning transaction fees to normal levels after the spike seen in May, both Bitcoin and Ether experienced a rebound in monthly address activity. Bitcoin's monthly address activity rose by 15.5%, while Ether's increased by 37.5%, according to the report.
Furthermore, Goldman Sachs noted a significant decline in the average daily burning of Ether by 65.1% and a drop of 63.3% in average daily fees compared to the previous month.
Lastly, the report mentions an uptick in new on-chain activity, with the daily average count of new addresses for both Bitcoin and Ether increasing by 9.8% and 48.2% respectively compared to the previous month.
Cameron Winklevoss of Gemini Makes a Final Offer of $1.5 Billion During Debt Negotiations Concerning The Crypto Company Genesis, as Stated in His Recent Tweet
Cameron Winklevoss, one of the co-founders of the Gemini cryptocurrency exchange, took to Twitter to share what he called a "final offer" during the ongoing debt-restructuring discussions concerning the bankrupt digital-asset firm Genesis.
This development marks the culmination of several months of negotiations and mediation. Winklevoss proposed a plan that involves $1.5 billion in forbearance payments and new loans.
On Monday, Winklevoss addressed an "Open Letter to Barry Silbert," the founder of Digital Currency Group (DCG), which owns Genesis and the prominent crypto asset manager Grayscale.
The letter expressed Winklevoss' frustration with DCG's delays in presenting a satisfactory repayment plan to Genesis creditors, including customers of Gemini's Earn program. Additionally, DCG has failed to make a $630 million payment to Genesis.
Winklevoss tweeted a document titled "Best and Final Offer – July 3, 2023," which outlines a proposal encompassing $1.465 billion in payments and loans denominated in dollars, bitcoin, and ether.
The deadline for accepting the deal is 4 p.m. on July 6, as stated in the letter.
In the letter, Winklevoss admonished DCG, stating that their delaying tactics have come to an end.
He further criticized the substantial professional fees of over $100 million, primarily allocated to lawyers and advisors, which have burdened creditors and Earn users.
Genesis had previously reported over $3 billion in claims from its top 50 creditors in a January court filing.
Winklevoss claims that Earn users are owed approximately $1.2 billion.
Attempts to obtain comments from DCG were unsuccessful at the time of reporting.
Winklevoss warned in the letter that failing to accept "this deal" by the deadline could result in legal action against DCG and Silbert personally.
He also mentioned the possibility of pushing DCG into default and pursuing an alternative debt-repayment plan without consensus.
The Floor Price of Bored Ape Yacht Club NFTs Reaches Its Lowest Point in 20 Months
The floor price of the Bored Ape Yacht Club (BAYC) NFT collection dipped below 30 ETH (approximately $58,700) on Sunday, marking a 20-month low since October 2021.
This decline reflects a broader cooling off in the NFT market and the extended downturn in the crypto industry, particularly affecting the price of Ethereum, which powers many NFT collections.
Other prominent NFT collections like MoonBirds, Azuki, and Doodles have also witnessed decreases in recent months.
CoinGecko, a data analytics platform, reports that BAYC's floor price hit a low of 27.4 ETH (around $53,000) on Sunday evening before experiencing a slight rebound.
The last time BAYC's floor price fell below 30 ETH was in October 2021, just before it surged to new heights during the NFT craze.
In April 2022, CoinGecko recorded a peak floor price for BAYC at 153.7 ETH (approximately $430,000).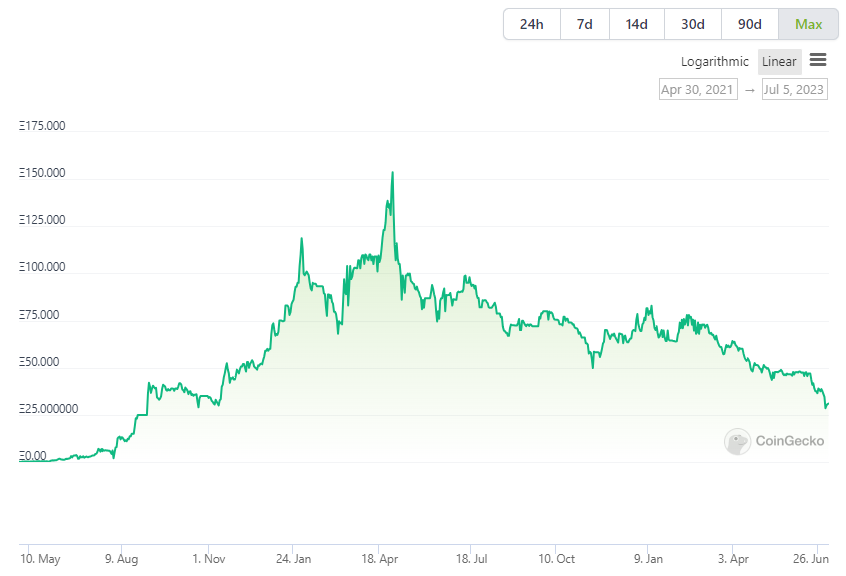 Since April of this year, the collection's floor price has halved, starting the month at 64 ETH (equivalent to $126,000).
As of now, the floor price has slightly recovered to 29.5 ETH (about $57,800) according to OpenSea, a leading NFT marketplace.
The floor price serves as an indicator of an NFT project's popularity at a specific time, representing the lowest price a seller is willing to accept for an NFT within the collection.
This metric can vary slightly across different platforms.
OpenSea reports a 38% decrease in BAYC's trading volume over the past 24 hours. Currently, BAYC holds a trading volume of 1.2 million ETH (approximately $2.4 billion), making it the largest NFT collection based on sales volume, as per CryptoSlam data.
BAYC's floor price began its descent in April, reaching a five-month low of 55.6 ETH (about $110,000).
The negative sentiment was fueled by pseudonymous NFT collector Franklin, who sold 27 Apes during that period.
Last month, the collection's floor price further declined when NFT trader Jeffrey Huang, known as Machi Big Brother, sold 50 Apes in one weekend, including a batch of 19 Apes sold on the Blur marketplace for 651 ETH (nearly $1.2 million).