dYdX, a Decentralized Exchange, Introduces Its Public Testnet on The Cosmos Network
According to a press release, dYdX, a decentralized exchange (DEX), has unveiled its public test network on Cosmos, marking progress toward its shift away from the current Ethereum-based version.
On the dYdX testnet, users can now execute market orders, generate private keys, and place limit orders with advanced features. Initially, the public testnet encompasses Bitcoin and Ethereum markets, with plans to expand to over 30 markets as the network undergoes upgrades.
The existing Ethereum platform, renowned for its perpetual contracts, has recorded a trading volume of over $728 million in the past 24 hours, as per the company's website.
The platform's governance token, DYDX, has experienced a steady 23% increase in value over the past two weeks.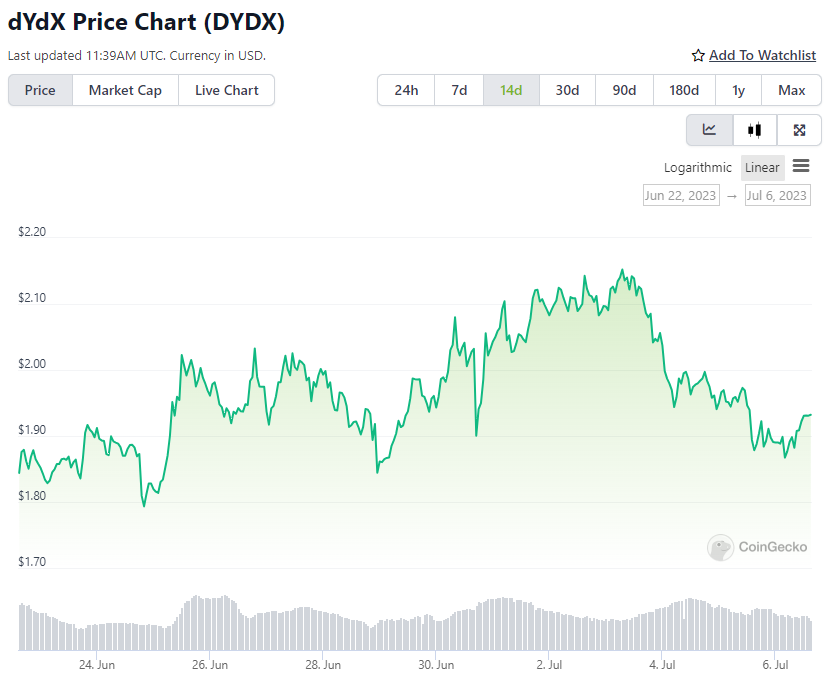 Last year, dYdX announced its intention to develop "v4," or version 4, as a standalone blockchain utilizing the Cosmos software development kit (SDK) and the Tendermint proof-of-stake consensus protocol.
Originally built on Ethereum, the DEX is now approaching the final phase of its transition, which involves launching the main network on Cosmos.
While a specific date has not been set, the company aims to accomplish this milestone later this year.
Larry Fink, The CEO of BlackRock, Suggests That Bitcoin Has The Potential to Bring About a Transformative Change in The World of Finance
During an interview with Fox Business, Larry Fink, the CEO of BlackRock (BLK), expressed his belief that cryptocurrencies, particularly Bitcoin (BTC), have the potential to bring about a revolutionary change in the financial system.
Fink, who was previously known for his skepticism towards crypto and once suggested that it was primarily used for illicit activities, now sees the value of tokenizing assets and securities through Bitcoin.
He emphasized that Bitcoin's international nature, detached from any specific currency, makes it a viable alternative investment option.
BlackRock's iShares unit has also filed for a spot Bitcoin exchange-traded fund with the SEC, although Fink couldn't provide a timeline for its approval.
Despite Fink's positive stance, the price of Bitcoin remained relatively unaffected, hovering just below $30,500.
Financial Regulator Conducts Search at Binance Australia's Offices, as Reported by Bloomberg
According to a Bloomberg report, Binance Australia's office was subjected to a search by the Australian Securities & Investments Commission (ASIC) on Tuesday.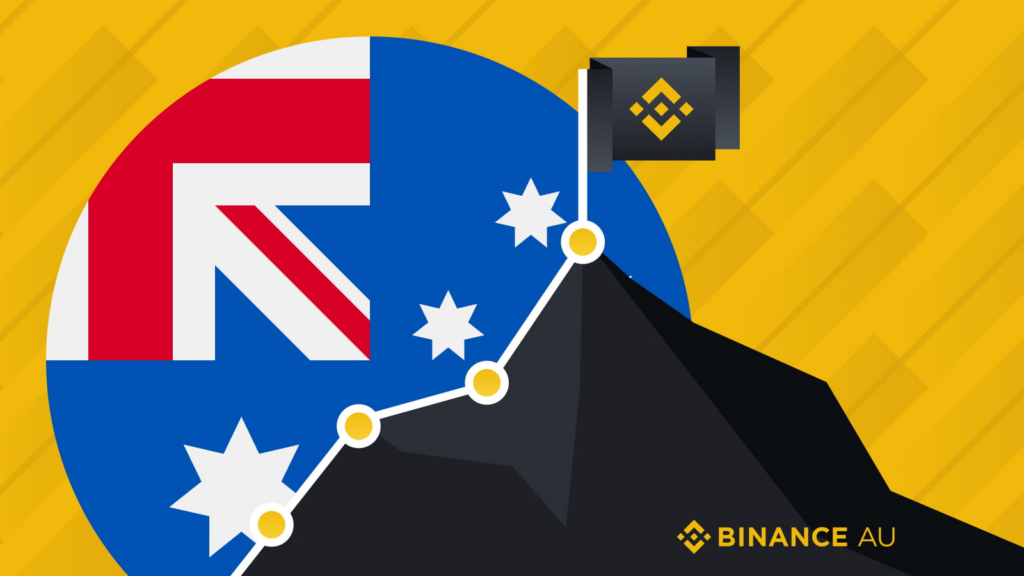 The search follows the cancellation of the company's derivatives license in April, which occurred after an investigation into its classification of clients as professional wholesale investors, resulting in fewer regulatory protections for them compared to regular retail customers.
In response to the search, a spokesperson for Binance Australia stated that they are cooperating with local authorities and are committed to meeting local regulatory standards to ensure full compliance in serving their users in Australia.
In addition to the ASIC search, Binance faced a raid by the public prosecutor in Paris, France in June for alleged aggravated money laundering.
Furthermore, Binance's U.S. arm and its CEO Changpeng "CZ" Zhao are currently facing a lawsuit from U.S. regulators, accusing the exchange of operating unlawfully and listing unregistered securities.
While ASIC confirmed that its investigation is ongoing, they were unable to provide any details regarding the search or its operations.
Nansen Reports Two-Year Low for Royalty Payments to NFT Creators
The enforcement of royalty payments for non-fungible tokens (NFTs) has been a contentious issue between creators and platforms for several months.
However, a recent report from Nansen, a data analytics platform, reveals that collectors are increasingly neglecting to pay optional royalties. In June, royalty payments for NFTs hit a two-year low.
During April 2022, royalty payments reached their peak, resulting in creators earning 28,000 ETH (approximately $76 million) in a single week.
In contrast, the highest-earning week in June only saw creators collectively earn 2,000 ETH (about $3.8 million).
This decline in payouts to creators has been worsened by the emergence of Blur, a royalty-optional marketplace, and the policy of OpenSea, a leading platform.
Currently, OpenSea requires collections to incorporate an on-chain enforcement method in their smart contract for creator earnings to be enforced.
Otherwise, the royalty fee defaults to a minimum of 0.5%.
Blur, on the other hand, enforces a minimum of 0.5% royalties.
In both cases, collectors have the option to contribute more to creator royalties, but it seems that this practice is uncommon.
Javier Cerdan and Edward Wilson, analysts from Nansen, stated that both marketplaces are competing to keep royalty payments low while encouraging trading.
They noted that royalties have been declining since February, and Blur has been taking a larger share of the royalties paid, bringing it on par with OpenSea.
Interestingly, in the last two weeks, Blur has dominated the share of royalties paid.
Despite the drop in June, Nansen reported that several prominent collections have generated millions of dollars in royalty payments since their inception.
Yuga Labs, a major player in the NFT space, has earned nearly $166 million in collective royalties across its collections, including Bored Ape Yacht Club, Mutant Ape Yacht Club, and Otherdeed for Otherside.
Chiru Labs, another NFT collective, has earned over $58 million in royalties for its flagship Azuki collection and derivative projects BEANZ and Elementals.
The report also mentions that the decline in royalty payments began before the Bored Ape Yacht Club experienced a significant drop in floor price and before Azuki's Elementals mint encountered issues.
The debate surrounding the honoring of NFT royalties gained momentum in October when Blur launched its zero-fee marketplace to attract professional NFT traders, directly challenging OpenSea.
Following criticism from creators and collectors, Blur began allowing collections to choose whether to enforce creator fees or not.
Other NFT marketplaces, such as X2Y2 and Magic Eden, have also recently adjusted their royalty enforcement policies after temporarily implementing zero-fee models.