Report: High-Ranking Binance Officials Depart From The Company Due to Concerns Over CZ's Management of The DOJ Investigation
According to a report by Fortune on Thursday, multiple high-ranking officials have left troubled cryptocurrency exchange Binance this week as the company braces itself for various legal battles.
An undisclosed source informed Fortune that those who have resigned include Binance General Counsel Han Ng, Chief Strategy Officer Patrick Hillmann, and Senior Vice President for Compliance Steven Christie.
Furthermore, Binance's Global Vice President of Marketing and Communications Steve Milton had already departed in June, as indicated on his LinkedIn profile.
These departures follow the recent decision of Senior Director of Investigations Matthew Price to leave the exchange.
Fortune mentioned that the reasons behind Ng, Hillmann, and Christie's departures were linked to Binance founder and CEO Changpeng "CZ" Zhao's handling of an ongoing investigation by the U.S. Department of Justice.
The investigation reportedly pertains to allegations of Binance attempting to deceive U.S. regulators, as well as money laundering and violations of sanctions.
Hillmann, however, tweeted on Thursday that his departure was amicable, expressing continued respect and support for Zhao.
Binance is already facing investigations from multiple regulators worldwide, and the departure of executives from the company's legal and compliance departments is likely to complicate its defense efforts.
In June, the United States Fell Short of Expectations by Adding 209,000 Jobs Instead of The Anticipated 230,000
According to the Bureau of Labor Statistics (BLS) monthly employment report, the United States added 209,000 jobs in June.
This figure slightly fell short of the expected 230,000 and was lower than the revised May number of 306,000 (originally reported as 339,000).
Meanwhile, the unemployment rate decreased to 3.6% in June compared to 3.7% in May, which was in line with expectations of 3.7%.
Following the report's release, the price of Bitcoin experienced a modest increase to $30,250.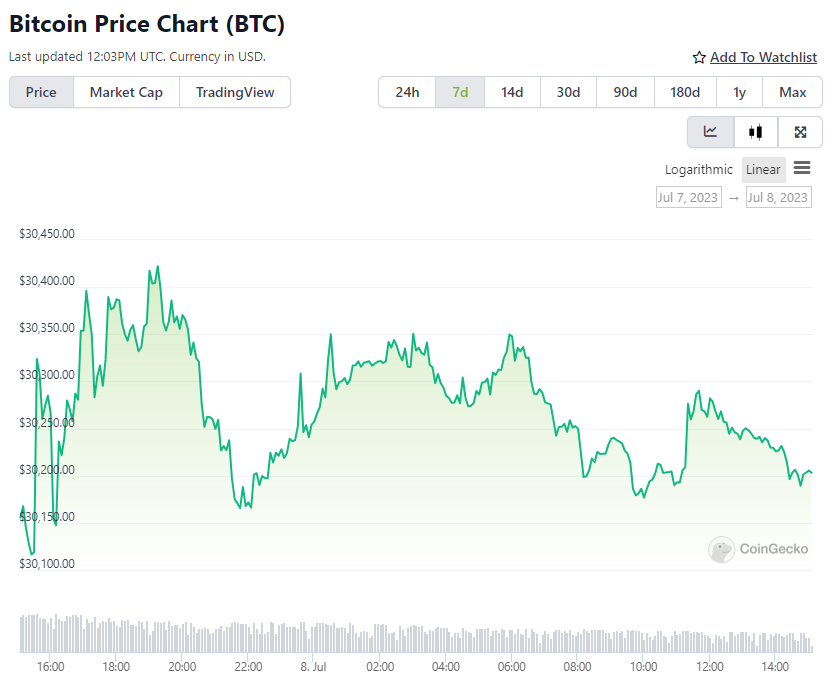 This news follows the release of ADP's robust jobs report for June, which revealed the addition of 497,000 jobs (compared to the expected 220,000).
The ADP report had a significant impact on interest rates and caused Bitcoin to drop by over 3% or approximately $1,000.
While the headline miss in this morning's employment report was relatively small, it is noteworthy as it breaks a streak of 14 consecutive months in which expectations were exceeded.
Examining the report in more detail, the labor force participation rate remained steady at 62.6% for the fourth consecutive month.
Average hourly earnings in June increased by 0.4%, surpassing the estimated 0.3%.
On a year-over-year basis, average hourly earnings showed a 4.4% increase, consistent with May and higher than the projected 4.2%.
Furthermore, the report included downward revisions to job gains in May (33,000 jobs) and April (77,000 jobs), resulting in a total subtraction of 110,000 jobs from the reports of those months.
While there is still more economic data to come in July, this release represents the final national employment report before the Federal Reserve's late July interest rate policy meeting.
Prior to these latest numbers, market expectations leaned toward the central bank resuming rate hikes at that meeting.
The rate of inflation, as measured by the Consumer Price Index (CPI), has decreased from its peak of 9.1% in 2022 to the current 4.0%.
However, it remains significantly above the Fed's target of 2%. Core CPI, which excludes volatile food and energy costs, has also shown some resilience, with the current rate at 5.3%, down modestly from its peak of 6.6% last year.
The Federal Reserve has emphasized the need for slower employment growth to control inflation, but so far, the job market has remained strong.
Whether the softer payroll numbers in today's report indicate the beginning of a trend is yet to be determined.
Gemini Initiates a Legal Action Against Digital Currency Group and Its Founder, Barry Silbert, Accusing Them of 'Fraud'
Gemini has filed a lawsuit against Digital Currency Group (DCG) and its founder Barry Silbert, accusing them of fraudulent activities.
The legal action aims to recover funds that Gemini had entrusted to DCG subsidiary Genesis as part of the Earn program.
Through this program, Gemini customers could earn up to 7.4% in annual percentage yield. However, Gemini alleges that Genesis, with the knowledge and support of DCG and Silbert, deceived the lenders by falsely representing their risk management practices and the vetting process of counterparties to whom the assets were loaned.
The lawsuit claims that Silbert, despite being aware of Genesis' significant insolvency, urged Gemini to continue the Earn program and took steps to conceal Genesis' billion-dollar deficit.
Genesis later filed for bankruptcy in January 2023.
The lawsuit also challenges DCG's assertion of absorbing losses from Three Arrows Capital and highlights Genesis' failure to honor redemption requests since mid-November.
Gemini co-founder Cameron Winklevoss publicly accused Silbert of orchestrating the fraud, and the lawsuit seeks damages, attorney's fees, and other appropriate relief.
DCG responded by calling the allegations defamatory and characterizing the filing as a publicity stunt.
Additionally, both Gemini and Genesis are facing a separate lawsuit by the U.S. Securities and Exchange Commission regarding the unregistered securities offering of the Gemini Earn product.
Bloomberg Reports That Sega is Reconsidering Its GameFi Plans, With The COO Expressing a Lack of Interest in Blockchain Gaming, Deeming it Unexciting
According to a Bloomberg report, Sega, previously an advocate for GameFi and blockchain-based games, is now stepping away from the sector.
In an interview with Bloomberg, Shuji Utsumi, Sega's co-Chief Operating Officer, revealed that the company has become skeptical about the technology and has decided to cancel its plans to develop blockchain games.
Utsumi stated, "We are evaluating whether this technology will truly thrive in our industry. The gameplay in play-to-earn games is monotonous. What's the purpose if games are not enjoyable?"
While Sega had initially disclosed its intention to withhold some of its well-known games and intellectual property from blockchain, it still intends to permit third-party developers to create blockchain games.
Last year, it entered into an agreement with a development company called Double Jump Tokyo to produce blockchain games based on its lesser-known intellectual property.
Sega has always been cautious about the appeal of blockchain gaming.
When it first announced its entry into the field, it emphasized its readiness to withdraw if the perception was that it was solely focused on financial gains.
It's worth noting that Sega is an investor in the Asia-based crypto fund IVC, which actively invests in GameFi projects.
Several Sega executives participated in IVC's recent IVS crypto conference held in Kyoto, Japan.