BOCI, the Bank of China International, Launches Tokenized Securities on the Ethereum Blockchain in Hong Kong
According to a press release on Monday, BOCI, the investment banking division of the Bank of China, has issued tokenized securities on the Ethereum blockchain in Hong Kong.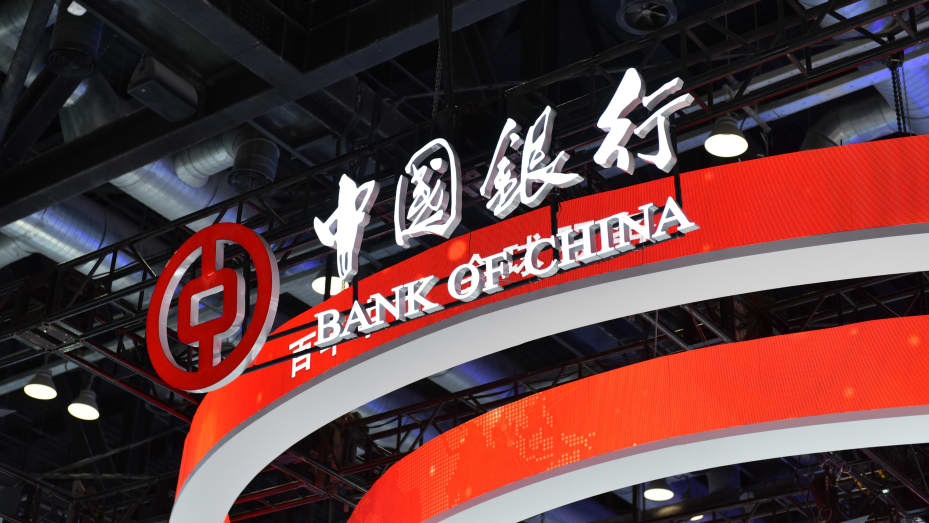 In this offering, BOCI provided CNH 200 million ($28 million) of structured notes, with UBS, the Swiss banking giant, serving as the underwriter and placing the securities with clients in the Asia Pacific region.
The press release from BOCI highlighted that this marked the first instance of a Chinese financial institution issuing tokenized securities on a public blockchain in Hong Kong.
This move aligns with the predictions made by major banks like Citigroup and Bank of America, who anticipate that the tokenization of real-world assets (RWA), including traditional financial products like notes and bonds, can drive cryptocurrency adoption and bring substantial value to blockchain networks.
Furthermore, this transaction by BOCI reinforces Hong Kong's aspirations to become a prominent crypto hub, particularly in light of the increasing regulatory pressures faced by the industry in the United States.
Shortly after the U.S. Securities and Exchange Commission (SEC) filed a lawsuit against Coinbase for offering unregistered securities, Hong Kong legislator Johnny Ng invited digital asset trading platforms, including Coinbase, to establish a presence in the city.
Ying Wang, Deputy Chief Executive at BOCI, expressed optimism about the digital economy in Hong Kong and the commitment to advancing the financial industry's digital transformation and innovation.
The Crypto Trading Volume on Robinhood Experienced a Significant Decline of 68% in May, Reaching a Total of $2.1 Billion
Robinhood, a popular trading platform (HOOD), has witnessed a significant decrease in its crypto trading volume during May, as reported by the company on Monday.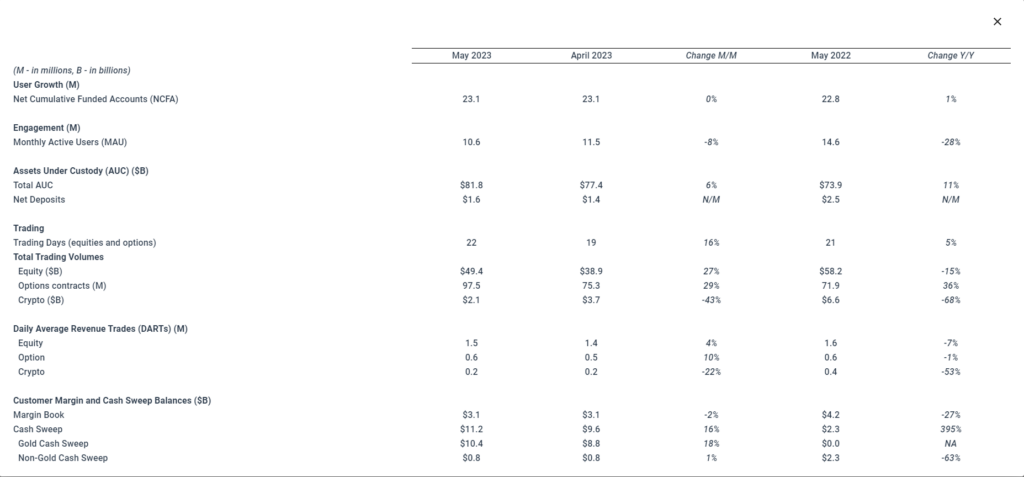 Despite maintaining high volumes for equities and options, Robinhood noted a decline in crypto trading volume, which reached $2.1 billion in May, marking a 43% decrease compared to the previous month.
On a yearly basis, the crypto trading volume experienced a substantial slowdown of 68%.
Additionally, the daily average trading revenue (DART), a measure of the average trade per day generating commissions or fees, decreased by 22% in May and by 53% in comparison to the previous year specifically for crypto trading.
In recent developments, Robinhood recently delisted three tokens, namely Cardano's ADA, Polygon's MATIC, and Solana's SOL, following a routine review.
The delisting was prompted by the U.S. Securities and Exchange Commission (SEC) classifying these tokens as securities in recent lawsuits against Coinbase (COIN) and Binance.
As a result, Robinhood now offers only 15 cryptocurrencies for trading on its platform.
Earlier this year, Robinhood's chief compliance lawyer, Dan Gallagher, revealed that the company attempted to register as a special-purpose broker for digital assets in 2021 but was unsuccessful in their discussions.
While Coinbase and Binance faced lawsuits alleging violations of U.S. securities laws, Robinhood, as of its 10-K filing in February, disclosed that it had received an investigative subpoena from the SEC regarding its crypto operations.
A16z Selects London as Its Inaugural International Office Location, Marking Its First Expansion Outside of The United States
Andreessen Horowitz (a16z), a prominent venture capital firm, has selected London as the location for its inaugural office outside of the United States.
The decision is based on the U.K. government's commitment to implementing policies that foster decentralized startups.
The new office, led by Sriram Krishnan, is set to open later this year and will primarily focus on investing in the crypto and startup ecosystems in the U.K. and Europe.
A16z highlighted its recent investments in U.K.-based companies, including its leadership role in a $43 million Series A funding round for Gensyn, a provider of blockchain-based computing resources for artificial intelligence platforms.
A16z's expansion into London coincides with increasing clarity in the U.K.'s regulatory landscape for cryptocurrencies.
The government intends to incorporate crypto within existing financial services regulations, a strategy supported by the All Party Parliamentary Group (APPG) for crypto assets. However, the House of Commons Treasury Select Committee disagrees and suggests treating crypto as a form of gambling, a proposal that has faced opposition from industry insiders.
While acknowledging the need for further progress, a16z expressed confidence in the U.K.'s potential to become a leader in crypto regulation.
The firm cited the country's abundance of unicorns (privately owned startups valued at $1 billion or more), its prominent financial markets, substantial pools of capital, and the presence of highly sophisticated and world-class regulators.
U.K. Prime Minister Rishi Sunak welcomed a16z's decision, emphasizing the importance of embracing innovative technologies like Web3, powered by blockchain, to foster startup growth and strengthen the economy.
Despite its expansion into London, a16z reaffirmed its strong focus on investments in the United States and its commitment to advocating for regulatory clarity for crypto startups in that market.
Binance.US Asserts That The Temporary Restraining Order Imposed by The SEC Would Essentially Bring an End to Its Business Operations
Binance.US, the U.S. affiliate of the global crypto exchange, has criticized the Securities and Exchange Commission's (SEC) attempt to freeze its funds, describing it as an overly harsh and burdensome action.
In its response, Binance.US argued that the SEC's proposed remedies, rather than maintaining the status quo, would effectively bring an end to its business.
The legal entity behind Binance.US is BAM Trading Services, owned mainly by Binance founder Changpeng "CZ" Zhao through BAM Management US Holdings, according to the SEC.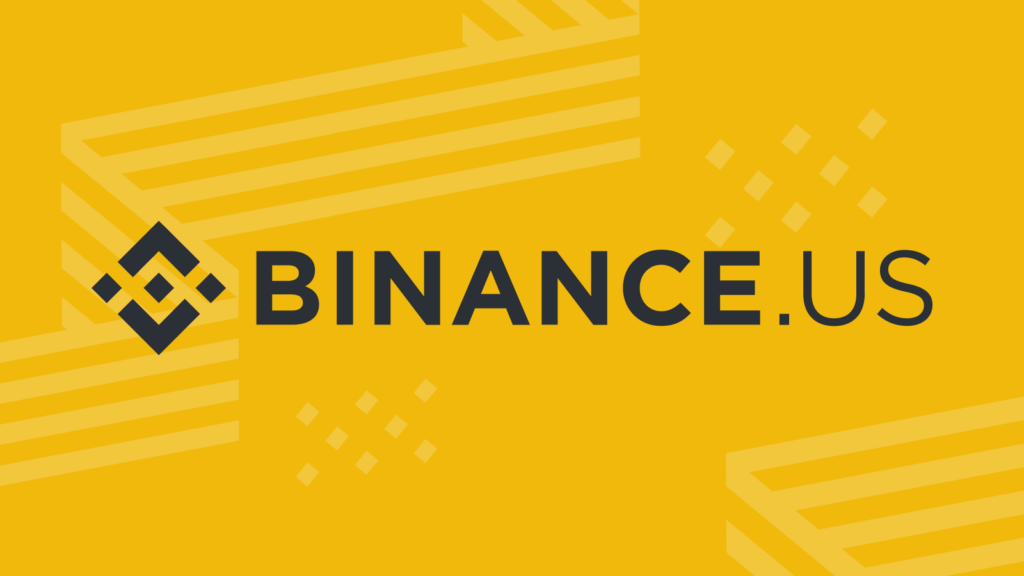 The SEC filed a lawsuit against Binance, Binance.US, and Zhao, alleging that they operated as an unregistered securities exchange, broker, and clearinghouse, enabling U.S. customers to trade cryptocurrencies that the SEC considered unregistered securities.
Furthermore, the SEC claimed that Binance and Zhao had access to Binance.US customers' funds, transferring millions to entities owned by Zhao, such as Merit Peak and Sigma Chain. To prevent any access to these funds, the SEC sought a temporary restraining order, which Binance.US responded to in its court-ordered filing.
Binance and Binance.US had already refuted the allegations through blog posts and tweets, but the deadline for a formal response was Monday.
The U.S. District Court for the District of D.C. scheduled a hearing on the motion for Tuesday, June 13.
Binance.US's attorneys argued in their filing that freezing the funds would primarily harm the company's customers, effectively shutting down its operations and impeding its ability to defend itself in the litigation.
It would also raise concerns among Binance.US's banks, with one bank already announcing its cessation of business with the firm.
In response to the situation, Binance, Binance.US, and Zhao have retained legal counsel, including George Canellos, a former Department of Justice prosecutor and ex-SEC Division of Enforcement co-director.
Binance.US proposed an alternative stipulation, suggesting that all assets be returned to BAM Trading's control, ensuring access only for Binance.US employees (excluding Zhao), and prohibiting global Binance exchange entities from accessing the funds.
Within two weeks, Binance.US would transfer all funds to new wallets.
Although Binance.US's proposal falls short of the SEC's requested full asset freeze, it would allow the company to continue paying its employees and vendors while restricting payments to other Binance entities.