Bitcoin Rose as U.S. CPI Inflation Decelerated to 0.1% in May
According to the Bureau of Labor Statistics, the U.S. Consumer Price Index (CPI) for May showed weaker-than-expected growth, rising only 0.1% compared to April's 0.4% increase.
Economists had predicted a 0.2% rise.
On a year-over-year basis, the CPI slowed to 4.0% in May from April's 4.9%, falling slightly short of the forecasted 4.1%.
The core CPI, which excludes volatile items like food and energy costs, closely matched expectations, increasing by 0.4% in May, the same as April and in line with the forecast.
The year-over-year core CPI slowed to 5.3% in May, down from April's 5.5% but in line with the expected 5.3%.
Following the release of the report, the price of Bitcoin (BTC) saw a nearly 1% increase, reaching $26,433.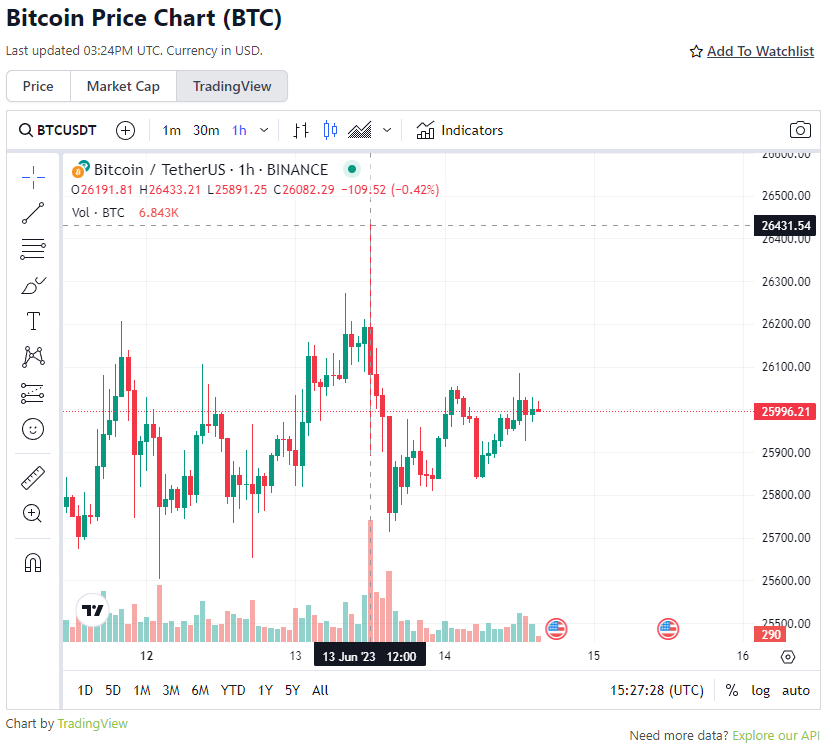 This news on inflation arrives just before the U.S. Federal Reserve's monetary policy meeting, where market participants had previously estimated a 76% probability of the Fed pausing its series of rate hikes that began in March 2022.
Following the release of the inflation data, the chance of a pause rose to 79%.
In terms of traditional markets, stock index futures remained moderately higher for the session after Monday's significant gains, while the 10-year Treasury yield dropped three basis points to 3.71% and the two-year yield decreased by six basis points to 4.51%.
eToro, The Investment Platform, Will Remove Four Cryptocurrencies From its Offerings for U.S. Users in The Coming Month
In response to legal action by the U.S. Securities and Exchange Commission (SEC), eToro, a social investing platform, will be delisting a selection of crypto tokens for its U.S. customers in approximately one month.
Starting from July 12, customers from the United States will no longer have the ability to open new positions in the following tokens: Algorand (ALGO), Decentraland (MANA), Dash (DASH), and Polygon (MATIC).
eToro made this announcement on Monday.
However, customers will still retain the option to hold and sell their existing positions in these tokens.
The decision to delist these tokens is attributed to "recent developments," specifically mentioning the SEC's legal action against major crypto exchanges Coinbase and Binance, as well as the regulator's classification of certain cryptocurrencies as securities.
Notably, eToro's action follows a similar move made by Robinhood, which recently delisted Cardano's ADA, Solana's SOL, and MATIC.
FEWOCiOUS Collaborates With Adidas to Create a Collection of NFT Sneakers Available in Both Digital and Physical Formats
NFT artist FEWOCiOUS has joined forces with Adidas Originals to launch a digital NFT release tied to real sneakers.
The collaboration, known as Adidas Originals x FEWOCiOUS, combines artistic perspectives and features an NFT as well as a specially designed physical sneaker model called Adidas Originals Campus 00's.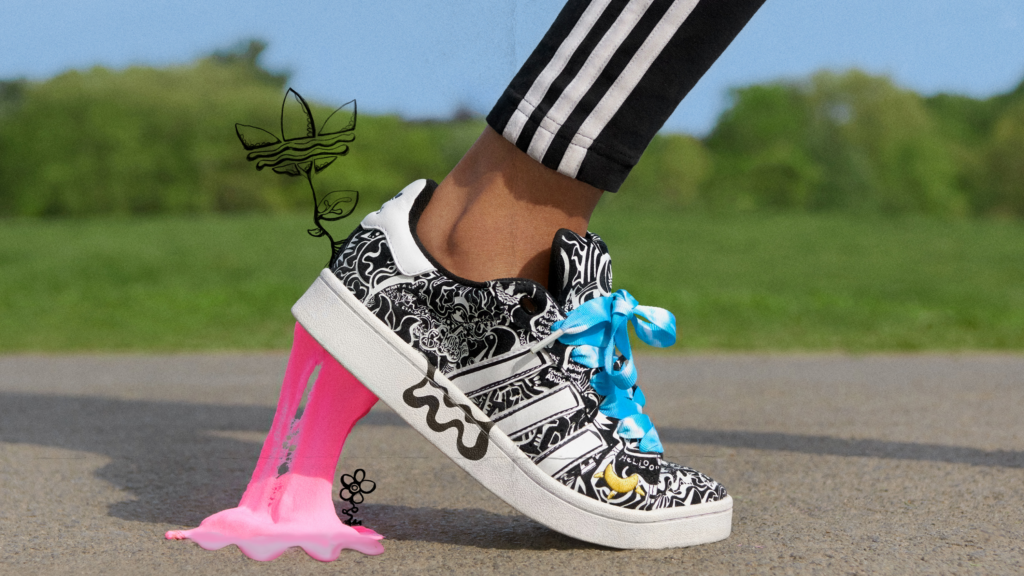 Starting on June 22, a limited supply of 4,500 Trefoil Flower Mint Passes will be available for minting on OpenSea.
The presale will be divided into different tiers, each with its own benefits.
Tier One grants early access and a discounted price to holders of specific Adidas NFTs or FEWOCiOUS's previous NFT releases.
Tier Two provides regular-price presale access to holders of certain Adidas NFTs and any FEWOCiOUS NFT holders.
Tier Three is open to holders of selected NFTs from various collections.
The minting price for Tier One is set at 0.2 ETH (approximately $350), while Tier Two and Tier Three can mint at 0.25 ETH (around $430).
The public sale of mint passes will commence at 2 p.m. ET with a price of 0.25 ETH.
Trefoil Flower Mint Pass holders will be able to claim a physical sneaker and receive a Digital Twin NFT that will be linked to the footwear through an NFC chip.
Shipping of the physical sneakers is scheduled to start in September.
Adidas has been expanding it's Into The Metaverse NFT ecosystem, having previously launched the ALTS by Adidas collection and collaborated with Prada on a Polygon-based NFT collection.
The brand has also seen success with various digital wearable projects.