Meme Coin BOB Experiences a Sharp 45% Decline in Value Following Elon Musk's Accusation of Its Twitter Bot Account Being Fraudulent
The value of meme coin BOB (BOB) plummeted by up to 45% on Sunday after Elon Musk accused its popular automated Twitter bot of being a fraudulent scheme, resulting in the suspension of the account.
Additionally, Twitter also suspended another automated bot called @AskTheWassie, which operated similarly to @ExplainThisBob.
Musk tweeted that promoting scams disguised as humorous or helpful bots would lead to account suspension, regardless of any payment involved.
Market data reveals that on Sunday, BOB prices swiftly dropped from $0.000031 to $0.000016 as traders likely reacted to Twitter's actions, causing the coin's market capitalization to reach $13 million.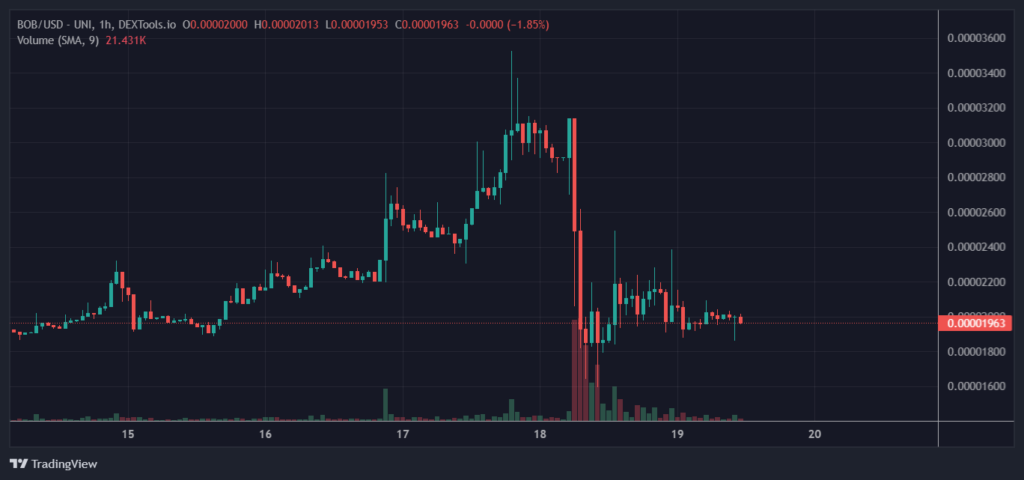 Since early May, the tokens have been on a continuous decline, reaching a peak capitalization of $74 million.
The @ExplainThisBob account gained viral popularity on Twitter in late April due to its clever summaries and comedic responses to tweets.
Musk himself had previously responded to an @ExplainThisBob tweet with "I love bob," which contributed to a rapid surge in price at the time.
Despite Musk's recent positive engagement with the Bob bot, such as praising it for its accuracy in a political discussion tweet in June, he stated last week that Twitter would take strict measures to suspend accounts involved in manipulating the verification system or engaging in misleading self-promotion or advertising.
After Being Sued For Defamation, ZachXBT Receives a Generous Donation of $1 Million From The Crypto Community

ZachXBT, a well-known blockchain investigator facing defamation charges, has received substantial support from the crypto community and prominent businesses, with donations exceeding $1 million in various stablecoins and tokens.
On-chain analytics tool Nansen has reported that ZachXBT received contributions in USD Coin (USDC), tether (USDT), dai (DAI), as well as meme coins like JESUS and PEPE from numerous wallets.
Notable backers include Binance, CertiK, and Justin Sun, the creator of Tron, among others. The majority of these funds were received on the Ethereum blockchain, while smaller amounts were sent via tokens based on Arbitrum, BNB Chain, Optimism, Polygon, and Fantom.
According to blockchain data, ZachXBT has subsequently transferred the funds to a different address as of Monday morning.
The lawsuit against ZachXBT was filed by Jeffrey Huang, an NFT trader known as MachiBigBrother, who accused the blockchain sleuth of defamation after the publication of a report alleging Huang's embezzlement of millions of dollars in crypto.
The legal complaint, filed in the U.S. District Court for the Western District of Texas, charges ZachXBT with one count of libel and one count of libel per se, claiming substantial reputational and financial harm.
In response, ZachXBT appealed to followers for assistance in covering the legal expenses associated with the lawsuit, with a target of raising a minimum of $1 million.
CertiK, a Blockchain Security Firm, Discovered an Infinite Loop Bug Within the Sui Network
The Sui Foundation granted a $500,000 reward to CertiK, a smart-contract audit firm, for uncovering a potential attack pathway on the Sui network.
The identified vulnerability was an infinite loop bug within the Sui code, capable of being activated by a malicious smart contract.
This bug had the potential to cause the network's nodes to enter an unending cycle, effectively immobilizing the network.
CertiK referred to this attack as the "HamsterWheel attack," differentiating it from conventional attacks that crash nodes and instead describing it as entrapping all nodes in ceaseless operation, akin to running on a hamster wheel.
This attack strategy had the capacity to significantly impair entire networks, rendering them non-functional.
CertiK issued a press release on Monday, outlining the details.
Following the bug's discovery, the Sui Foundation's development team implemented two crucial measures to mitigate the impact of similar issues in the future.
CertiK confirmed the deployment of bug fixes and pledged to release a comprehensive technical report at a later date.
Darius Goore, head of communications at the Sui Foundation, expressed satisfaction with the bug being identified and resolved well before the Sui network went live.
Goore credited the bug bounty program, third-party audits, and rigorous internal testing for the smooth operational and security performance of the Sui mainnet during the initial six weeks.
Kang Li, chief security officer at CertiK, emphasized that the detection of the HamsterWheel attack exemplifies the advancing sophistication of threats targeting blockchain networks, as stated in a written statement.
Layer 2 Testnet on BNB Chain Launched, Utilizing Optimism's OP Stack
BNB Chain developers announced the launch of the opBNB testnet on the BNB Chain.
This testnet is a blockchain compatible with the Ethereum Virtual Machine (EVM) and built on Optimism's OP Stack.
It is expected to achieve transaction speeds of 4,000 transactions per second (tps) with a targeted cost of 0.005 U.S. cents per transaction.
These speeds are similar to other blockchains like Arbitrum, double that of BNB Chain, and significantly higher than Ethereum's 30 tps.
Testnets are simulated blockchains that imitate real-world usage, providing developers with a platform to test applications and complex tools before deploying them on a mainnet.
The OP Stack refers to the open-source software on which blockchains like Optimism are built.
One persistent challenge faced by blockchains is network congestion and high fees that occur during periods of increased network demand.
By porting such a network to a layer 2 blockchain, which consolidates multiple transactions into one and submits them to a base blockchain, network congestion can be alleviated and transaction costs reduced.
The opBNB testnet offers a robust and EVM-compatible platform, making it easier for developers to create open ecosystems and migrate applications to the BSC (Binance Smart Chain), thus expanding their user base.
The release states that projects can benefit from improved throughput and significantly lower transaction costs, resulting in a superior user experience.
Additionally, opBNB's enhanced scalability addresses challenges faced by projects with high transaction volumes on BSC, enabling them to thrive.
Developers and projects can begin building on the opBNB testnet from Monday onward.
Ethereum Developers Have Suggested Increasing The Validator Limit From 32 Ether to 2,048 Ether
Developers are considering a significant increase in the current limits due to a rise in waiting times and a high level of interest in setting up Ethereum validator nodes.
They have proposed raising the validator limit from 32 ether (ETH) to 2,048 ether, which represents a 6,300% increase.
As a result, major entities like Lido or staking services offered by crypto exchanges have started deploying multiple validator nodes to provide staking yield services to users.
During an Ethereum core developer call, developers mentioned that the current limit has led to a rapid expansion of the network's validator set, but with a substantial increase in the number of validators running the network.
The proposal, initially introduced in early June by Ethereum developers Mike Neuder, Francesco D'Amato, Aditya Asgaonkar, and Justin Drake, is still being debated and is not currently being actively pursued as of Monday.
Validators are entities within a proof-of-stake blockchain, such as Ethereum, responsible for processing transactions and maintaining overall network security.
Data indicates that the waiting time for users to run an Ethereum validator node has increased to 44 days, compared to nearly a month in May.
Exiting the network, however, can be done within a few minutes, and there is currently no entity in the "exit queue" as of Monday, according to the data.
This data suggests a strong demand for validators to join the network and earn a nearly 5% annual yield.
This demand is likely driven by large ether holders who prefer to retain their holdings and generate passive income rather than cashing out.