Amid the implementation of new crypto regulations in Hong Kong, First Digital introduces a USD-backed stablecoin
First Digital Group has made an announcement regarding the launch of their USD stablecoin, FDUSD.
According to a spokesperson from the company, the stablecoin will be issued on Ethereum and BNB, and First Digital is currently in talks with major exchanges for its listing.
FDUSD, backed by cash reserves and cash equivalents held in regulated financial institutions across Asia, will be issued by First Digital Trust.
This trust company is registered under Hong Kong's Trust Ordinance, which mandates the segregation of assets into separate accounts to prevent co-mingling.
Vincent Chok, CEO of First Digital, expressed that the stablecoin's launch is a significant step towards their goal of providing a secure and efficient digital currency that can be seamlessly integrated into everyday transactions.
However, the stablecoin will not be accessible to retail users in Hong Kong at the moment. Hong Kong regulators have stated that stablecoins should not be publicly traded by retail investors until the proposed rules for this asset class are officially implemented in the territory.
The Hong Kong Monetary Authority (HKMA) and another financial regulator in the region are currently considering new regulations for stablecoins.
These regulations may include requirements for local incorporation, real-world asset backing (excluding algorithmic stablecoins), and separate operations for issuers and virtual asset exchanges.
The timeline for the implementation of these regulations is still uncertain.
Sui Blockchain and Red Bull Racing Enter into a Multiyear Agreement
Sui Blockchain, which recently launched its blockchain platform less than a month ago, has secured a multi-year agreement to serve as the official blockchain partner for Formula One's Oracle Red Bull Racing team.
Following the announcement, the native token of Sui Blockchain, SUI, experienced a 1.7% increase in value before subsequently declining.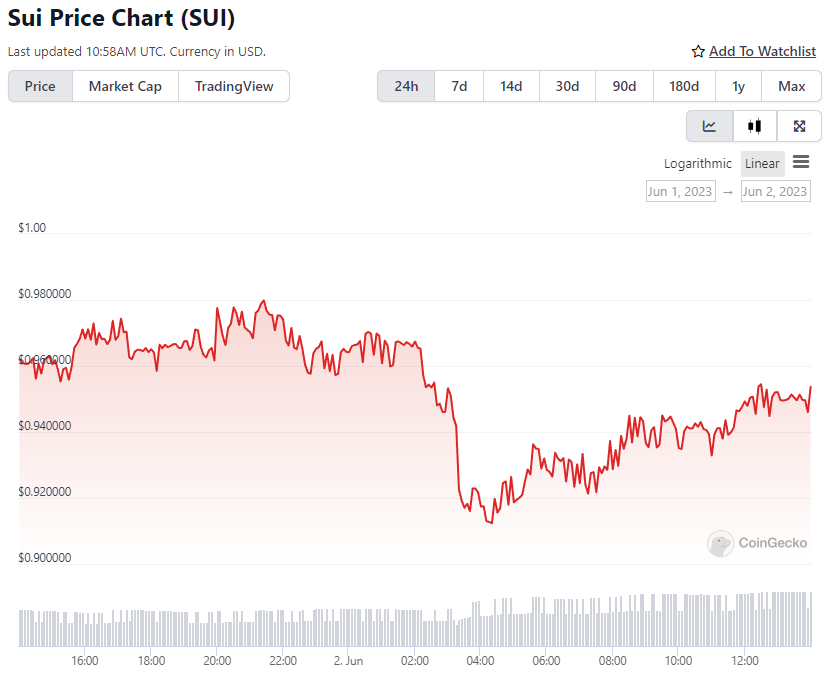 This collaboration is not Red Bull's initial venture into the realm of cryptocurrencies.
In the previous year, they entered a $150 million agreement with the derivatives exchange Bybit.
Red Bull Racing has expressed its intention to introduce a series of digital experiences for racing enthusiasts in the coming months through the partnership with Sui.
Sui's token was launched on May 3 and initially debuted at $1.35 per token after being offered for sale at prices ranging from $0.03 to $0.10.
Its current trading value stands at $0.95.
"Oracle Red Bull Racing was one of the early adopters of Blockchain technology in Formula 1," stated Christian Horner, the Team Principal, and CEO of Oracle Red Bull Racing.
"Teaming up with Sui will enhance that experience by providing easier, more secure, and engaging access."
The OPNX Bankruptcy Claims Exchange introduces a fresh governance token, leading to a 16% surge in the value of FLEX
OPNX, the bankruptcy claims exchange, has recently launched a new governance token called "Open Exchange token" (OX).
The main purpose of OX is to reduce trading fees on the platform.

Following the announcement in the project's whitepaper that FLEX tokens can be converted to OX at a ratio of 1:100, the value of FLEX surged by 16%.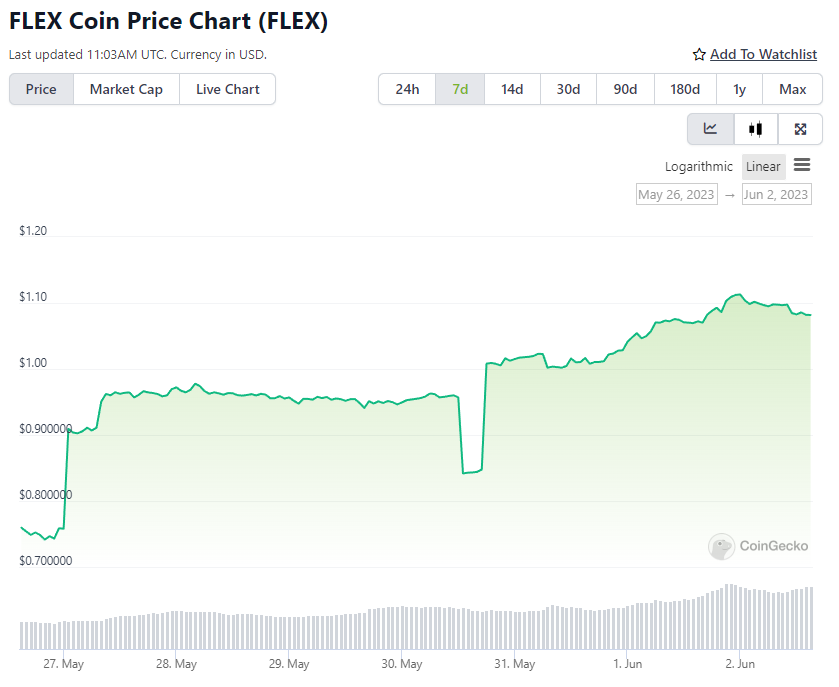 OX is an ERC-20 token with a total supply capped at 9.86 billion.
According to Etherscan, approximately 100 individuals have either purchased or minted this token so far.
OPNX had a challenging start after its launch in April.
The exchange was co-founded by CoinFLEX executives and Kyle Davies and Su Zhu, known for their involvement with the now-defunct hedge fund, Three Arrows Capital (3AC). 3AC's collapse had a significant impact on the crypto ecosystem.
Initially, OPNX struggled to generate substantial trading volume and liquidity.
However, with the introduction of OX, the exchange experienced a significant boost, achieving a record trading volume of $17 million within the last 24 hours.
Similar to other exchange tokens like FTT and BNB, which function as a means to prepay trading fees, OX holders will receive incremental discounts based on the volume of trades they execute on the platform.
As of now, the OX token is being traded at $0.0115, with a market capitalization of $7.7 million, based on the circulating supply figure provided by the flexstatistics website.
Crypto.com Secures Digital Token License in Singapore
Crypto.com has successfully completed the licensing process in Singapore and has obtained its Major Payment Institution (MPI) license for Digital Payment Token (DPT) services, as announced by the exchange.
Last June, the company received in-principle approval from the Monetary Authority of Singapore (MAS), and now it has officially been granted the license.
Kris Marszalek, the CEO of Crypto.com, expressed that the MAS is globally recognized for its responsible approach to fostering innovation in the digital assets sector.
The MAS, known for its stringent standards in approving companies, had emphasized its commitment to cracking down on misconduct in the crypto industry.
Notably, Coinbase and Blockchain.com were among the prominent crypto companies that also received in-principle approval from the regulator during the past year.
EA Sports Games will incorporate Nike's .SWOOSH NFTs into their ecosystem
Nike Virtual Studios, the digital branch of the prominent sportswear company, and EA Sports, a video game developer, have joined forces to introduce digital creations from Nike's .SWOOSH platform into the gaming ecosystem of EA Sports.
Specific details about the collaboration are currently limited, but Nike announced through a press release that this partnership will enable members of .SWOOSH and fans of EA Sports to showcase their unique style through gameplay.
The collaboration promises immersive experiences and heightened levels of customization within the EA Sports ecosystem.
EA Sports, a division of Electronic Arts known for publishing popular games such as FIFA and Madden NFL, is involved in this venture.
Nike's .SWOOSH platform recently unveiled its inaugural collection of non-fungible tokens (NFTs) for sneakers, which achieved sales exceeding $1 million.
The sale commenced on May 15 but encountered technical difficulties and consistent delays.
As of now, Polygonscan reports that 97,627 of the Our Force 1 boxes have been sold out of the total inventory of 106,453.
Ron Faris, the general manager of Nike Virtual Studios, expressed excitement about the partnership, emphasizing that it will unlock extraordinary experiences for both the .SWOOSH community and the expansive fan base of EA Sports.
ANA, the largest airline group in Japan, initiates the launch of an NFT marketplace
All Nippon Airways (ANA), the largest airline group holding company in Japan, has recently launched its own NFT marketplace on the Ethereum blockchain.
This marketplace, known as ANA GranWhale NFT Marketplace, offers a variety of digital collectibles and aviation photography.
ANA NEO, a subsidiary focused on creating immersive digital experiences within the ANA ecosystem, facilitated the release of this marketplace.
The initial collection available on the platform showcases the works of Luke Ozawa, an aviation photographer with a 50-year career.
Alongside these photographs, the marketplace features NFTs of two digital 3D airplanes, including a custom Boeing 787 introduced by the airline in 2011.
Additionally, there is a generative art collection called Airbits, which presents pixelated airline pilots.
ANA aims to apply NFT technology to the aviation industry as a means of fostering new connections with customers.
Payments on the marketplace can be made through the MetaMask wallet or with fiat currency using credit cards.
ANA Holdings, established in 2013 and consisting of 69 companies, including ANA and Peach Aviation, positions itself as the premier airline group holding company in Japan. Furthermore, ANA NEO is actively developing ANA Gran Whale, a metaverse travel experience that incorporates passengers' flight histories into their digital avatars.
ANA joins the ranks of other airlines exploring the integration of cryptocurrency concepts into their offerings.
For example, an Argentinian low-cost airline expanded its partnership with NFT ticketing company TravelX to provide e-tickets as NFTs on the Algorand blockchain.
Similarly, TravelX collaborated with Spanish airline Air Europa to launch NFT tickets tied to exclusive perks and events.
Additionally, Latin American crypto exchange Lemon integrated TravelX into its platform, enabling users to purchase and sell airline tickets.