Binance Establishes Bitcoin Lightning Nodes to Simplify The Process of Depositing And Withdrawing Funds
According to a recent tweet, Binance, a cryptocurrency exchange, has set up Lightning nodes on the Bitcoin network with the intention of providing Lightning-based Bitcoin deposit and withdrawal services to its users.
The integration of the Bitcoin Lightning Network is still in progress, as there are additional technical tasks to be completed.
Binance plans to update users once the Lightning network is fully integrated.
The Lightning network is known as a "second layer" of the Bitcoin blockchain, designed to enhance transaction speed and reduce network congestion.
It accomplishes this by creating payment channels that facilitate off-chain transactions between users, charging minimal fees.
In order to streamline deposit and withdrawal processes for users, Binance announced in May its decision to incorporate the Lightning network.

The temporary suspension of Bitcoin withdrawals by Binance was attributed to network congestion during that period, causing concerns among users about the exchange's reserve funds.
Kraken and Bitfinex are already offering Lightning network services to their users, while Coinbase CEO Brian Armstrong hinted in an April tweet that Coinbase would also provide Lightning network services in the future.
As of Tuesday morning, the Lightning network holds nearly $145 million worth of Bitcoin designated for fast payments, as indicated by available data.
Polygon Puts Forth a Proposition For Its POS Chain to Achieve Compatibility With ZK Technology
Polygon, a scaling solution for Ethereum, published a pre-proposal discussion post on Tuesday regarding the integration of zero-knowledge (ZK) technology with its primary chain, known as the Polygon POS chain.
The intention behind this upgrade is to transform the main chain into a zkEVM validium, ensuring compatibility with the Ethereum Virtual Machine.
While similar to ZK rollups, validiums utilize an off-chain data availability model.
Notably, Polygon already offers a ZK rollup that went live in March.
If the Polygon community approves the proposal, this significant upgrade would enhance security and establish a more "future-proof" framework for the blockchain, as outlined in a blog post authored by Mihailo Bjelic, one of Polygon's co-founders.
Furthermore, Bjelic contends that this upgrade would eliminate reorganizations, enable faster transaction confirmations, and enhance the scalability of the blockchain.
Back in February, Bjelic informed that Polygon was exploring methods to incorporate ZK technology into its mainchain.
This proposal aligns with Polygon's rebranding efforts as Polygon 2.0, a phase during which various announcements pertaining to its blockchain, token, and governance will be publicly disclosed.
Newest Mainnet Release Implements Live Upgrade for Cardano Node
Developers released a new upgrade on Monday to enhance the Cardano blockchain's performance for network users by reducing epoch transitions.
Epochs, which are time periods on the Cardano blockchain, consist of 432,000 slots, each lasting 1 second, resulting in an epoch duration of approximately five days.
During these epochs, ADA tokens are staked, and new blocks are generated on the Cardano network.
Upgrade 8.1.1 introduces modifications to the calculation of epochs, leading to faster network processes during epoch changes.
Additionally, the upgrade addresses issues related to peer-to-peer network communications and the Cardano-based domain name system.
Despite these developments, ADA prices have gained over 7% in the past 24 hours, trading at 28 cents during European morning hours on Wednesday, as reported by CoinGecko.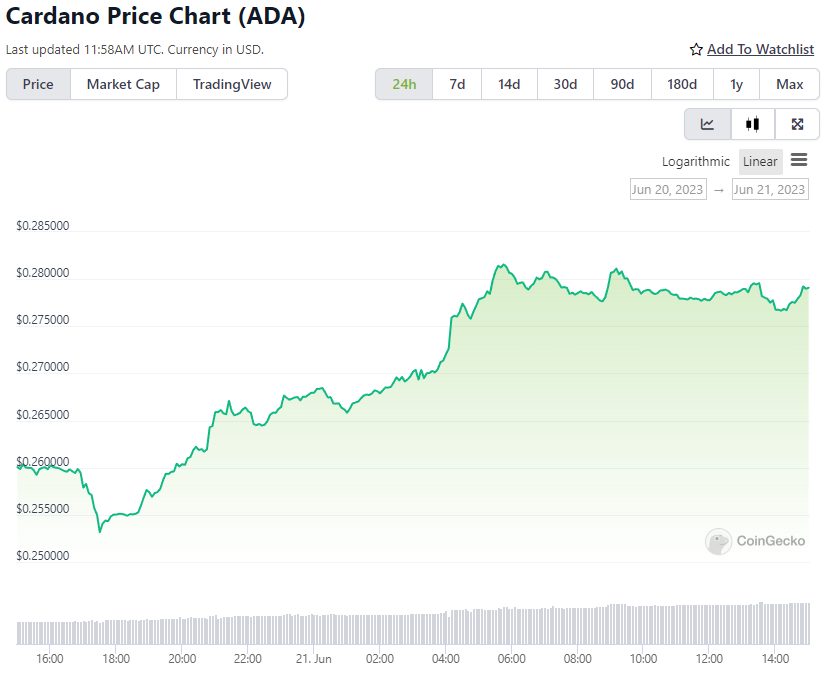 Yuga Labs Announces Upcoming HV-MTL Forge NFT Game
Yuga Labs has made an official announcement about the release of its latest NFT game, which signifies the ninth installment in its ten-part gaming narrative.
In a tweet dated June 21, Yuga revealed that the HV-MTL Forge event will commence on June 29, involving players constructing homes for their individual NFT characters.
Initially introduced in March 2023, the HV-MTL NFT project comprises a collection of 30,000 "Mech" NFTs, separate from the flagship collection known as the Bored Ape Yacht Club (BAYC).
Similar to its predecessor, Dookey Dash, the new game will feature competitive gameplay within a tiered structure.
However, instead of competing for a high score, the ultimate winner will be determined by a community vote.
Some users expressed concerns about the future utility of Sewer Pass NFTs, which were previously utilized in Dookey Dash.
Nevertheless, Yuga recently disclosed that these passes can be burned to summon a "Power Source," enabling the unlocking of an "Evo 1 Mech."
Yuga stated that participating in the HV-MTL Forge game will grant players access to additional upgrades for their Mechs.
The announcement garnered a mixed response on Twitter, with certain users critiquing the game trailer for resembling a title they might have played on Miniclip back in 2003.
Nike Introduces The Immersive 'Airphoria' Virtual Experience to Fortnite's Massive User Base of 240 Million, Showcasing The Iconic .SWOOSH
Nike's Web3 community platform, .SWOOSH, has partnered with the popular online multiplayer game Fortnite to offer a virtual experience where players can earn digital sneakers.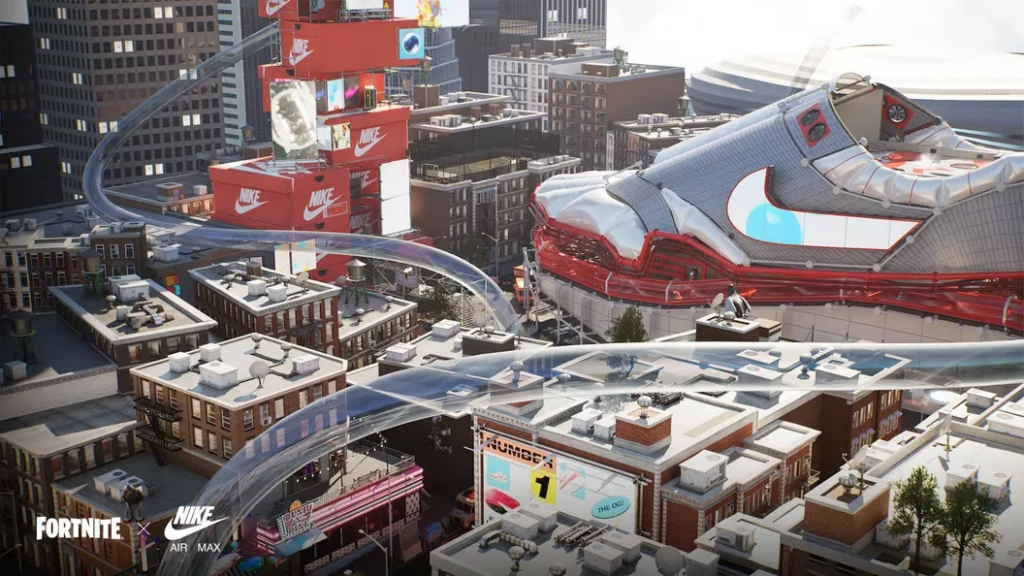 This collaboration allows Nike to tap into Fortnite's vast user base, which boasts over 240 million active users in the last 30 days alone.
The virtual experience, called "Airphoria," was created in collaboration with Epic Games, the creator of Fortnite, and Beyond Creative, a branded game builder.
It will be available within Fortnite from now until June 27.
Players who spend at least 10 minutes on the Airphoria island will receive the Air Max 1 '86 Back Bling digital sneaker as a reward within Fortnite.
Moreover, players who link their Epic Games and Nike accounts during the Airphoria event will have the opportunity to claim an "Achievement" on Nike's .SWOOSH platform.
These Achievements cannot be bought, sold, or traded and hold no monetary value.
An Epic Games spokesperson stated that the partnership between Epic Games, Nike, and the launch of Airphoria is just one of many future collaborations aimed at allowing players to connect their online presence across different ecosystems.
The goal is to bring Nike's Air Max brand into the world of Fortnite through cosmetics, Fortnite islands, and account linking, introducing Nike .SWOOSH achievement badges for players who link their accounts.
It is important to note that the collaboration does not involve integrating NFTs or digital item trading marketplaces into the Fortnite world or its economy.
Nike has previously collaborated with Fortnite on various digital items, including outfits like Airie and Maxxed Out Max, which can be purchased through the Fortnite Item Shop.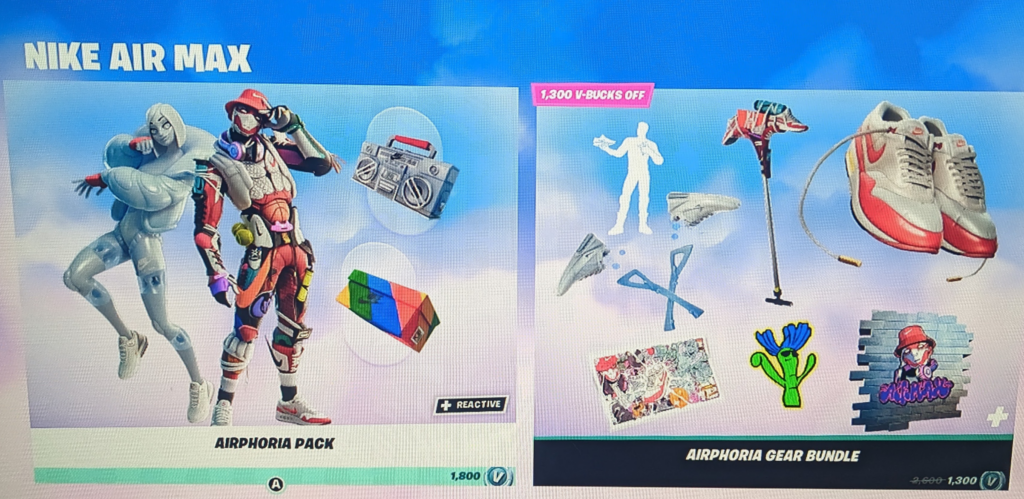 Players are encouraged to link their Epic Games and .SWOOSH accounts to gain early access to a future .SWOOSH Air Max virtual collection.
Epic Games explains that linking accounts will enable interoperability for virtual goods, such as Fortnite skins and Nike achievements, starting with the ability to claim .SWOOSH Achievements when linking or purchasing a cosmetic.
.SWOOSH utilizes BitGo, a third-party wallet provider specializing in crypto custody, as its wallet service.
Recently, .SWOOSH launched its first collection of non-fungible token (NFT) sneakers called "Our Force 1."
Despite some delays, the collection achieved over $1 million in primary sales.
According to Polygonscan, the collection consists of 62,250 OF1 boxes priced at $19.82 each.
Nike has allowed NFT holders to reveal their digital collectibles on June 15, hinting at future rarity traits and utility.
Some Nike digital collectibles on .SWOOSH are associated with unique benefits such as access to physical product drops, live experiences, and video game usage.
The footwear giant also has plans to expand the reach of its digital creations to other video game platforms.
Earlier this month, Nike Virtual Studios, the digital arm of Nike, announced a partnership with video game developer EA Sports to bring digital creations from the .SWOOSH platform to the EA Sports gaming ecosystem.
EA Sports, a division of Electronic Arts, is known for publishing popular games like FIFA and Madden NFL.