Short Traders Suffer Their Largest Loss In Two Months as Bitcoin's Price Surges to $30K
According to CoinGlass data, short traders experienced their largest single-day losses since April as more than $178 million worth of bets against cryptocurrency tokens were liquidated in the last 24 hours.
The total liquidations, including both long and short positions, surpassed $203 million, with bitcoin (BTC) futures leading the losses at $75 million, followed by ether (ETH) futures at $51 million.
Among altcoins, Pepecoin (PEPE) futures suffered the highest losses, reaching just under $10 million.
Shorts are positions that anticipate price declines, while longs refer to bets on price increases for any financial asset.
Among various crypto exchanges, Binance recorded the highest losses at $65 million, followed by OKX at $58 million.
Liquidation occurs when an exchange forcefully closes a trader's leveraged position due to a partial or total loss of the initial margin, typically when the trader fails to meet the margin requirements.
Significant liquidations can indicate a potential local peak or bottom of a significant price movement, enabling traders to adjust their positions accordingly.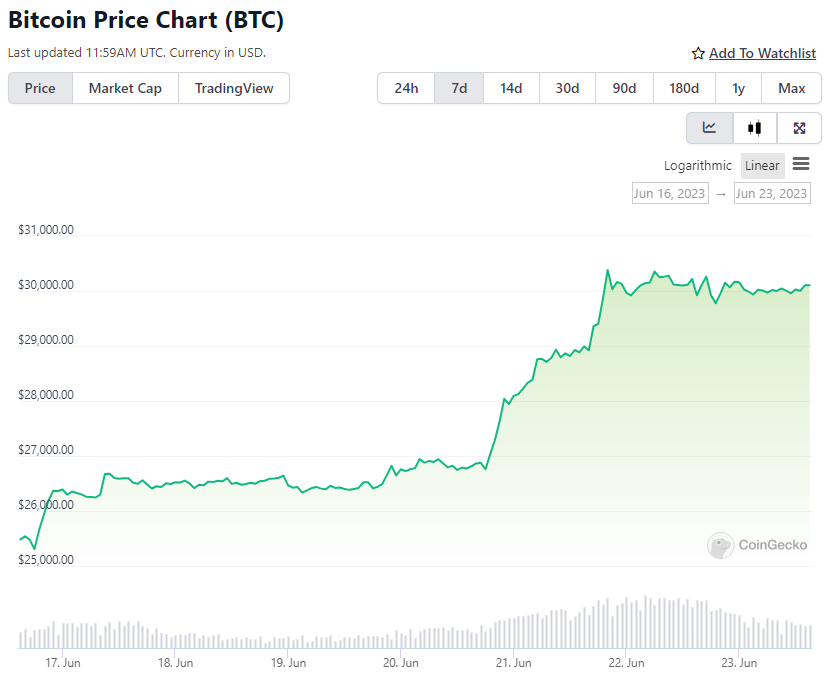 Bitcoin reached the $30,000 level for the second time this year, likely influenced by a wave of ETF filings in the United States, which bolstered a bullish sentiment among traders.
This rally also propelled major tokens such as Cardano's ADA, Solana's SOL, and dogecoin (DOGE) to post weekly gains of at least 18%.
The sudden price surges of Bitcoin have prompted options traders to bet on even higher prices, indicating a shift in sentiment compared to the beginning of June when regulatory actions against crypto exchanges Binance and Coinbase in the US dampened bullish hopes. Some market observers believe this trend may continue if ETF applications from traditional finance giants like BlackRock are approved in the coming months.
Alex Adelman, the CEO of Bitcoin rewards app Lolli, commented that Bitcoin's rally signifies a broader trend signaling its status as a strong and established store of value, which has attracted institutional and retail investors seeking a secure and decentralized asset.
Adelman further noted that the recent surge in bitcoin ETF applications from major institutions like BlackRock, Fidelity, and Invesco indicates that new regulatory guidelines have given the green light for these institutions to launch bitcoin-based products and meet the growing demand from their clients.
Anichess, The Decentralized Chess Game Developed by Animoca Brands, Successfully Raises $1.5 Million in Funding
Animoca Brands' subsidiary, Anichess, has successfully concluded a seed round of funding amounting to $1.5 million.
This funding will be utilized to expand the team and further develop their decentralized chess game, with plans to launch an alpha version in the first quarter of 2024.
Notable investors in this round include GameFi Ventures, The Operating Group, Koda Capital, Bing Ventures, 708 Capital, and Asymmetry Capital.
Anichess is a collaborative effort between Animoca Brands, Chess.com-owned Play Magnus Group (PMG), and its Champions Chess Tour.
The game aims to provide a community-driven and free-to-play experience, offering new strategic layers powered by magical spells.
By incorporating a spell mechanic, players can employ offensive, defensive, and counter tactics.
Additionally, esports-like elements will be introduced through challenges.
Chess.com, which acquired PMG in December, boasts over 100 million registered users. Grant Lee, the Chief Strategy Officer of Chess.com, expressed enthusiasm about partnering with Animoca Brands to offer top players and influencers a unique and enjoyable chess experience.
This collaboration aligns with their overarching goal of expanding the game and presenting chess in innovative ways to diverse audiences.
Algorand Reduces Block Time Following Latest Upgrade
On Thursday, Algorand unveiled a protocol upgrade aimed at reducing block time, streamlining application development on its network, and improving cost efficiency.
This upgrade marks a significant milestone for the proof-of-stake blockchain, as it achieves the most substantial reduction in block time on a percentage basis, according to Paul Riegle, Algorand's Chief Product Officer, as stated in an interview.
The competitive blockchain landscape has seen numerous platforms introduce enhancements to attract developers, including recent upgrades from Cardano and BNB Chain.
Block time plays a crucial role in measuring the time required for the network to generate a new block of transactions.
Among the notable improvements introduced through the upgrade is a simulator that empowers developers to test and simulate potential issues before deploying their codebase to the mainnet.
Additionally, a new plugin framework has been introduced, enabling users to effortlessly create customized data solutions.
According to CoinGecko data, ALGO, the native cryptocurrency of the Algorand blockchain, has experienced a 4.9% surge in the past 24 hours, reaching 12.8 cents.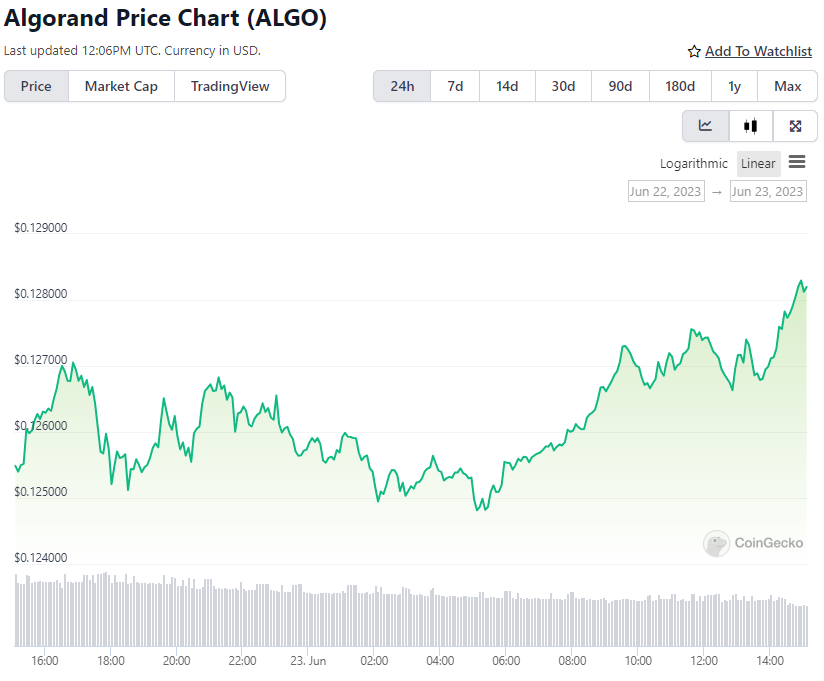 This upgrade incorporates valuable feedback from the developer community and arrives as Algorand's mainnet approaches 30 million blocks and its four-year anniversary.
NFT-Based Mobile Game NFL Rivals Achieves 1 Million Downloads
NFL Rivals, a mobile game developed by Mythical Games, has achieved an impressive milestone of surpassing one million downloads, despite launching during a challenging period in the crypto market and the NFL off-season.
The game made its debut on April 26 on both Google Play and the Apple Stores, garnering early enthusiasm and even reaching the top position in the App Store, as shared by Mythical Games CEO John Linden on Twitter.
While reaching one million downloads is an exciting accomplishment, Linden expressed greater interest in the positive reception of the game.
He revealed that the game currently holds an outstanding rating of 4.8 out of five on the App Store, with nearly 22,000 reviews, indicating strong player satisfaction.
Linden also highlighted the significant engagement levels observed in NFL Rivals, with players spending an average of almost two hours per day immersed in the gameplay.
This active participation, averaging six gaming sessions per day, showcases the game's captivating nature.
Mythical Games provided additional statistics to CoinDesk, noting that nearly 15 million matches have been played in NFL Rivals thus far.
In NFL Rivals, NFTs (non-fungible tokens) are utilized as player cards, allowing users to construct teams and compete in the game.
Each player card possesses varying levels of rarity, ranging from common to legendary, and possesses distinct strengths and weaknesses.
Linden emphasized that the NFT aspect of the player cards is mostly transparent to the majority of players, who can enjoy the game without purchasing any NFTs.
However, every player receives an in-game wallet, and when they choose to engage with the marketplace to buy, sell, or trade, they realize its underlying functionality.
Linden estimated that approximately 10% of players have interacted with the marketplace, particularly during the release of special cards preceding Super Bowl LVII.
He mentioned the intriguing phenomenon where players, even if unfamiliar with Web3 concepts, grasp the notion that their cards hold value when someone offers to pay them $100 for their cards.
This gentle onboarding into the space is something Mythical Games finds appealing.
The NFL selected Mythical Games to launch its first Web3 game in May 2022, but the league has ventured further into the Web3 arena with initiatives such as a ticketing collectible platform on Polygon and an NFL All Day collectible marketplace developed by Dapper Labs.
Mythical Games' product lineup includes other titles like Blankos Block Party, an open-world multiplayer game, and Nitro Nation, an NFT-based racing game.
The company introduced Mythical Marketplace 2.0 in January 2023 and secured $150 million in funding in 2021 through a funding round led by a16z.