Bitcoin Surges Beyond $31.3K, Reaching Its Highest Point in Over a Year
Bitcoin surged during the morning of Friday (ET), continuing its mid-June rally and reaching a one-year high above $31,000.
However, it later retreated below this level.
According to CoinGecko, the largest cryptocurrency by market capitalization was recently trading at $30,894, reflecting a 2.1% increase in the past 24 hours and a roughly 20% rise over the past week.
The last time BTC traded above $31,050 was in June 2022, and it briefly surpassed $31,000 on April 10.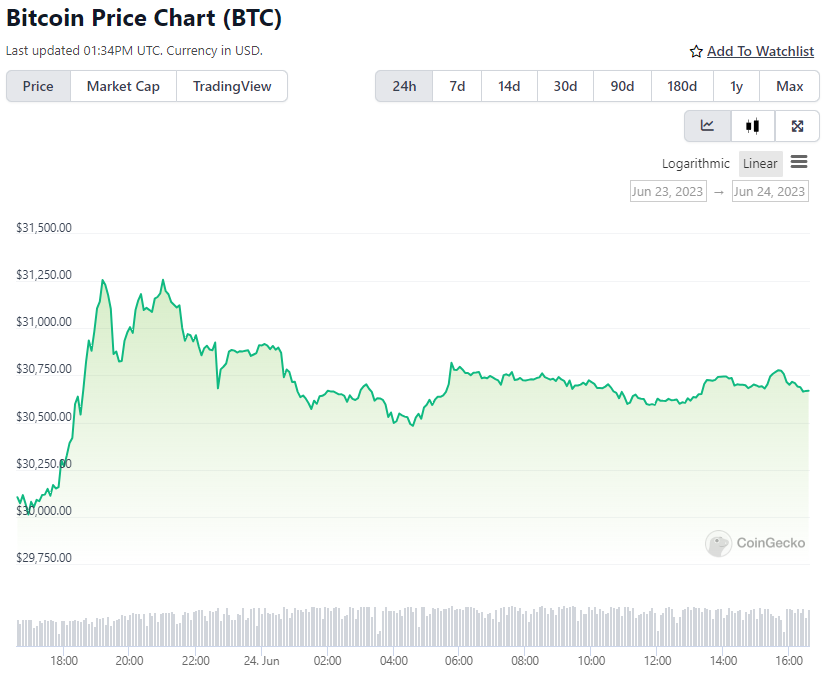 The recent surge in Bitcoin followed BlackRock's application for a spot ETF, along with Invesco and WisdomTree refiling their applications for similar products.
These developments reassured investors after regulatory concerns caused turbulence earlier in the month due to SEC lawsuits against crypto exchanges Binance and Coinbase. The ETF filings demonstrated the ongoing interest of large institutional investors in the cryptocurrency space.
The positive market sentiment was highlighted by market experts who emphasized the significance of Bitcoin's move above $30,000 and its acknowledgment of growing institutional involvement.
Other major cryptocurrencies, including Ether, Litecoin, DOT, and AVAX, also experienced an upswing alongside Bitcoin.
Cryptocurrencies continued to decouple from equity markets, which saw declines due to investor concerns about potential interest rate hikes and a global recession.
While the Bank of England took a hawkish stance by raising rates, central banks like the U.S. Federal Reserve adopted more dovish approaches.
However, the intent to resume rate increases by the Federal Reserve has historically weighed on digital assets.
Mark Connors, head of research at 3iQ, expressed cautious optimism about the long-term impact of the ETF applications, noting a shift in sentiment within the digital asset space. While BTC's surge to a year-long high indicated its exit from previous challenges, Connors highlighted the regulatory battle with the SEC as a limiting factor.
Additionally, BlackRock's strategic filing timing, just days after the SEC complaint against Coinbase, raised speculation about its supportive intent for its partner in the proposed iShares Bitcoin Trust ETF, which designated Coinbase as the custodian of assets, primarily bitcoin.
Bloomberg Reports That JPMorgan is Broadening The Scope of Its Blockchain-Powered Token to Encompass Euro Payments
According to a report from Bloomberg, JPMorgan, the prominent banking giant, has recently expanded the application of its blockchain-based settlement token, JPM Coin, to include euro-denominated payments.
The implementation of euro payments began on Wednesday, as revealed by Basak Toprak, the Head of Coin Systems for Europe at JPMorgan, during an interview.
The initial euro payment on the platform was conducted by German technology firm Siemens.
Since its establishment in 2019, JPM Coin has facilitated transactions exceeding $300 billion, marking it as one of the most extensive deployments of blockchain technology by a traditional financial institution.
This system enables JPMorgan's institutional clients to execute wholesale payments across global accounts, utilizing blockchain technology as the underlying infrastructure.
However, the $300 billion processed through JPM Coin still represents a small portion of the vast daily volume of conventional transactions handled by JPMorgan, which amounts to nearly $10 trillion.
Belgium's Markets Regulator Commands Binance to Cease Provision of Crypto Services
Belgium's primary markets regulator has issued a directive to the troubled cryptocurrency exchange Binance, demanding an immediate cessation of its services to local customers, as stated in a notice published on Friday.
The Financial Services and Markets Authority (FSMA) revealed that Binance has been engaged in "offering and providing exchange services in Belgium, involving virtual currencies and legal currencies, as well as custody wallet services, from countries outside the European Economic Area."
Such actions are deemed to contravene a prohibition set by the regulator.
According to the notice, the FSMA has unequivocally instructed Binance to discontinue, effective immediately, the provision of all such services within Belgium.
Binance finds itself entangled in regulatory issues, as it confronts allegations from the U.S. Securities and Exchange Commission (SEC) regarding violations of securities laws. Additionally, the exchange has become the subject of an investigation by French authorities. In light of regulatory challenges, Binance has withdrawn from markets within the European Economic Area, including the Netherlands and Cyprus.
Following the publication of this article, a spokesperson from Binance expressed disappointment with the FSMA's decision, emphasizing that ongoing discussions have been taking place.
The spokesperson stated that Binance is carefully examining the details of the notice and remains committed to collaborative efforts with regulators in Belgium and worldwide, ensuring compliance with their obligations.
Spain Grants Approval for Crypto.com to Commence Operations
On Friday, Crypto.com, a digital asset exchange platform, announced that it has obtained registration as a virtual asset service provider (VASP) from the central bank of Spain.
The company underwent a thorough evaluation of its compliance with the Anti-Money Laundering Directive (AMLD) and other financial crimes laws before receiving the approval.
This registration enables Crypto.com to offer its range of products and services to users in Spain.
The Bank of Spain established a registry for crypto service providers in 2021, and several companies including Binance, Bitstamp, and banking platform BVNK have already registered with the regulatory authority.
As the European Union's new Markets in Crypto Assets (MiCA) framework has been finalized, member states such as Spain will soon begin implementing new standards and requirements in accordance with this framework.
Kris Marszalek, CEO of Crypto.com, expressed the company's dedication to compliance and collaboration with regulators and public officials in responsibly advancing the adoption of crypto and blockchain technology.