Bitcoin Briefly Surpasses $31,000 Following The Release of Fidelity Spot ETF Report
Bitcoin (BTC) experienced a surge in its price during the mid-morning hours following a report by The Block, stating that Fidelity, a prominent asset management company, was preparing to submit an application for a spot bitcoin ETF as early as Tuesday.
This news led to a rapid increase in the Bitcoin price from $30,600 to $31,000 within minutes.
However, the price quickly reverted, and at the time of the report, bitcoin was trading at $30,500, according to CoinGecko.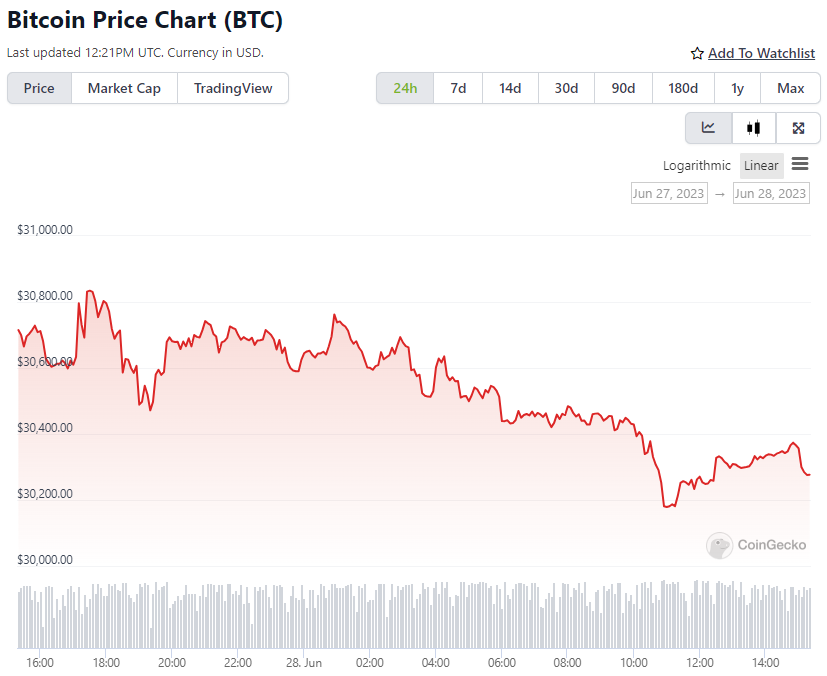 Fidelity Investments declined to provide confirmation or updates on the matter.
Fidelity had previously applied for a spot bitcoin ETF in 2021, but the U.S. Securities and Exchange Commission (SEC) rejected the filing in 2022.
In June, BlackRock, another major asset management company, sparked a wave of spot bitcoin ETF filings and resubmissions, along with a substantial bitcoin price rally, when its iShares unit submitted its own application to the SEC for a similar fund.
Additionally, EDX Markets, a crypto exchange supported by Fidelity and targeting large financial institutions, commenced operations in the United States just one week prior.
According to The Reserve Report, Withdrawals Are Currently Suspended at The U.S. Depository Holding $26k Worth of Funds For The TrueUSD Stablecoin
According to the reserve report, the TrueUSD (TUSD) stablecoin had a small number of funds held at a U.S. depository institution that was instructed to stop allowing withdrawals.
The examination conducted by The Network Firm on June 23 revealed that $26,434 worth of TUSD backing assets were affected.
The depository institution received an order from state regulators to halt deposits and withdrawals for both fiat and digital asset accounts.
Out of the funds, $26,269 were specifically related to customer withdrawals for redeemed tokens. The report did not disclose the name of the U.S. institutions involved.
Previously, the issuer of TUSD had clarified that it had no exposure to Prime Trust, a collapsed crypto custodian that had served as the stablecoin's banking partner in the United States. The issuer had paused minting tokens via Prime Trust on June 10 but assured that minting and redemption services remained unaffected through other banking channels.
However, the token's issuer has not responded to multiple requests for comment.
CoinDesk reported that Prime Trust suspended withdrawals and was ordered by Nevada state regulators to cease its operations due to a shortage of customer funds.
The regulator later filed to take over the custodian and freeze all of its businesses.
TUSD is the fifth largest dollar-pegged stablecoin, with a market capitalization of $3.1 billion, and plays a crucial role in providing liquidity to the crypto market, especially as a favored stablecoin trading pair on the Binance cryptocurrency exchange.
The intellectual property of the token was acquired by an Asian investor named Techteryx, while Archblock serves as the agent responsible for managing the stablecoin.
Mythical Games Secures $37 Million Funding Round With Support From A16z and ARK Invest
Mythical Games, a web3 gaming studio, has secured $37 million in funding as part of an extension round for their Series C.
The funding was led by Scytale Digital, a digital asset manager, and included participation from well-known investors such as ARK Invest, Andreessen Horowitz, and Animoca Brands.
This extension round comes after Mythical Games raised $150 million in a Series C round in November 2021, led by a16z, which valued the company at $1.25 billion.
The Seattle-based company plans to finalize the extension round later this year and aims to raise an additional $20 million to $30 million in capital.
Mythical Games is recognized for its Mythical Chain blockchain and gaming ecosystem, as well as its popular blockchain-based games NFL Rivals and Blankos Block Party.
NFL Rivals achieved over a million downloads within two months of its launch.
Co-founder and CEO John Linden stated that their goal for 2023 is to optimize their business and achieve profitability.
The funds will primarily be used for platform updates, infrastructure development, enhancements, and the creation and launch of new games in their pipeline.
In 2021, Mythical Games raised a total of $200 million, which includes a $75 million funding round in June, in addition to Series C.
Other backers in this round included PROOF VC, Stanford Athletics, MoonPay, WestCap, Gaingels, Signum Growth, and Struck Capital.
The company faced challenges last year when three top executives left in early November, followed by job cuts affecting 10% of the workforce.
The former executives went on to establish Fenix Games, leading Mythical Games to sue them in December for allegedly raising $150 million for their new venture.
Looking ahead, Mythical Games has plans to launch Nitro Nation World Tour in late July, a racing game available on mobile and desktop featuring car brands such as Aston Martin, Jaguar, Pagani, and Lotus, allowing players to compete globally and collect digital vehicles.
Moreover, Mythical Games is working on feature updates for the Mythical Marketplace, including the introduction of a new in-game marketplace for NFL Rivals, which is expected to roll out in the coming months, according to Linden.
The Prices of Azuki NFTs Plummeted by 44% Following The release of 'Elementals', Which Were Deemed to be Essentially Identical
The floor prices of the popular Azuki NFT collection from Chiru Labs experienced a significant 44% decline within the past 24 hours after the release of Elementals, the company's new NFT collection.
This decline was met with criticism from holders and market observers.
Chiru Labs launched the Elementals collection on Tuesday, generating $38 million in just 15 minutes.
The introduction of Azuki Elementals was initially teased during an exclusive event called "Follow the Rabbit" held in Las Vegas last week, exclusively for Azuki holders.
The community response following the sale shared a common sentiment: that certain NFTs within the new Elementals collection bore a striking resemblance to the Azuki collection, which was released in February 2022, despite Elementals having its own distinct branding narrative.
Charlotte Fang, the creator of the popular Milady NFT collection, expressed her thoughts on Twitter, stating, "Azuki really sold a 20K collection at 2 ETH exclusively to their own holders extracting $40MM only for the art to be revealed as basically identical to the main collection. Bluechip bagholders in disbelief."
A side-by-side comparison revealed numerous similarities between the two collections, such as facial structure, angle, and overall aesthetic, leading some observers to view Elementals as a more affordable version of the original collection.

These resemblances may have prompted holders to sell off their Azuki NFTs, causing both the main Azuki collection and Elementals to fall below their initial mint prices.
Analytics indicate that sales of Azuki NFTs have increased nearly 400% compared to the previous week, while prices dropped from over 14 ether (ETH) to 9.7 ether in a single day.
The floor prices of Elementals also experienced a 55% decline as early buyers quickly offloaded their holdings from the presale.