TrueUSD Experiences a Depegging Event on Binance.US, Resulting in Its Value Declining to 80 Cents Compared to Tether
On Binance.US, the United States-based subsidiary of Binance, the dollar-pegged stablecoin TrueUSD (TUSD) is currently trading at a lower value compared to its counterpart tether (USDT).
Trading data from the charting platform TradingView reveals that the TUSD/USDT pair on Binance.US is currently valued at 89 cents, with a previous low of 80 cents recorded on Wednesday.
Meanwhile, on Binance, the pair is trading at approximately $0.9980.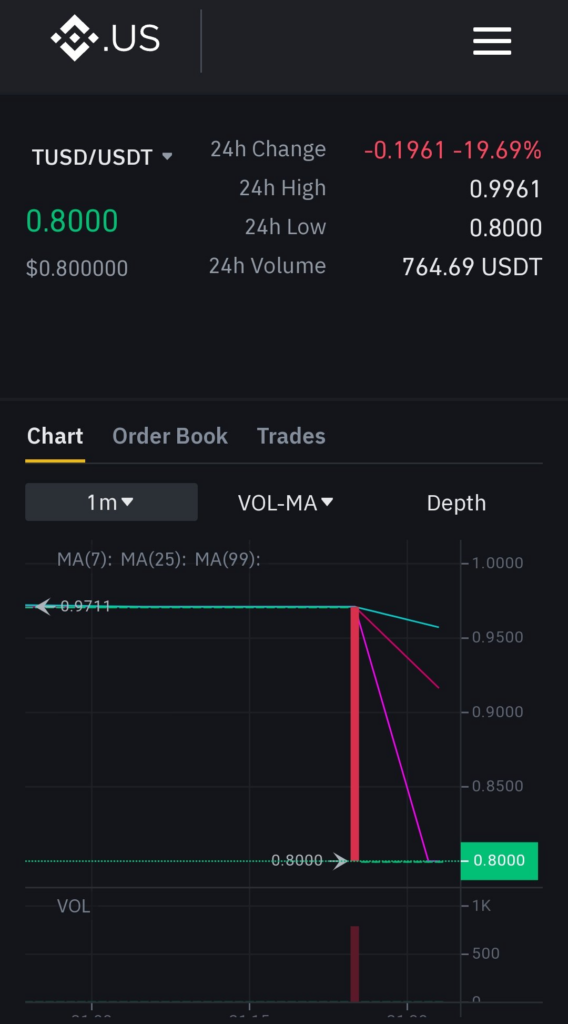 While stablecoin volatility can impact the broader market, TUSD's volatility has not yet affected bitcoin (BTC), which continues to trade within familiar ranges above $30,000.
With a market capitalization of $3 billion, TUSD poses a lesser systemic risk than tether, which boasts a market cap of $83 billion.
Recent low trading volumes have contributed to TUSD's decline, and concerns have been raised regarding the stablecoin's reserve report, as it revealed a relatively small amount of assets ($26,000) backing the stablecoin at a U.S. depository institution that faced withdrawal restrictions.
The reserve report was attested by The Network Firm, a rebranded version of the former FTX auditor Armanino, which has sparked criticism and raised questions about checks and balances within the crypto industry.
Furthermore, it has been noted that TrueUSD's Chainlink price oracle relies on data from The Network Firm, which has caused additional skepticism.
Earlier this month, rumors circulated about TrueUSD's association with troubled crypto service provider Prime Trust, leading some traders to take bearish positions on TUSD. However, TrueUSD clarified that it has no exposure to Prime Trust.
Voyager to Cover April's Legal Fees, Amounting to $1.1 Million
In April, Voyager Digital was billed $1.1 million in legal fees by the law firm Kirkland & Ellis for their services related to the crypto lender's bankruptcy case.
Some partners at the firm charged hourly rates exceeding $2,000, while others accumulated fees amounting to hundreds of thousands of dollars for the month.
For example, George W. Hicks Jr., P.C, a litigation partner at Kirkland & Ellis, billed $153,211 for 87.8 hours of work, while associate Nicholas Adzima billed 118 hours, resulting in $147,906 in compensation for April.
Kirkland & Ellis, a global law firm generating over $6 billion in revenue, represents several crypto companies in restructuring processes that entered Chapter 11 during the bear market of 2022, including Celsius and BlockFi.
The wave of bankruptcies resulting from the 2022 bear market has proven to be a lucrative opportunity for law firms.
Previous reports indicate that FTX's bankruptcy fees have surpassed $200 million, and Celsius has already accumulated more than $50 million in fees during its proceedings. Critics argue that the lengthy procedures and exorbitant legal fees often disadvantage creditors, as a significant portion of the available funds is consumed by attorney fees.
On the X-Claim bankruptcy claim trading marketplace, Voyager's bankruptcy claims are currently valued at 40 cents on the dollar, while FTX and Celsius are trading at 28.25 cents and 28.5 cents, respectively.
MicroStrategy, Led by Michael Saylor, Currently Possesses a Bitcoin Portfolio Valued at More Than $4.6 Billion
According to an announcement made on Wednesday, MicroStrategy, headed by Michael Saylor, has acquired 12,333 bitcoin (BTC) for $347 million in cash between April 29 and June 27.
This recent purchase brings MicroStrategy's total Bitcoin holdings to 152,333, which is valued at over $4.6 billion based on current prices.
As one of the prominent Bitcoin holders, MicroStrategy was established by crypto billionaire Michael Saylor.
Additionally, the company disclosed that it sold approximately $333.7 million worth of its shares in accordance with a previously announced share sale agreement.
In the first quarter, the firm recorded a write-down on its bitcoin holdings, although the amount was lower than anticipated.
During pre-market trading, both MicroStrategy's shares, down 1% at $321.44, and bitcoin, down over 1% at $30,288, exhibited similar downward trends.
Sotheby's Is Set to Introduce an On-Chain Generative Art Program That Will be Driven by The Art Blocks Engine
This summer, renowned art auction house Sotheby's will launch a generative art program, aiming to showcase artists in the digital art realm through fully on-chain sales.
Called the Gen Art Program, it is scheduled to commence on July 26 and will feature two to three generative artists annually.
The inaugural sale will pay tribute to Vera Molnar, a trailblazing figure in generative art and widely recognized as the first female digital artist.
Molnar embarked on her artistic journey in the mid-1940s and ventured into computer art during the 1960s, amassing an impressive body of work that continues to inspire contemporary generative artists like Dmitri Cherniak and Tyler Hobbs.
The program will be powered by the Art Blocks Engine, a white-label generative minting infrastructure solution developed by a popular platform specializing in generative art. Notably, the Gen Art Program will pioneer the utilization of a Dutch auction format, a first in Sotheby's illustrious 300-year history.
Bidding will commence at 20 ETH and decrease incrementally until a single bid secures the artwork.
All transactions will be conducted in ETH, reflecting Sotheby's acknowledgment of its "crypto-native collectors."
Sotheby's has actively immersed itself in the digital art community and recently achieved remarkable success with its non-fungible token (NFT) sales from the GRAILS collection, comprising rare artworks seized from the bankrupt crypto hedge fund Three Arrows Capital (3AC).
In June, the auction house sold various NFT artworks, including Dimitri Cherniak's "The Goose," which fetched an astounding $6.2 million.
Overall, the GRAILS NFT sales have generated approximately $11 million for Sotheby's.