Coinbase's Base Gears Up For The Launch of Its Mainnet Through a Series of Rigorous Security Audits
Coinbase, a crypto exchange listed on Nasdaq, has completed a comprehensive series of security audits for Base, its layer 2 blockchain.
These audits were conducted in preparation for the mainnet launch, with the objective of attracting up to 1 million new crypto users in the coming years.
Base, developed in collaboration with Optimism on the OP stack, was announced in February.
To ensure the security of both the blockchain and the OP stack, Coinbase's protocol security team conducted a six-month internal audit, reviewing Optimism's pre-deployments and smart contracts on both layer 1 and layer 2.
This thorough analysis aimed to identify any potential security vulnerabilities or risks. Additionally, Coinbase utilized fuzzing, an automated technique involving injecting malformed code into existing code to uncover implementation bugs.
Crucial components such as the layer 2 blockchain bridge to layer 1 and the sequencer underwent this scrutiny.
Cross-chain bridges, commonly exploited by hackers and attackers, were a particular focus due to the high risk they pose.
In fact, security firm Chainalysis estimated that $2 billion was stolen from crypto bridges in 2022.
Furthermore, Base enlisted over 100 external security researchers to contribute to the identification and resolution of potential vulnerabilities.
Although no specific date has been provided for the mainnet's launch, Base has stated that it will not feature a native token, distinguishing itself from other layer 2 blockchains such as Polygon, Optimism, and Arbitrum.
Fidelity Submits a New Application For a Bitcoin ETF
Fidelity, a major asset management firm, has resubmitted documentation for its Wise Origin Bitcoin Trust, which is a Bitcoin ETF focused on the spot market.
This move follows BlackRock's iShares unit filing for the iShares Bitcoin Trust, also a spot Bitcoin ETF, about two weeks ago.
Fidelity had initially applied to launch the Wise Origin Bitcoin Trust in 2021 but faced rejection from the U.S. Securities and Exchange Commission (SEC) in 2022.
Following BlackRock's ETF filing in June, several other fund companies, including Invesco and WisdomTree, have made similar filings.
Earlier reports had hinted at an imminent filing from Fidelity.
Fidelity's paperwork, similar to BlackRock's, includes a "surveillance sharing agreement" with an undisclosed U.S.-based Bitcoin trading platform.
This agreement aims to address the SEC's concerns regarding market manipulation.
Fidelity also acknowledged recent losses incurred by cryptocurrency participants due to the insolvency of custodians and centralized exchanges.
They emphasized that a spot Bitcoin ETF would have protected numerous investors. The SEC has not yet made a decision regarding any of the new applications.
While there is optimism surrounding BlackRock's application, as the company has obtained approval for most of its previous 575 ETF applications, there are skeptics as well.
Townsend Lansing, CoinShares' chief product officer, expressed a 10% chance of approval for BlackRock's application, suggesting that the SEC wants to see a majority of Bitcoin trading taking place on a U.S.-based crypto exchange.
In September, Binance's European Banking Partner Will Cease Its Support For The Cryptocurrency Exchange
After September 25, Binance's banking partner for euros, Paysafe Payment Solutions, will cease its support for the cryptocurrency exchange.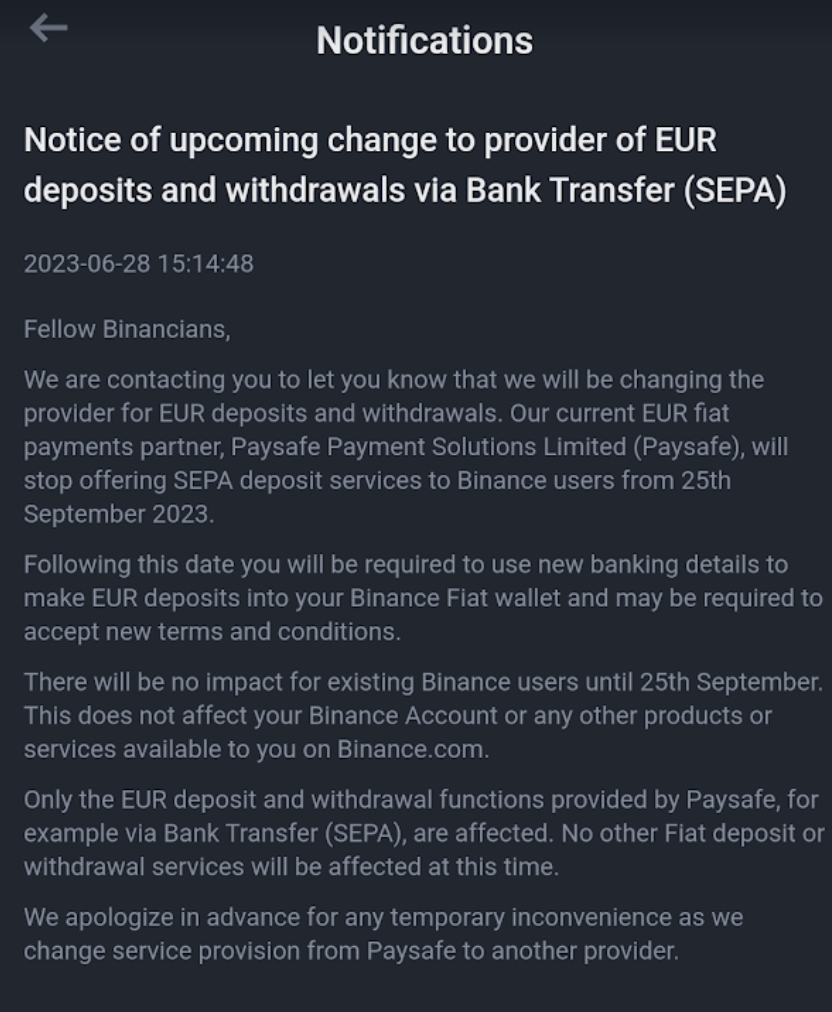 The spokesperson for Binance confirmed the change, stating that users will need to update their banking details for EUR deposits and withdrawals via Bank Transfer (SEPA) as Paysafe will no longer provide these services.
The spokesperson added that users may be required to accept new terms and conditions to continue using SEPA services.
Paysafe explained their decision, stating that they have chosen to discontinue offering their embedded wallet solution to Binance across the region after a strategic review and are already in the process of withdrawing the service in the UK.
This development coincides with Binance facing scrutiny from financial regulators in both Europe and the United States.
The US Securities and Exchange Commission (SEC) recently filed a lawsuit against Binance, Binance.US, and CEO Changpeng "CZ" Zhao, accusing them of violating multiple federal securities laws, including the offering of unregistered securities and commingling customer funds.
As a result, Binance has announced its retreat from the Netherlands and Cyprus requested permission cancellations in the UK, and received an order from Belgium's market watchdog to cease offering crypto services in the country.
Furthermore, concerns were raised by the UK's financial regulator in February 2022 when Binance gained access to the country's primary payments network through its deal with Paysafe, as reported by the Financial Times.
PancakeSwap, a Decentralized Exchange, is Now Operational on The Polygon zkEVM Blockchain
In line with its broader plans to expand its user base and generate protocol revenues, PancakeSwap, a decentralized exchange (DEX), has announced its upcoming launch on the Polygon zkEVM network.
Instead of relying on intermediaries, PancakeSwap utilizes smart contracts to facilitate trading, lending, and lottery services for users on the BNB Chain, Ethereum, and Aptos blockchains.
According to DefiLlama data, the protocol currently holds tokens worth over $1.54 billion.
By deploying on the Polygon zkEVM network, PancakeSwap aims to offer users lower fees and faster transactions compared to the zkEVM network.
Presently, PancakeSwap users enjoy trading fees as low as 0.01%, which is one of the lowest among DEXs.
Since its beta mainnet launch in March, Polygon zkEVM has attracted over $28 million in total value locked (TVL).
As a privacy-focused layer 2 blockchain operating on top of the Polygon blockchain, the network provides an additional layer of security and privacy for its users.