Celsius is Expected to Potentially Sell Over $170 Million in ADA, MATIC, SOL, And Other Cryptocurrencies
Celsius, the crypto lending company, has received approval from the overseeing judge in its bankruptcy proceedings to initiate the sale of its significant holdings in altcoins such as Cardano (ADA), Polygon (MATIC), Solana (SOL), and several others starting from July 1.
Court documents from December revealed that Celsius had control over substantial amounts of these cryptocurrencies, including 90 million MATIC, 103 million ADA, 161,000 SOL, 3.3 million LINK, 1.8 million polkadot (DOT), 200,000 litecoin (LTC), and 106,000 AAVE as of November 25, 2022.
However, it remains unclear how much of these assets will be excluded from the upcoming sale.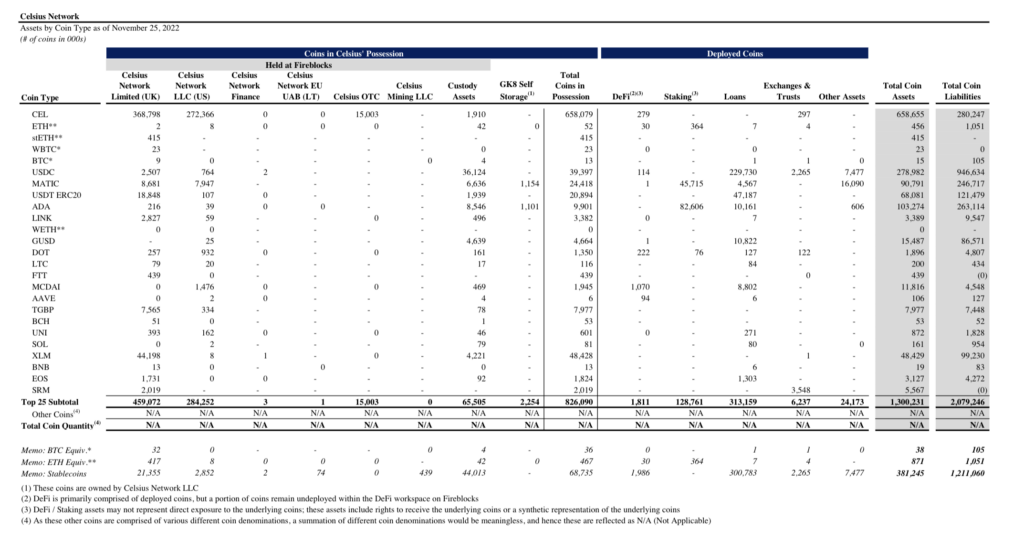 At the time of the press, the combined value of these positions exceeded $170 million.
Additionally, Celsius possesses millions of dollars in stablecoins and 650 million of its own CEL token, valued at nearly $100 million according to Coinmarketcap, but it is uncertain whether the company can liquidate its native asset.
Nonetheless, with the green light from bankruptcy Judge Martin Glenn, Celsius will soon commence the process of divesting many of its holdings in favor of bitcoin and ether, which will be distributed to creditors who have patiently awaited repayment for nearly a year.
The ruling by Judge Glenn allows Celsius to sell or convert any cryptocurrencies, tokens, or assets, excluding those associated with Withhold or Custody accounts, into BTC or ETH starting on or after July 1, 2023.
Refiled Applications Indicate That Coinbase Has Been Selected as The Surveillance Partner For Fidelity And Other Bitcoin ETFs
Cboe's BZX Exchange has designated Coinbase, a prominent cryptocurrency exchange, as the market partner for its surveillance-sharing agreement.
This decision was made when Cboe refiled its applications for spot bitcoin exchange-traded fund (ETF) issuers, including Fidelity, WisdomTree, VanEck, ARK Invest, Galaxy/Invesco, and BlackRock.
The Securities and Exchange Commission (SEC) recently informed Nasdaq and Cboe that their applications were "inadequate" because they failed to specify the market involved in the surveillance-sharing agreements.
In its revised applications, Cboe stated that Coinbase's platform represents a significant portion of Bitcoin trading in the United States, emphasizing the partnership for surveillance-sharing agreements.
These agreements, known as Spot BTC SSA (surveillance-sharing agreement), are crucial for the SEC, which has historically rejected Bitcoin ETF applications due to the absence of such agreements.
By establishing surveillance-sharing agreements with markets of significant size, the SEC aims to prevent market manipulation and protect consumers.
While the SEC has yet to formally acknowledge the applications, it will initiate a 45-day review period once the filings are published in the Federal Register.
This period can be extended to a total of 240 days.
However, the SEC's consideration may be complicated by its recent lawsuit against Coinbase, which accuses the exchange of operating an unregistered securities exchange, broker, and clearinghouse.
It is important to note that the SEC does not claim Bitcoin itself is a security, and its chair, Gary Gensler, has often referred to it as a digital asset that is not classified as a security.
The final determination of whether the SEC recognizes Coinbase as a significant and regulated market for Bitcoin is yet to be seen.
Azuki, Despite Falling Short With Elementals Mint, Unveils New Artwork And Hints at an Upcoming Anime Series
Following the disappointing response to the "Elementals" non-fungible token (NFT) mint on Tuesday, renowned NFT brand Azuki has acknowledged its errors and outlined plans for revitalizing its NFT ecosystem.
Azuki recently released its latest NFT collection, "Elementals," which sold out within 15 minutes, generating $38 million.
However, numerous collectors faced technical difficulties and a shortened minting window, leading to an immediate backlash.
Shortly after, Azuki unveiled the artwork for the collection, which holders claimed was nearly identical to the original collection, sparking rumors of dilution through increased supply. Consequently, the floor price of the original Azuki collection plummeted by 44% in a matter of hours.
In a Twitter thread shared by pseudonymous Azuki holder Arcanic, details were revealed about a private call between the Azuki team and its community.
During the call, Azuki's co-founder Zagabond and other key team members acknowledged their intention to replicate the appeal of the original Azuki collection but admitted that they had failed to achieve that goal.
Arcanic shared leaked artwork by Arnold Tsang, Azuki's co-creator, showcasing different backgrounds, as the team plans to update the artwork of the Elementals collection to differentiate it further from the original collection.
Furthermore, Azuki had previously hinted at the development of an anime series featuring its character universe.
According to Arcanic, the Azuki team expanded on these plans during the community call, stating that the series would consist of self-funded animated shorts incorporating Web3 technologies.
The team also revealed that the recently airdropped Green Bean tokens to Azuki holders would play a role in the series, envisioning an interactive experience where viewers could engage with NPC (non-playable character) entities via platforms like Twitter or web apps.
To restore confidence and reward its holders, Azuki is exploring various initiatives, including designating "collector status" for long-term holders and those who possess tokens with rare attributes, as mentioned by Arcanic.
Although Arcanic expressed frustration over the Elementals mint and artwork reveal, they remain optimistic about Azuki's future and believe the project will learn from its mistakes. Arcanic emphasized the competence and passion demonstrated by the team, expressing confidence that, by maintaining alignment with its core community, Azuki can regain the trust of the broader community.
As of now, the floor price for Azuki Elementals stands at 1.29 ETH (approximately $2,480) with a trading volume of about 11,930 ETH (just under $23 million), according to OpenSea. Meanwhile, the floor price of Azuki currently hovers around 8.19 ETH (about $15,775) with a trading volume surpassing 596,900 ETH (over $1.1 billion).