Cathie Wood's ARK Purchases $21.6M Worth of Coinbase Shares Amidst Stock Decline Triggered by SEC Lawsuit
Cathie Wood's Ark Investment Management, the second-largest shareholder of Coinbase Global (COIN) stock, reinforced its investment in the cryptocurrency exchange following a lawsuit filed by the U.S. Securities and Exchange Commission (SEC), which resulted in a significant drop in share prices.
ARK acquired 419,324 Coinbase shares, amounting to approximately $21.6 million based on Tuesday's closing price of $51.61.
The purchase was divided among ARK's Innovation ETF (NYSE: ARKK), the Next Generation Internet ETF (NYSE: ARKW), and the Fintech Innovation ETF (NYSE: ARKF).
This acquisition marked their first since May 3 and increased Ark's total holdings of Coinbase to 11.44 million shares, with an estimated value of around $590 million.
The SEC's lawsuit against Coinbase alleges violations of federal securities law, mirroring a similar suit filed against Binance just a day prior.
According to the SEC, Coinbase operated as a broker, exchange, and clearing agency simultaneously without registering as any of these entities.
As a result, Coinbase's stock experienced a decline of over 12% by the end of Tuesday's U.S. trading session.

Despite this, COIN has still achieved a year-to-date increase of over 50%.
Coinbase CEO Armstrong Affirms Continuation of Staking Service
During the Bloomberg Invest Conference, Coinbase CEO Brian Armstrong announced that despite facing lawsuits from state and federal regulators, the cryptocurrency exchange will continue to offer its crypto staking service along with its other programs.
Armstrong emphasized that the legal proceedings would not lead to the winding down of the staking service, and Coinbase would operate as usual.
He mentioned that the staking service contributes around 3% of the exchange's overall net revenue.
These statements from Armstrong followed the recent lawsuit by the Securities and Exchange Commission (SEC) accusing Coinbase of various violations, including the sale of unregistered securities.
Additionally, a coalition of ten states, led by the Alabama Securities Commission, targeted Coinbase with allegations of violating state securities laws through its staking program.
Coinbase considers its staking service as a crucial part of its strategy to diversify its revenue, which is currently heavily reliant on transaction fees.
However, the prolonged bear market in the cryptocurrency industry has caused a decline in the company's earnings as some investors have reduced their trading activities.
Despite this, Armstrong expressed confidence that Coinbase would not face a sudden withdrawal rush similar to other exchanges, as all funds are backed one-to-one.
He highlighted that as a public company, Coinbase is subject to auditing by independent auditors who have verified the security of the funds.
The U.S. Court Has Instructed The Securities And Exchange Commission (SEC) To Provide a Response To Coinbase's Rulemaking Petition Within a One-Week Timeframe
The U.S. Court of Appeals for the Third Circuit has issued a directive to the U.S. Securities and Exchange Commission (SEC) to clarify its stance regarding a rulemaking petition submitted by Coinbase, a cryptocurrency exchange.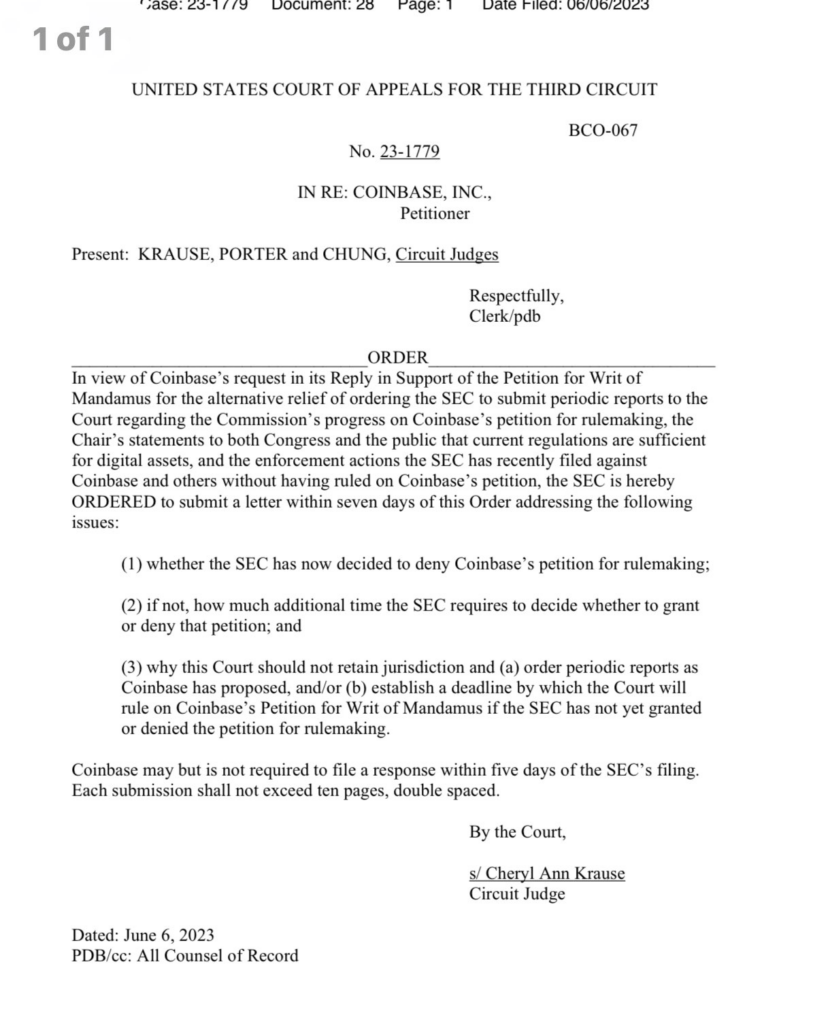 Coinbase had filed a challenge under the Administrative Procedure Act, seeking the court's intervention to prompt the SEC to respond to its 2022 petition for formal rulemaking in the digital assets sector.
Coinbase argued that the existing regulations were inadequate for digital assets.
Now, the SEC has been given a seven-day deadline to provide an explanation of whether it intends to reject Coinbase's request, the rationale behind such a decision, or a timeline for reaching a conclusion.
In response, Paul Grewal, Coinbase's Chief Legal Officer, expressed the importance of establishing rules through legislation or rulemaking before enforcing actions, emphasizing the need for the SEC to respond to their petition.
Additionally, the SEC is facing a lawsuit from Coinbase alleging that it operates an unregistered securities exchange.
Grewal suggested that the SEC's litigation against Coinbase indicates a prior decision to deny their petition for rulemaking.
The SEC is also required to clarify why the court should not maintain oversight of the case and why regular updates on rulemaking should not be provided to Coinbase, as requested.
Grewal emphasized that if the SEC's answer to the petition is negative, they have the legal right to challenge it in court and that there are significant questions to be addressed in that scenario.