Curve Finance, a DeFi protocol, Has Introduced The Capability For Users To Create crvUSD by Staking Their Ether
Curve Finance has implemented a new feature that allows holders of staked Ether (stETH) to generate curve USD (crvUSD), a decentralized stablecoin offered by the stablecoin swapping protocol.
The proposal to enable crvUSD minting through stETH received unanimous approval from the Curve DAO community in a recent vote.
Users can use their stETH holdings as collateral, and the protocol will automatically generate crvUSD tokens whose value is a portion of the stETH's value.
To maintain the desired $1 peg of crvUSD, users are currently subject to a 6% borrowing rate and may face automatic liquidation if the value of their collateral drops.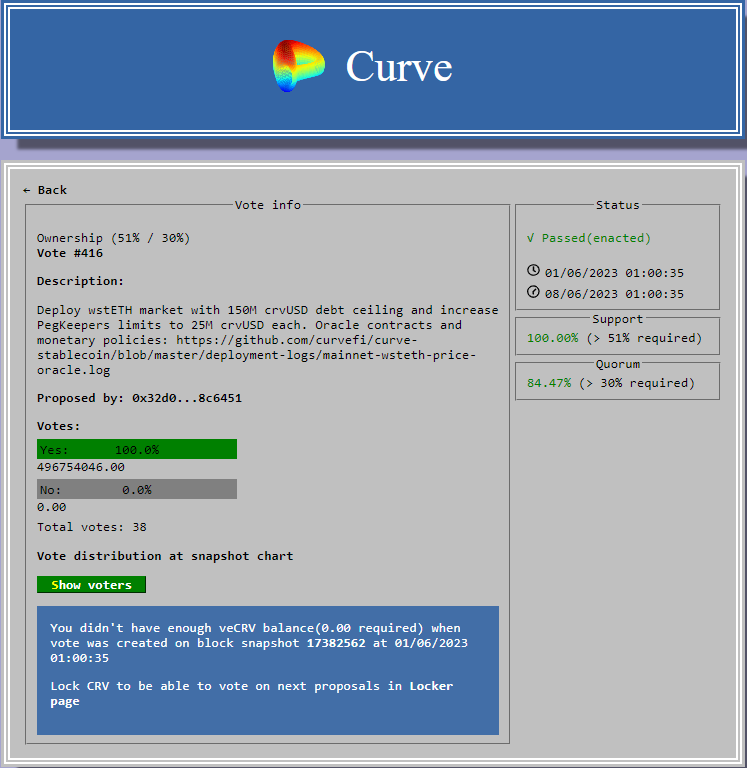 As of the recent vote, the issuance of crvUSD using stETH as collateral is limited to a maximum value of $150 million.
Curve Finance deployed the long-awaited crvUSD stablecoin on the Ethereum mainnet the previous month, following its announcement to create a dollar-pegged stablecoin in June of the previous year.
The token is backed by a basket of tokens and governed by smart contracts, ensuring full backing at all times to avoid a situation like the TerraUSD incident.
Market observers have expressed their thoughts on the potential impact of crvUSD within the broader crypto ecosystem once it is released.
Daniel Zlotin, a senior DeFi developer at Orbs, highlighted the significance of crvUSD as a stablecoin issued by a major decentralized exchange (DEX).
He mentioned the possibilities of new models, such as using liquidity provider (LP) tokens as part of the backing system, but also acknowledged the challenges associated with implementing such concepts.
Binance Claims Gensler Previously Proposed Being an "Informal Advisor"
According to lawyers representing Binance, Gary Gensler, the current Chairman of the Securities and Exchange Commission (SEC), acknowledged the uncertain regulatory landscape surrounding cryptocurrencies and offered his services as an advisor to Binance in the past.
These lawyers conveyed this information to SEC officials on June 4 as part of Binance's defense against the SEC's lawsuit.
They argue that due to this previous interaction, Gensler should recuse himself from the case.
In March 2019, Binance's legal counsel stated that Binance's CEO, Changpeng "CZ" Zhao, and Gensler had a face-to-face meeting in Japan where they discussed topics like the BNB token and Binance's plans to open a US-based exchange.
The lawyers claim that Gensler expressed his willingness to be an informal advisor during their conversation.
This information was shared by the SEC in a court filing.
Binance's legal team argued that Gensler's involvement in the case should be questioned based on this history, as he may be a crucial witness with relevant information.
They pointed out that the SEC has not confirmed whether Gensler has recused himself from the case or provided any explanation if he hasn't.
The letter also mentioned that Gensler had shared a draft of his planned statement for testimony before the House Financial Services Committee in 2019 with Zhao, seeking advice.
Furthermore, the Wall Street Journal reported in March that Gensler had been approached by various private firms, including Binance, to serve as an advisor.
However, the letter implies that Gensler himself proposed the idea to Binance.
Binance's lawyers noted that the SEC has not confirmed whether Gensler will be recused from the case.
Following the SEC's lawsuit against Binance, the SEC also filed for a temporary restraining order to freeze all assets on Binance.US.
Both parties are scheduled to appear in court on June 13 regarding this order.
Additionally, on June 14, the SEC has been instructed by a court to respond to a petition from Coinbase regarding its stance on engaging in rulemaking for cryptocurrencies.
Processing in Arbitrum Has Been Temporarily Halted Due To a Software Bug
On Wednesday, the software bug affecting the Arbitrum blockchain resulted in a temporary suspension of transaction processing on the network for several hours.
According to a statement from the official Twitter account of Arbitrum developers, the bug was specifically found in the sequencer responsible for managing user transactions and posting them on-chain.
This issue caused significant network strain due to a backlog of unposted transactions.
The community lead of the Arbitrum Foundation, known as "eli_defi" on Discord, confirmed that a solution had been implemented earlier in the day, restoring normal operations.
Circle Introduces USDC Stablecoin Support On The Arbitrum Network
On Thursday, Circle Internet Financial, the issuer of the stablecoin, announced the launch of its native USDC on the Arbitrum network, which is a prominent layer 2 scaling solution for the Ethereum blockchain.
This integration makes Arbitrum the ninth blockchain to support USDC.
Circle's official Twitter account stated that businesses with Circle accounts can now easily access Arbitrum USDC and perform instant swaps across supported chains without the need for costly and time-consuming bridging processes.
The announcement also mentioned that several notable applications such as Aave, Balancer, Camelot, Coinbase, Curve, GMX, Radiant, Trader Joe, and Uniswap will support Arbitrum USDC.
This release of USDC on Arbitrum follows closely after the layer 2 scaling solution experienced a bug in its Sequencer software, temporarily halting transaction confirmations on-chain.
According to Arbiscan, an analysis of early data indicates that the total supply of USDC on Arbitrum has already reached $27.6 million.
However, this amount is still a small fraction compared to USDC's overall supply of approximately $28.5 billion.
CoinGecko data reveals that the price of ARB, the native governance token for Arbitrum, has declined by 1.5% to $1.14 over the past 24 hours.