Robinhood Ceases Its Backing Of All Tokens Mentioned as Securities In The SEC Lawsuit
Robinhood, the well-known trading platform, has announced that it will discontinue its support for Cardano (ADA), Polygon (MATIC), and Solana (SOL) starting June 27th.
These three tokens were recently implicated as securities in lawsuits filed by the Securities and Exchange Commission (SEC) against Binance and Coinbase.
In a blog post, Robinhood stated, "Based on our latest review, we've decided to end support for Cardano (ADA), Polygon (MATIC), and Solana (SOL) on June 27th, 2023 at 6:59 PM ET. No other coins are affected, and your crypto assets remain secure on Robinhood."
Users will be able to trade and transfer these tokens on the platform until the specified deadline.
Once support is discontinued, any remaining tokens in users' accounts will be automatically sold at market value, as per Robinhood's announcement.
This decision was made as part of Robinhood's routine evaluation of cryptocurrencies. However, these were the only tokens listed on the platform that were designated as securities in the recent SEC lawsuits.
Following the delisting, Robinhood will continue to offer trading services for 15 different cryptocurrencies, including Bitcoin (BTC), Ether (ETH), Dogecoin (DOGE), and Avalanche (AVAX). None of these coins were implicated as securities in the SEC lawsuits.
During a recent testimony in the U.S. House of Representatives, Robinhood mentioned its attempt to register as a special-purpose broker for digital assets.
However, the company faced challenges in receiving guidance from the SEC to ensure compliance with crypto regulations, despite indications of support from the agency's staff.
Solana and Cardano have both refuted the claims of being securities, while Polygon has not yet provided a comment on the matter.
On Friday, the three tokens remained relatively stable after experiencing a decline earlier in the week following the SEC lawsuits.
Binance.US Halts Fiat Usage Amid Growing Legal Issues
Binance.US has declared its intention to become an all-crypto exchange starting from June 13, citing mounting pressures from the U.S. Securities and Exchange Commission (SEC), which recently initiated a major enforcement action against the company.
In a tweet, Binance's U.S. division stated that it would temporarily transition to an all-crypto exchange while ensuring that trading, staking, deposits, and withdrawals in cryptocurrencies continue to operate without disruption.
The exchange further announced the suspension of USD deposits from June 9 onwards, followed by the delisting of USD-based trading pairs shortly after.
Binance.US expressed its commitment to fiercely defend itself, its customers, and the industry against what it deems as baseless attacks from the SEC, while remaining open to finding a constructive compromise that would facilitate a thriving digital asset marketplace in the United States.
Despite the regulatory challenges, Binance's native token, BNB, has maintained stability at $260.24.
The token has faced a 15% decline in value over the past week after the SEC accused it of being a security.
Both Binance and its CEO Changpeng Zhao firmly deny the allegations made by the SEC, which also filed a motion seeking a temporary restraining order to freeze certain assets connected to Binance.US.
Both parties are scheduled to appear in court on June 13, coinciding with the day Binance.US plans to transition into an all-crypto exchange.
Additionally, the SEC has accused Binance of funneling $12 billion to entities controlled by CEO Changpeng Zhao, a claim strongly refuted by Zhao and Binance.
Crypto.com To Gradually Discontinue Its Institutional Business Operations In The United States
Crypto.com, the Singapore-based cryptocurrency exchange, revealed on Friday that it will cease providing services to institutional clients in the United States starting from June 21.
The decision is a result of "limited demand" from institutional customers, given the current market conditions.
However, the exchange assured that retail investors will not be affected and can continue utilizing the platform in the U.S., including accessing Crypto.com's UpDown Options, which are regulated by the U.S. Commodity Futures Trading Commission (CFTC).
This announcement coincides with legal actions taken against crypto exchanges Binance and Coinbase by the U.S. Securities and Exchange Commission (SEC), accusing them of violating securities laws.
The U.S. Department Of Justice Claims In an Indictment That Two Russian Individuals Are The Hackers Behind The Mt. Gox Incident
Russian nationals Alexey Bilyuchenko and Aleksandr Verner have been charged by the U.S. Department of Justice for their involvement in the 2014 Mt.Gox hack, which was one of the largest cryptocurrency thefts at that time.
According to the DOJ, the two individuals gained unauthorized access to Mt. Gox's wallets in September 2011 and proceeded to steal 647,000 BTC over a period of nearly three years. These stolen funds were then laundered.
The DOJ also alleged that Bilyuchenko was an operator of the now-defunct cryptocurrency exchange BTC-e, alongside Alexander Vinnick, who had previously been charged with operating BTC-e.
Furthermore, the DOJ unsealed a 2016 filing related to BTC-e, which has been linked to the laundering of funds from the Mt. Gox theft.
Both Bilyuchenko and Verner face charges of conspiracy to commit money laundering, while Bilyuchenko also faces a charge of operating an unlicensed money services business.
The DOJ's Southern District of New York and Northern District of California offices are handling cases related to the Mt. Gox hack.
Mt. Gox suspended its operations in February 2014, shortly after an internal document published by Ryan Selkis, the founder of Messari, indicated that it had lost nearly 750,000 BTC.
DOJ Assistant Attorney Kenneth Polite described the unsealing of the indictments as an important milestone, emphasizing that Bilyuchenko and Verner allegedly stole a significant amount of cryptocurrency from Mt. Gox, which ultimately contributed to the exchange's insolvency.
Furthermore, Bilyuchenko is accused of helping establish the notorious BTC-e virtual currency exchange, which facilitated the laundering of funds for cybercriminals worldwide. The DOJ also claimed that Bilyuchenko, Verner, and other unidentified co-conspirators used an unnamed New York-based Bitcoin brokerage service to launder funds, successfully transferring over $6.6 million to overseas bank accounts.
According to the documents, the defendants sent the stolen funds to both BTC-e and TradeHill, another now-defunct exchange.
NFT Inspect Unveils a Fresh PFP Discovery Tool Designed Specifically For Twitter
A new tool has been introduced by NFT Inspect to assist users in discovering information about popular non-fungible tokens (NFTs) on Twitter.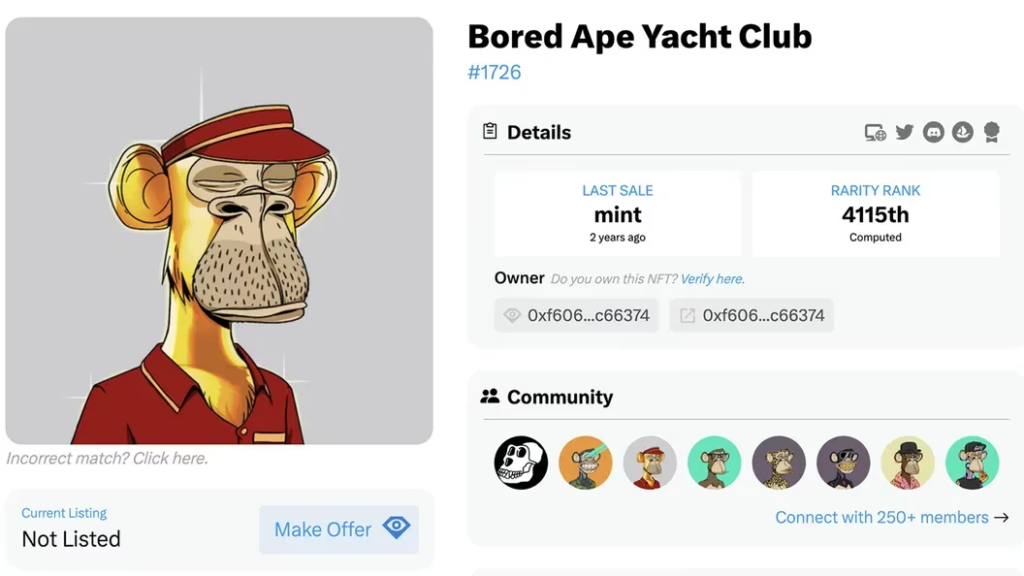 This tool, available as a Chrome browser extension, provides real-time data on frequently used NFT collections as Twitter profile pictures (PFPs).
Additionally, it offers a beta web version called the Twitter NFT Search tool, enabling users to explore how an NFT is being used on Twitter, either as a profile picture or in shared tweets.
By analyzing publicly-available blockchain data, the tool can also examine individual wallet addresses to determine the usage of any NFT in the wallet.
Furthermore, the browser extension can display the rarity traits of specific NFTs.
Oliver Cohen, the president of NFT Inspect, emphasized the significance of Twitter as a central platform for cryptocurrency and NFT-related discussions.
However, he observed a lack of comprehensive tools that fully harness the power of Twitter and provide users with a complete solution for tracking, analyzing, and engaging with the crypto and NFT ecosystem.
The newly introduced tool addresses this gap, utilizing AI algorithms in its Chrome extension to identify NFT-related content on Twitter.
It enables users to track the popularity of different NFT collections and the growth of specific communities surrounding an NFT project.
These insights assist users in making informed decisions regarding NFT investments and community engagement.
It is important to note that the browser extension supports NFTs on the Ethereum, Polygon, and Solana blockchains but does not support video or GIF files.
NFT Inspect, which experienced a revival under new ownership in March, has been actively expanding its suite of tools to help NFT traders monitor market trends.
The company has also established a community council comprising prominent NFT influencers.
In collaboration with Polygon Labs, NFT Inspect aims to develop unique NFT use cases, foster broader adoption, and enhance user experiences within their respective communities.