Following the FTX nightmare, Temasek, a Singapore-based company, will adopt a cautious approach when dealing with the crypto space
Singapore's sovereign wealth fund, Temasek Holdings, has announced its commitment to assume collective responsibility for its unfortunate $275 million investment in the collapsed crypto exchange FTX.
In a statement released on Monday, the fund acknowledged the presence of fraudulent conduct deliberately concealed from investors, including Temasek itself.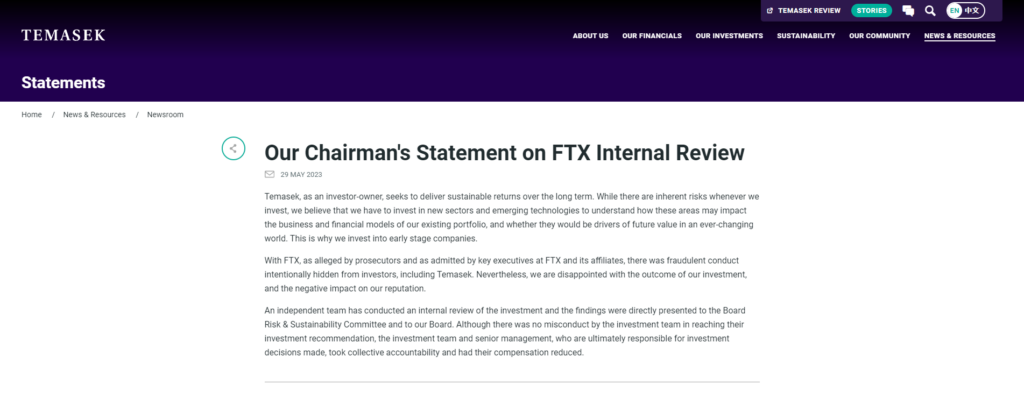 Temasek Chairman Lim Boon Heng clarified that although the investment team was not involved in any misconduct regarding their investment recommendation, they and the senior management, who bear ultimate responsibility for investment decisions, have accepted collective accountability and faced reduced compensation.
Immediately after FTX's collapse in November, Temasek declared a write-off of the entire investment.
The initial investment amounted to $210 million (representing 1% of FTX International) and $65 million (representing 1.5% of FTX.US), equivalent to 0.09% of Temasek's net portfolio value of $293.5 billion (SGD 403 billion) from the previous year.
Temasek had previously conducted eight months of due diligence on FTX, thoroughly examining audited financial statements, assessing regulatory risks, and analyzing cybersecurity threats.
In light of FTX's collapse, Temasek intends to enhance its investment appraisal process, particularly for rapidly expanding firms.
The fund reiterated its stance on refraining from investing in cryptocurrencies and expressed caution when considering new investments in the blockchain sector.
FTX was the sole crypto exchange investment made by Temasek.
During FTX's peak, it was accessible to Singapore-based users, whereas its main competitor, Binance, was restricted.
The Monetary Authority of Singapore (MAS) included Binance on the Investor Alert List in September 2021 but did not take the same action against FTX.
MAS later clarified that this discrepancy was due to Binance actively soliciting Singaporean customers and facilitating trades in Singapore dollars, which was not the case with FTX.
Gemini and Genesis, the insolvent lender, have jointly requested the U.S. court to dismiss the lawsuit brought by the SEC that specifically targets the Earn Program
Crypto lender Genesis Global Capital and exchange platform Gemini have jointly filed a motion requesting a U.S. court to dismiss the Securities and Exchange Commission's (SEC) lawsuit.
The lawsuit accuses the two entities of selling unregistered securities, specifically targeting Gemini's Earn program.
According to court filings from Friday, the SEC alleged that billions of dollars worth of crypto assets were raised from hundreds of thousands of investors through the program.
The SEC claimed that Genesis utilized investors' crypto assets to generate revenue and pay interest to Gemini Earn investors.
Gemini, in its filings, stated that while borrowers and lenders could engage in subsequent transactions, it did not mandate any lending or borrowing and required consent from all parties for any transfer or assignment.
Gemini also challenged the SEC's treatment of the tri-party Master Digital Asset Loan Agreement (MDALA) contract as an unregistered security, asserting that the SEC failed to provide sufficient evidence that the MDALA was sold or offered for sale.
The SEC's original complaint highlighted that Genesis held approximately $900 million in assets belonging to around 340,000 Gemini Earn investors before freezing withdrawals and filing for bankruptcy protection.
Jimbos Protocol, built on Arbitrum, races to recover following a $7M exploit
The team behind Jimbos Protocol, which is built on Arbitrum, is evaluating the optimal path forward for the project after its version 2 (V2) was subjected to a $7.5 million exploit over the weekend.
Jimbos Protocol stated that it is collaborating with security researchers who have previously assisted Euler Finance in recovering over $200 million.
They also announced their intention to involve law enforcement if the attacker does not return the funds by 4 P.M. UTC on Monday.
On Saturday, Jimbos lost 4,090 ether (ETH) due to a lack of slippage control in the main contract, according to security analysts.

Exploiting this vulnerability, unidentified attackers were able to execute a flash loan of $5.9 million, manipulate the prices of the JIMBO token, and abscond with funds from the project's treasury.
The protocol had planned to introduce a semi-stable token that would be backed by a basket of cryptocurrencies, which had attracted traders' interest given the fleeting success of similar projects.
Flash loans have become a common method for attackers to acquire funds for exploiting decentralized finance (DeFi) systems.
These loans enable traders to borrow unsecured funds from lenders using smart contracts instead of intermediaries.
As no collateral is required, the smart contract considers the transaction complete only when the borrower repays the lender.
Consequently, if a borrower defaults on a flash loan, the smart contract cancels the transaction and returns the funds to the lender.
Meanwhile, the JIMBO token traded at nearly 18 cents on Monday, experiencing a slight recovery during the Asian morning hours as developers discussed their protective measures.