Optimism token prices experience a 7% decline prior to the $580M OP unlock, leading to a doubling of the token supply
On Tuesday, as part of a planned unlock strategy, Optimism, an Ethereum scaling protocol, is preparing to release tokens worth over $587 million into the market.
This release has resulted in a 7% decline in the prices of OP tokens.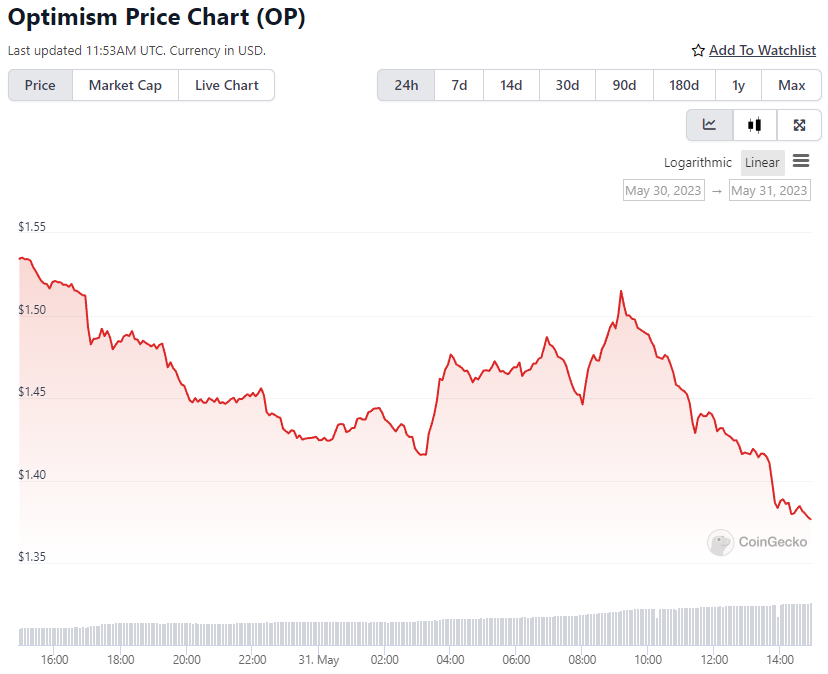 When tokens are "unlocked," their holders gain the ability to sell or exchange them as they see fit.
Currently, early contributors and investors hold more than 386 million optimism tokens, and this move will almost double the circulating supply of OP tokens, which currently stands at 335 million tokens.
Early investors have likely accumulated substantial profits and may decide to sell, contributing to significant selling pressure.
Consequently, the immediately available liquidity on OP token pairs across decentralized and centralized exchanges is less than $10 million.
Even a single sell order of $600,000 could further push prices down by an additional 2% on Binance.
The token unlock coincides with a period of general decline for OP tokens since February of this year, during which they have dropped from $3 to $1.5.
In contrast, both bitcoin (BTC) and ether (ETH) have gained at least 50% during the same timeframe.
As of Tuesday, OP is trading at $1.50, with a trading volume of $103 million over the past 24 hours.
Nansen Implements a 30% Reduction in Workforce to Achieve Cost Reduction Goals
Nansen, a platform specializing in blockchain data analytics, recently announced a workforce reduction of 30% as part of its cost-cutting measures amid the ongoing downturn in cryptocurrency markets.
According to LinkedIn data, the company had employed between 51 and 200 individuals prior to the downsizing.
This workforce enabled Nansen to analyze over 100 million wallets across various blockchains like Polygon and Ethereum, serving clients such as media outlets like Bloomberg and The Block, as well as crypto-focused funds including Polychain.
However, the rapid expansion of employees during Nansen's initial phase, coinciding with the rapid growth of the crypto markets, proved to be unwise, resulting in a higher-than-desirable "cost base," according to Nansen CEO Alex Svanenik.
Svanenik emphasized the need for organizational changes to create a favorable environment for those remaining in the company.
Despite the layoffs, Nansen still has a significant runway ahead as it aims to establish a sustainable operation, aided by its total funding of $88.2 million across four funding rounds from prominent crypto investment firms such as L1 Digital and Old Fashion Research, as indicated by Crunchbase data.
Bybit, a cryptocurrency exchange, has decided to withdraw from the Canadian market due to a recent regulatory development
Bybit has made an announcement stating that it will cease its operations in the Canadian market, effective from May 31.
This decision is a result of recent regulatory developments in the country and follows the footsteps of several other exchanges that have also withdrawn from Canada.
Bybit expressed its commitment to adhering to the relevant rules and regulations in Canada but stated that the challenging regulatory environment has led them to the difficult yet necessary choice of pausing the availability of its products and services.
Starting from May 31, no new accounts can be opened, while existing customers will have until July 31 to make new deposits and enter into new contracts.
After the closing date, customers will still be able to withdraw funds or reduce their positions.
Bybit, which recently established its global headquarters in Dubai, now joins Binance and other crypto exchanges in closing down their operations in Canada due to the demanding regulatory landscape.
In February, Canada introduced new guidelines requiring crypto asset trading platforms to obtain approval from the Canadian Securities Administrators (CSA) and undergo thorough due diligence checks.
Despite these challenges, some exchanges like Coinbase remain committed to their business in Canada and even commend the country's approach to providing clear regulatory guidelines.
The BRC-721E token standard enables the conversion of Ethereum NFTs into Bitcoin NFTs
A recent advancement in blockchain technology allows traders to convert their Ethereum-based non-fungible tokens (NFTs) into NFTs on the Bitcoin network.
Bitcoin Miladys, the Bitcoin-based derivative of the popular Miladys NFT collection, in partnership with Ordinals Market and Xverse, introduced the BRC-721E token standard.
This token standard acts as a bridge between Ethereum and Bitcoin, enabling traders to convert their ERC-721 NFTs into BRC-721E tokens on the Bitcoin network.
Through the Ordinals Market website, Ethereum-based NFT holders have the option to burn their tokens and transfer them onto a satoshi on the Bitcoin network.
Once transferred, the tokens automatically appear on a custom Ordinals Market collection page with full metadata.
However, it's important to note that initially, metadata is not stored on the blockchain. Ordinals Market provides various options for on-chain previews of the NFTs, which can be displayed in existing wallets or marketplaces.
According to Dune Analytics, the number of inscriptions on Ordinals surpassed 10 million on Monday, a significant increase from the 3 million inscriptions reported in the first week of May.
Last week, Bitcoin climbed to the second position for NFT trading volumes in terms of network, trailing just behind Ethereum and surpassing Solana, as reported by CryptoSlam. Considering that the Ordinal protocol has only been in existence since January, this growth is noteworthy.
Support for Bitcoin NFTs has been expanding among NFT marketplaces.
Binance NFT recently added support for Bitcoin NFTs, and Magic Eden opened an Ordinals marketplace in March to onboard creators into the growing Bitcoin NFT ecosystem.
Following banking issues in the country, Bitcoin is currently trading at a 20% discount on Binance Australia
According to data from CCData, on Tuesday, Bitcoin was trading at a roughly 20% discount on Binance's Australia branch compared to other rival exchanges.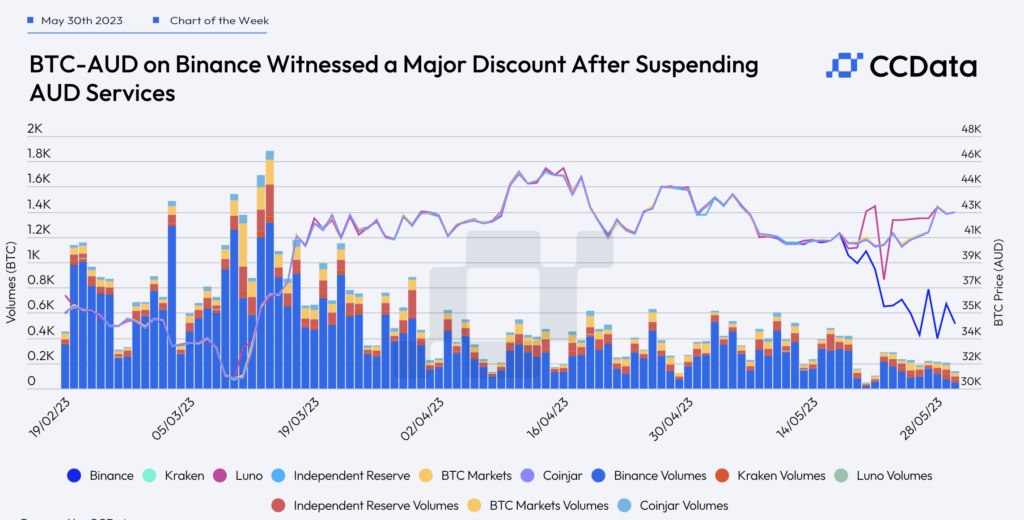 This discount occurred after Binance Australia temporarily suspended Australian dollar bank transfers due to issues with its third-party payment service provider.
Binance Australia has stated that it is actively seeking an alternative solution and will allow AUD withdrawals until June 1.
Hosam Mahmoud, a Research Analyst at CCData, explained that the announcement from Binance led traders to sell their BTC/AUD pairs, resulting in a historically high discount in price.
On Binance Australia, Bitcoin was trading at approximately $33,400 AUD ($21,700), whereas on other exchanges like Kraken, Coinjar, and BTCMarkets, it was trading at around $42,500 AUD ($27,700) according to CCData.
Furthermore, Binance Australia had its derivatives license revoked in April following its own request for closure.
Mahmoud noted that although the exchange claimed it would continue operating in Australia, it has not effectively resolved the issue, as evidenced by the record-low trading volumes for BTC/AUD pairs.
CCData's data showed that daily trading volumes for the BTC/AUD pair on Binance dropped from 12,293,856.55 on May 18 to a low of 912,297.20 on May 20.
Mahmoud added that despite the significant discount, arbitrageurs are taking advantage of the lower prices, suggesting that the problem may be resolved once the funds are transferred to USDT.